Star Wars: Tales Of The Jedi Finds Ahsoka Tano Walking A Post-Prequel Path Like Obi-Wan Kenobi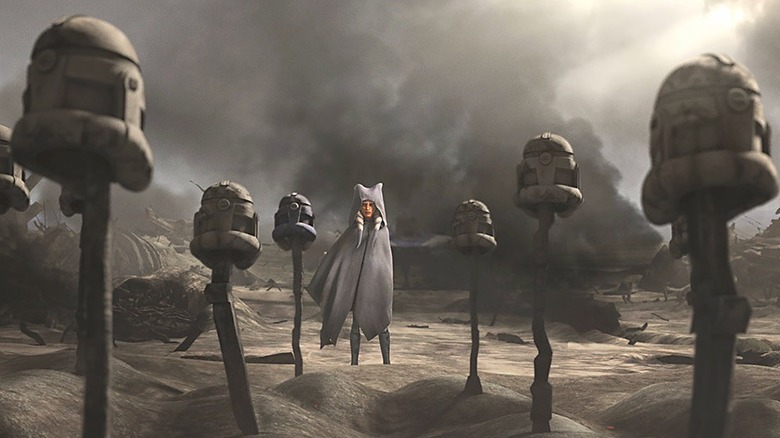 LucasFilm/Disney+
"Star Wars" can't get enough of Ahsoka Tano. Since her debut in "The Clone Wars," we've followed her from apprentice to master, from animation to live-action and back again.
Thanks to the premature (and impermanent) cancellation of "The Clone Wars," though, her story has been patchwork, with pieces filled in and out of chronological order across different installements. We knew that she survived the Clone Wars thanks to "Star Wars: Rebels" in 2015, but we didn't learn how she survived until the belated season 7 of "Clone Wars" in 2020.
"Star Wars: Tales of the Jedi" continues telling Ahsoka's story across different eras. Episode 1, "Life and Death," shows a story of her childhood. 5, "Practice Makes Perfect," is set when she's Anakin Skywalker's apprentice. Then, episode 6, "Resolve," is set between "Clone Wars" and "Rebels."
As we covered, the episode opens with her secretly attending Padmé's funeral (originally seen in "Revenge of the Sith"). After the teaser, the episode jumps forward a few years and Ahsoka is laying low. She's now the farmhand "Ashla," referencing both Ahsoka's eponymous novel where she used the same alias and her voice actress Ashley Eckstein.
Though rather condensed, the episode is similar to this year's "Obi-Wan Kenobi"; it's set during the gap between the prequel and original trilogies, and focused on a Jedi in hiding after their world has fallen apart. Both Ahsoka and Obi-Wan discover the same truth: you can run from evil, but you can't hide from its ripple effects.
Jedi parallels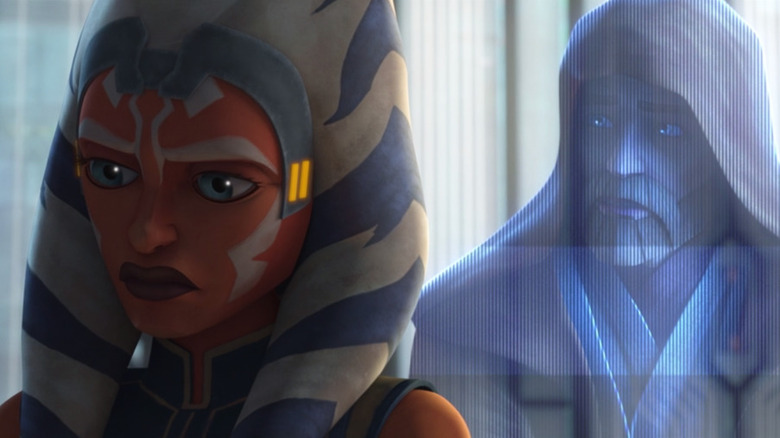 LucasFilm/Disney+
"Obi-Wan Kenobi" revealed that "Ben" didn't instantly become the hermit from the original film after dropping off Luke with the Larses. No, he took a job at a meat packing outpost and lived alone in a cave. Ahsoka's work doesn't look any more fulfilling, but there's one difference: community. The workers seem to have genuine camaraderie, versus the minimum wage misery Obi-Wan endured on Tatooine (Ahsoka and co. even get lunch breaks!).
This sense of belonging might be why, when falling bails of hay almost kill a young girl, Ahsoka surreptitiously uses the Force to save her. The girl, who noticed, is impressed, but her brother is not. When Ahsoka and her friend go off to sell the farm's produce, they returned to a fire and an Imperial Inquisitor (Clancy Brown); the brother sold Ahsoka out.
Obi-Wan faced some Inquisitors too, leaving Tatooine to rescue a young Leia (Vivien Lyra Blair). While Reva (Moses Ingram) turned out to have a good (if misplaced) heart, this Inquisitor is all Dark Side. His bark is worse than his bite, since Ahsoka easily steals his Lightsaber and cuts him down, saving both siblings (including the apologetic brother) and their father. Still, their friends are dead and the Empire will be coming. So, Ahsoka calls up Bail Organa (Phil LaMarr) to find them refuge.
Bail's involvement strengthens the parallels; in both stories, he's the one who pulls the Jedi back to the fight. Just as "Obi-Wan Kenobi" set its hero on track for Episode IV, "Resolve" puts Ahsoka in place for her "Rebels" return.
All six episodes of "Tales of the Jedi" are now streaming on Disney+.