Daniel Radcliffe's Villain In The Lost City Was Inspired By Tim Curry And Alan Cumming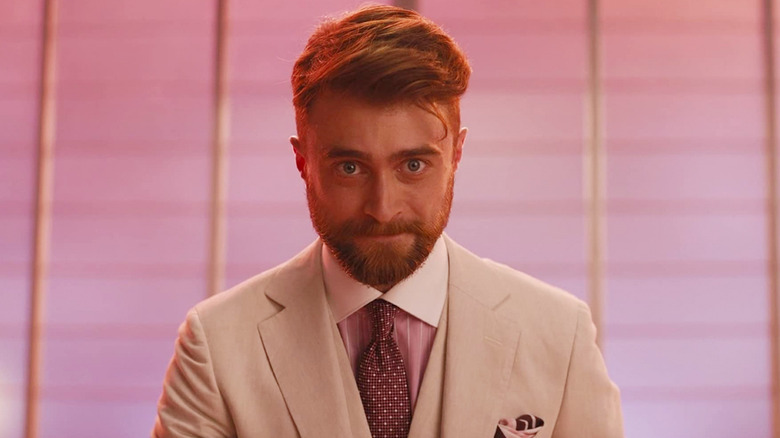 Paramount Pictures
Cards on the table: For reasons I can't really fathom, I made the choice to watch "The Lost City" for the first time after seeing "RRR" earlier that same day. As such, I can't help but suspect that I came away being harder on the Nee Brothers' fluffy, harmless "Romancing the Stone" throwback than I might've been, had I not just experienced S. S. Rajamouli's superb maximalist epic.
That's not to suggest "The Lost City" (which /Film's Hoai-Tran Bui reviewed here) doesn't deserve to be dragged a little. It's a derivative rom-com adventure film that's mostly content to float by on a blend of Channing Tatum's himbo charms and his screwball hijinks with Sandra Bullock, complete with action scenes and visuals that are par for the course for a lot of recent Hollywood tentpoles (read: under-lit and done with minimum effort compared to those in "RRR"). Bless him, though, Daniel Radcliffe is a whole lot of fun as Abigail Fairfax, a baddie who joins the proud tradition of over-confident, egotistical billionaires in movies who we justly love to hate.
Where real-life "one-percenters" like Mr. Fairfax are mainly despicable and exhausting in unfunny ways, Radcliffe's villain is one of those comically hot-tempered oddballs whose ill-conceived attempts to execute his evil plans (be it his own fault or that of his goons) are worth a good chuckle. Similarly, when it came to his inspiration for how to play the risible antagonist, Radcliffe looked to two experts in the field of going over the top: Tim Curry and Alan Cumming.
A certain type of posh English boy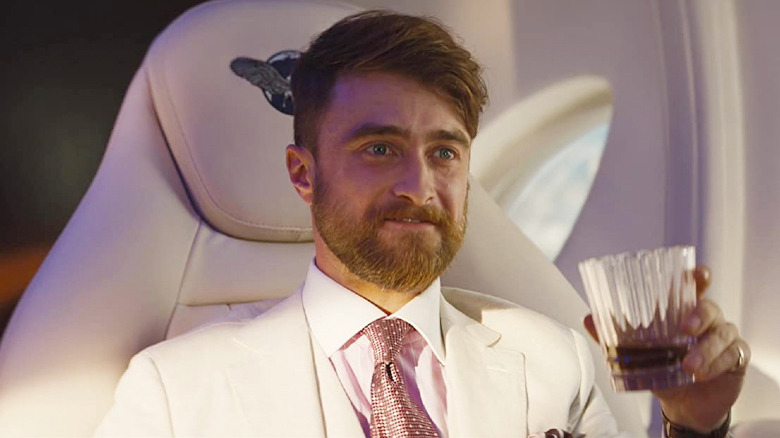 Paramount Pictures
In a recent video for GQ where he broke down his many film roles over the years, Radcliffe said it was actually one of Curry's only quasi-evil characters that inspired his performance in "The Lost City." Specifically, he drew from the "It" and "Rocky Horror Picture Show" star's wonderfully silly turn in the 1995 Michael Crichton film adaptation "Congo" as Herkermer Homolka, a self-described Romanian philanthropist whose altruism is actually a front for his lifelong quest to locate a mythical lost city housing precious diamonds.
As Radcliffe noted, Curry's Mr. Homolka is "not really a bad guy in ['Congo'], and he's doing an insane accent so it bears no resemblance really" to his own treasure-hunting character in "The Lost City." All the same, Radcliffe said it's a perfect example of what he was going for in the Nee Brothers' movie. He described this type of performance as "just actors when you see them having a great time, playing a weird kind of villain [or] someone whose motivations are sketchy."
Along those same lines, Radcliffe cited Cumming's own hammy villainous roles (think his Russian programmer Boris Grishenko in the 1995 James Bond movie "Goldeneye") as another source of inspiration. In that case, Radcliffe had even acted with Cumming before on a 2020 stage production of Samuel Beckett's play "Endgame." He explained:
"I feel like Alan Cumming – I worked with Alan a few years ago, but he's also played some fantastic villains over the years. I feel like they're people to reference, and also just a certain type of posh English boy, you know, entitled, slightly stupid. I've met a few so that I could draw on them."
We only wish "The Lost City" was quite as inspiredly ridiculous as Radcliffe's performance.