Partake In Alamo Drafthouse's Huge Mondo Poster Auction, Maybe Get A Holy Grail, And Support A Good Cause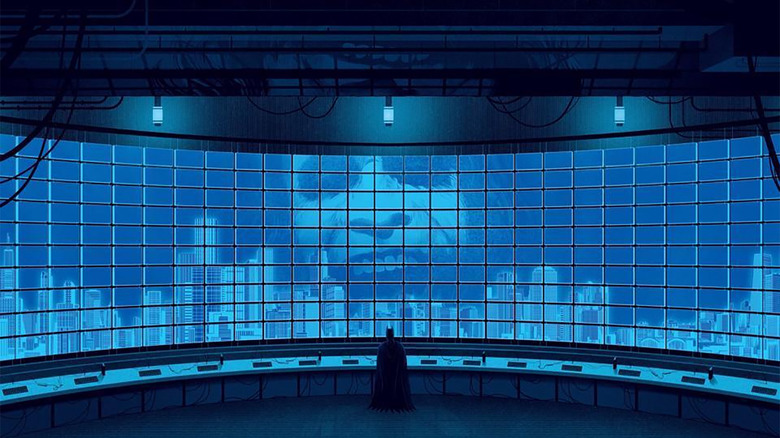 Mondo
Here at /Film, we're big fans of collectible art that celebrates our favorite movies and TV shows. Among the many galleries out there that love pop culture art, Mondo is among the best. They're easily the most recognizable name in the game, and pretty much each and every one of their limited edition poster print releases is in demand. That's why collectors and pop culture aficionados pay attention whenever they have a massive sale that offers an opportunity to get ahold of some of the most rare and expensive posters from over the years. And one of those chances is almost over.
Alamo Drafthouse is hosting a huge Mondo poster auction right now, featuring some of the most coveted pieces in their history. Artists like Tyler Stout, Kevin Tong (who created "The Dark Knight" above), Mike Mitchell, Phantom City Creative, Martin Ansen, Laurent Durieux, Olly Moss, Matt Taylor, and many more have dozens of posters in this sale. And the good news is you don't have to feel too bad about throwing down some serious cash in one of these auctions, because 100% of the proceeds will go to the Alamo Community Fund, dedicated to supporting charitable organizations in each of the communities where there is an Alamo Drafthouse Cinema. Get a taste of some of the posters up for auction below.
For a good cause!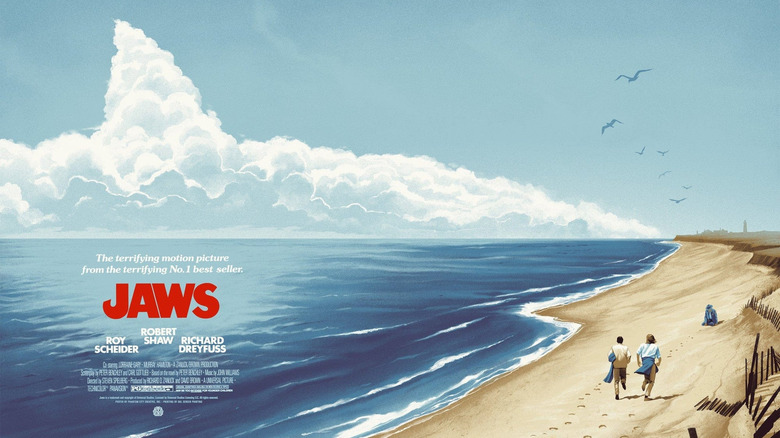 Mondo
In a statement, Alamo Drafthouse's Tim League had this to say:
In 2020, when Covid caused mass layoffs company-wide, nearly the entire contents of the fund were turned over to the Emergency Assistance Foundation, providing grants to employees to help support them through the pandemic-induced hardships. As a result, the Alamo Community Fund was emptied, and we are now in the process of rebuilding it.

To support the goal of replenishing the fund, we are hosting an auction of rare and highly sought after Mondo posters. This is the second such auction – the first one, in December of 2020, was from my personal collection, sold to help bridge the company financially through the theater closures.
You'll find dozens of holy grails in this auction. We're talking about the kind of rare prints that go for thousands of dollars on the secondary market, like the "Halloween" and "Shaun of the Dead" prints you see above by Jason Edmiston ad Tyler Stout, respectively. League added:
"This is an incredibly extensive Mondo poster auction. If you ever wanted a rare Mondo poster from the vault, this is THE opportunity. Everything in the auction is, of course, certified original and in mint or near mint condition. AND A VERY HIGH PERCENTAGE OF THE PRINTS ARE VERY LOW NUMBERS IN EACH EDITION (with LOTS of #1's, #2's, and #3's)! We can't prove that having a very low edition number adds to a print's value, but it sure can't hurt! If you've always wanted a Mondo poster but missed out getting one, this is your unique chance to get it."
Along with this amazing collection of prints, there are also two special auctions that will have the biggest Mondo fans bidding furiously.
Mondo's rarest print ever?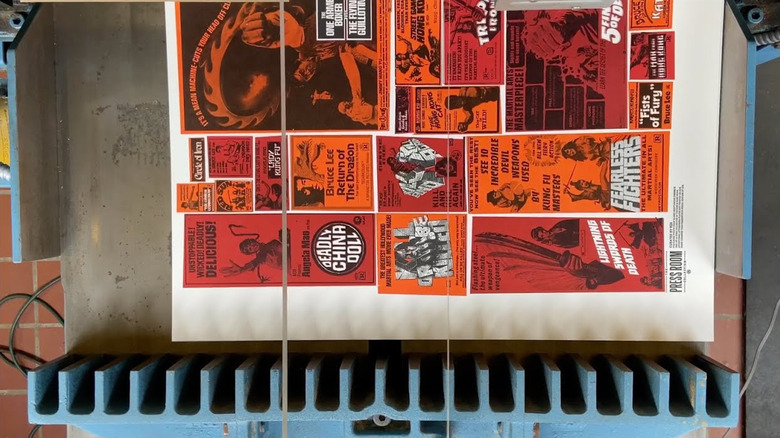 Mondo
Tim League also broke down the two special auctions that are at the center of this charity initiative. The first is a one-of-a-kind "Jackie Brown" print from Stan and Vince. It's the only copy available, making it "perhaps the rarest ever Mondo poster." 
But that's not all. League explained:
The auction will also feature a unique item: a tour of the Mondo Archive, the Alamo vintage poster archive and the press room. During the tour, you will print your own letterpress poster in the Press Room and take home any poster from the Mondo Archive and one from the Alamo vintage poster archive.
Anyone who picks up anything from this auction will also get a bonus treat: a limited edition, numbered letterpress print from the press room. Acclaimed director Robert Rodriquez is curating his "essential films that every movie lover should see before they die" from the Press Room vintage movie ad block collection for the print. Furthermore, the top 250 auction winners will receive an edition in an exclusive colorway signed by Robert Rodriguez.
Head over to eMoviePoster.com right now to see the gallery of work that is up for auction. But act fast, because all of these auctions will be finished by the evening of Thursday, October 27.