Modernizing Wednesday Addams' Look Was Key To Evolving The Character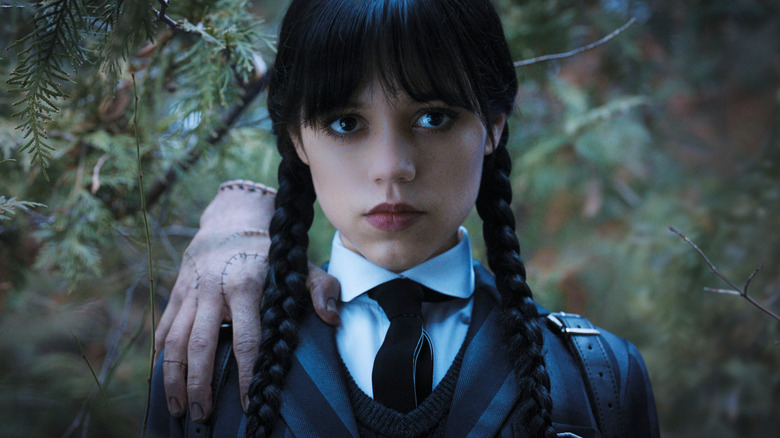 Netflix
There's something different about Wednesday Addams in the Netflix series "Wednesday." No, it's not that she's played by Jenna Ortega, although the "Scream" and "X" veteran is, in fact, the first person to portray the Addams Family's death-fixated daughter in live-action since the 1990s. More recently, Chloë Grace Moretz lent her voice to the character in Greg Tiernan and Conrad Vernon's animated "Addams Family" films. There, Wednesday is depicted as a pale-faced young girl with dark hair she keeps braided in pigtails and all-black clothing, save for her white collar.
"Wednesday," on the other hand, follows its namesake as a teenager in high school. With Tim Burton serving as the show's head director and executive producer, it comes as no surprise to see Ortega's Wednesday will be wearing a school uniform composed of vertical black and charcoal stripes for a good chunk of the series. (What else is there to say? The man loves his vertical stripes.) Her costume also includes a black tie and white dress shirt, itself seemingly doubling as both a nod to and a more modern take on the character's trademark collar.
Also present and accounted for are Wednesday's perfectly-symmetrical pigtails, although there's a key difference. Ortega's version has bangs and not the cursed kind like the ones the actor's "Scream" costar Courteney Cox had in "Scream 3." Speaking with Christina Ricci (who played Wednesday in Barry Sonnenfeld's "Addams Family" movies in the '90s and co-stars in "Wednesday") as part of a dual interview with Interview Magazine, Ortega confirmed she "did have input" on her haircut for the show. She explained:
"We went to London to do a hair and makeup test for the show. We tried everything because it was important to Tim that she look different than before."
'Let's push it a little bit further'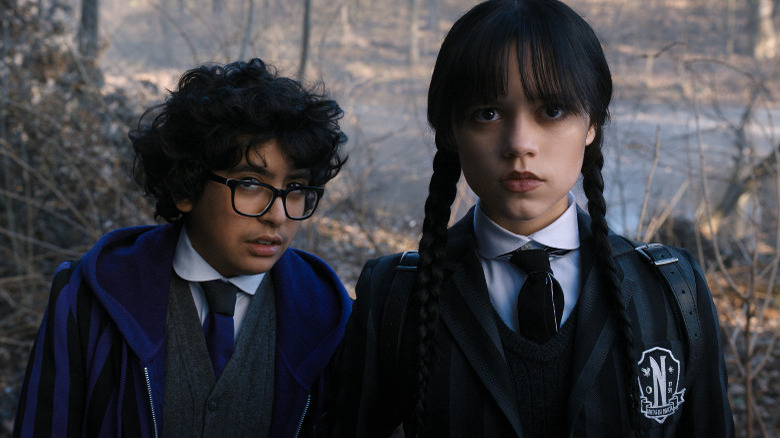 Netflix
Continuing, Ortega said she and Burton toyed with the idea of giving Wednesday braids with varying lengths and thicknesses in an effort to better modernize her look. They even "tried streaks of gray hair" in what sounds like an homage to "Bride of Frankenstein" (similar to the silver-steaked look that Burton gave the Sweeney Todd character in his film version of "Sweeney Todd: The Demon Barber of Fleet Street"). According to Ortega, her bangs also went through a few different permutations:
"Initially the bangs — I kind of wish they had been kept this way, but I don't think Tim liked them very much. They were the short, high-fashion bangs like in 'Fargo,' just psychotic. It was weird, but he saw something there and said, 'Let's push it a little bit further.' He was like, 'I like the way this is looking like something's off,' and it was because it was a clip-in, I think. I told the hairdresser to just cut my hair because I think the clips are bugging him. If I have to grow it out, I'll grow it out — and then we tried it and Tim loved it."
The goal, of course, was to make Wednesday feel more like a modern-day Goth teenager without losing that off-beat quality that has always defined the character. That goes all the way back to her origins in the single-panel "Addams Family" comics created by Charles Addams and first published by The New Yorker in the 1930s. "It's true to the spirit of the character," Ricci observed. "I didn't originate this character, so I'm always like, 'She's a cartoon and a TV show.' It's not Shakespeare, but it's the same idea. We keep redoing the thing."
"Wednesday" premieres November 23, 2022 on Netflix.