The Daily Stream: Professor Marston And The Wonder Women Is A Tender And Vital Polyamorous Love Story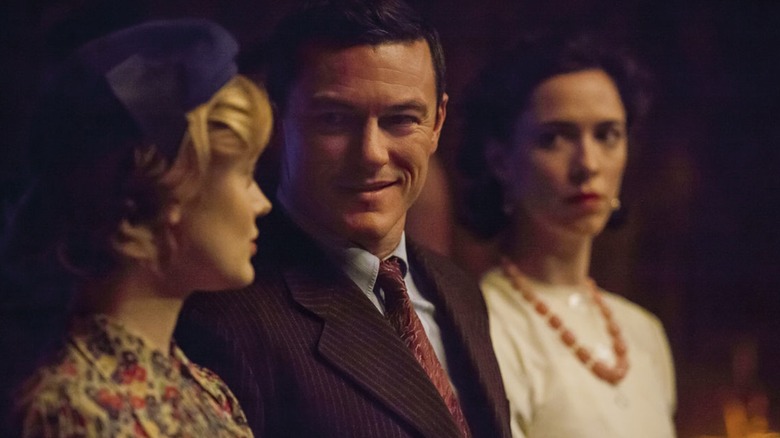 Annapurna Pictures
(Welcome to The Daily Stream, an ongoing series in which the /Film team shares what they've been watching, why it's worth checking out, and where you can stream it.)
The Movie: "Professor Marston and the Wonder Women"
Where You Can Stream It: Tubi, Kanopy, and Freevee
The Pitch: This hidden gem from 2017 is billed as the true story of the invention of Wonder Woman, and indeed, it is a partly fictionalized biographical film about William Moulton Marston (Luke Evans), who created the character. But this is about as far from a comic book movie as you can get. Instead, it's a tender love story, the kind that's scarcely told. It's not about two people who find each other, but three, and the fulfillment, exploration, and brave subversion that comes with their lifelong relationship. 
William, a professor and psychologist, begins the film married to his research partner, Elizabeth (Rebecca Hall). Soon, the pair meet Olive (Bella Heathcote), a student of William's who becomes the pair's assistant — and realize they're falling for her, too.
"Professor Marston and the Wonder Women" is as sexy as you'd expect a film about exploring kink and polyamory to be, but its superpower is its heart: writer-director Angela Robinson's script treats still-taboo topics — that are rarely portrayed as anything but sensational — with authenticity and sweetness. And though details were invented, the film really is based on a true story. According to texts including Jill Lepore's book "The Secret History of Wonder Woman," William, his wife, and their partner did live a committed polyamorous lifestyle as far back as the 1920s. They raised kids together, worked in research together, and created one of the world's most-loved superheroes.
Why it's essential viewing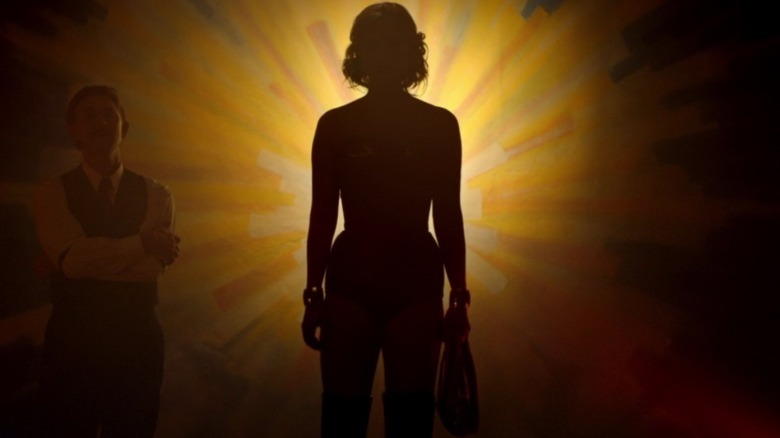 Annapurna Pictures
Movies and TV shows that portray healthy, mature love stories about people in non-monogamous relationships aren't just vanishingly rare: they barely exist at all. "Professor Marston and the Wonder Women" does an exemplary job normalizing not only polyamory, but also kink and queerness. Pop culture is saturated with harmful stereotypes about all three of these topics, from the portrayal of polyamory as something sloppy, dirty, and inequitable, to the pervasive misconception that consensual BDSM is either a sign of "brokenness" or just straight-up abuse, to the near-blanket portrayal of both lifestyles as degrading and unstable.
"Professor Marston and the Wonder Women" doesn't give these misconceptions room to breathe. Instead, it extinguishes them promptly by portraying a story about smart, well-adjusted people who are equals in life and partnership, and whose kink and polyamory are meaningful, playful, and infused with love. Not only is their love life not harmful, but it's actually healing, and seeing that on screen can be healing too for anyone who's ever been told their way of loving is wrong. Watching "Professor Marston and the Wonder Women" as a queer, poly person is a pure and positive feeling, like that moment when Elizabeth and William see a bound and costumed Olive, her form perfectly lit up by a golden glow, and are struck with the inspiration for Wonder Woman.
It's also a sexy, understated historical drama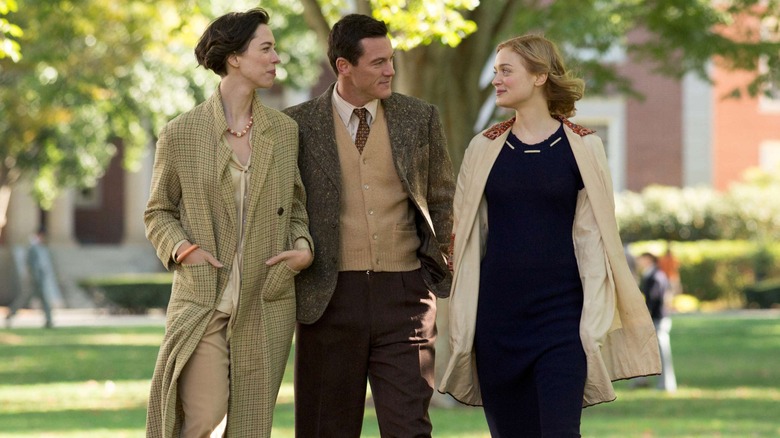 Annapurna Pictures
The film is a foundational representation of polyamory in cinema, and a vital reminder that queer history has always existed, but on top of all that, it's also very good. Understated and cerebral as often as it's sensuous, "Professor Marston and the Wonder Women" takes the sometimes-dull genre of historical biopic and makes its heart beat loud. 
Evans, Hall, and Heathcote form a trio that crackles with tension, emotion, and intelligence. Meanwhile, Robinson expertly reframes moments that could seem lurid in the hands of another filmmaker, keeping their heat without any sense of judgement. The trio's relationship isn't entirely aspirational; Olive's status as William's student is a power dynamic that deserves to be interrogated, and the film certainly frets about her agency. But for the most part, it's a surprisingly gentle romance about fulfillment, discovery, and three people who find happiness by charting their own course in life and love.