'Professor Marston And The Wonder Women' Review: A Funny, Sexy Superhero Origin Story [TIFF]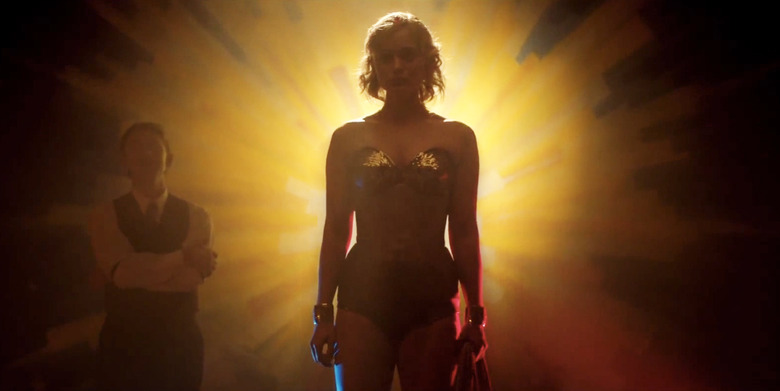 It seems Wonder Woman has not one but two origin films in 2017. After breaking the box office and single-handled rescuing the DCEU with Patty Jenkins' Wonder Woman, the Amazon Warrior's impetus is explored even further with Angela Robinson's sweet, funny, and sexy Professor Marston and the Wonder Women.
Robinson's film follows the people who helped create the most popular female superhero, and it's not your typical creation tale. Instead, this is a polyamorous love story about the man and two women who fell in love with each other and eventually put their heads and kinks together to create Diana of Themyscira.  
Dr. William Moulton Marston (Luke Evans) is a professor of psychology at Radcliffe University in the 1920s. There he works with his wife, Elizabeth (Rebecca Hall), who would be a professor herself if only Harvard would stop denying her the degree based on her sex. The Marston's enjoy a carefree, liberal relationship, one that certainly seems out of step with the almost puritanical values of the era.
One of Marston's students is Olive Byrne (Bella Heathcote), a somewhat shy young woman who agrees to become the Marston's assistant. Almost immediately, William is attracted to the young woman, and freely makes his attraction known to his wife. For her part, Elizabeth says she doesn't care if William sleeps with the girl. Yet on Olive's first day on the job, Elizabeth shocks her by ordering her to never sleep with her husband.
It's a rocky, awkward start to a relationship that slowly blooms into much, much more. The Marstons, with Olive's help, perfect William's grand invention – the lie detector. And the three take turns using the device on each other, which forces them to shed light on the true nature of their feelings for one another.
The Marstons and Olive begin living as a polyamorous unit, exploring their sexuality and saying to hell with societal norms of the time in the process. Their relationships are extremely frowned upon, and they risk losing everything they have if they continue on. Yet perhaps it's a risk worth taking.
Through the course of the relationship William discovers kink – namely, some light bondage and fetish wear – and is soon initiating Elizabeth and Olive into the fold. From all of this springs the idea for Wonder Woman, a comic filled with kinky elements that would also be geared towards teaching female empowerment to a generation of young readers. William subscribes wholly to the notion that women are the superior species, and hopes that the Wonder Woman comics will help make this line of thinking more prevalent in a male-driven society.
All of this unfolds rather rotely, and Professor Marston and the Wonder Women's biggest flaw is how stringently it adheres to standard biopic formulas, moving from point A to point B predictably and frequently employing montages to hurry the timeline along. Yet this flaw is easily overcome by the chemistry of its three leads.
Evans is charming and likable as William, a man wholly confident in his emotions and desires who cannot be bothered with what society may think. Heathcote, as Olive, does fine work here, playing a character who blossoms before our eyes from shy and reserved to open and adventurous. And then there's Hall, who is astoundingly good as the brash, somewhat conflicted Elizabeth. Hall is one of the very best actresses working today; a performer who deserves far more renown and recognition than she's received. Perhaps Professor Marston and the Wonder Women will change that. It should, because Hall commands the screen, appearing in almost every scene. We can't take our eyes off her as she both gives in to her lusts and desires and also tries to run from them. It's one of the best performances you'll see all year.
The three performers have dynamite chemistry together, and their relationship feels genuine. It would be easy for a film to portray this love story as strange or abnormal, but Professor Marston and the Wonder Women treats it with great care. The love between William, Elizabeth and Olive comes across as truly genuine, and often utterly romantic.
A lesser film might have approached the sexual situations that arise from the relationship in a more exploitative manner. But under the sharp directorial eye of Angela Robinson, Professor Marston and the Wonder Women find just the right note, creating sensitive, passionate and altogether sexy sequences where the trio make love to each other. The very first time the three give in and act on their sexual feelings is shot impeccably, set on the stage in abandoned drama class, the three individuals exploring each other and learning what turns each other on.
As Professor Marston and the Wonder Women draws to a close, you'll find yourself wanting more. The film seems to be rushing towards its conclusion, and some more time spent with some supporting characters, like comic book pioneer Max Gaines (played here by Oliver Platt) would've done the film so good. In addition, a framing device, which has William defending Wonder Woman to the head of the Child Study Association of America (Connie Britton) ultimately fizzles out.
Still, it's hard not to fall for this film. It's so good natured in its portrayal of the relationship between William, Elizabeth and Olive that it becomes an ultimately sweet, charming film. Here, the superheroes aren't comic book characters, but flesh and blood humans who dared to embrace a healthy love that society saw as corrupt and indecent. That's the type of bravery that makes heroes.
/Film Rating: 8 out of 10