The Rings Of Power May Be Over, But You Can Watch Morfydd Clark Touch The Darkness In Saint Maud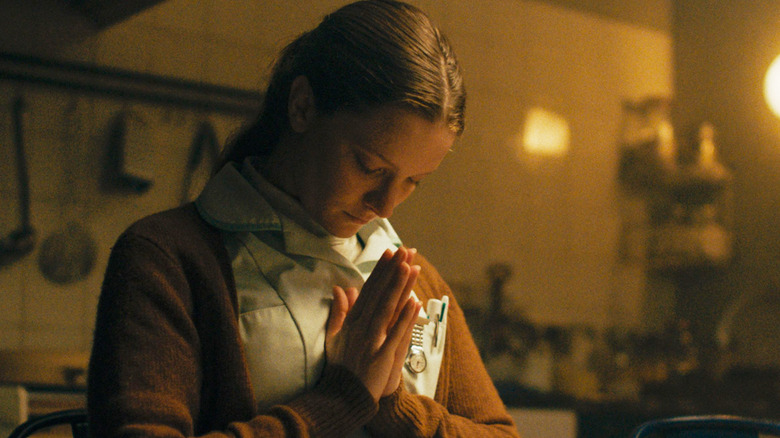 StudioCanal
"The Lord of the Rings: The Rings of Power" season 1 served as many people's introduction to Morfydd Clark who stars as Galadriel, an elven warrior and big fan of horseback rides, ocean breezes, and stabbing people (or so one imagines her dating profile reads). But if you enjoyed watching Clark wrestle with temptation as the one and future Cate Blanchett, then you'll most likely love watching her touch the darkness in "Saint Maud."
Written and directed by Rose Glass in her feature-helming debut, "Saint Maud" was set to make a big splash in the spring of 2020 after generating serious hype on the film festival circuit the previous fall. It was even picked up by A24, all but ensuring it would join the likes of "The Witch," "Hereditary," and "The Lighthouse" in confusing mainstream audiences but pleasing those who like their horror flicks on the dread-fueled, extra-weird side. Then the pandemic happened and "Saint Maud" was forced to sit on the shelf before getting a quiet, limited theatrical release in the U.S. in January 2021 (meaning, very few saw it on the big screen when it arrived).
It's a shame, too, because "Saint Maud" is one of the finer horror movies to come along in recent years. The film stars Clark as Katie, a nurse who starts going by Maud and becomes a devout Roman Catholic after an attempt to revive a dying patient goes terribly wrong. Now a palliative care nurse, Maud is hired to look after Amanda (Jennifer Ehle), an American dancer and choreographer with terminal cancer whose maverick lifestyle and outlook lead Maud to believe that God wants her to save Amanda's soul.
A deeply traumatized person embracing religious piety as the cure for all their ills? What's the worst that could happen?
'Never waste your pain'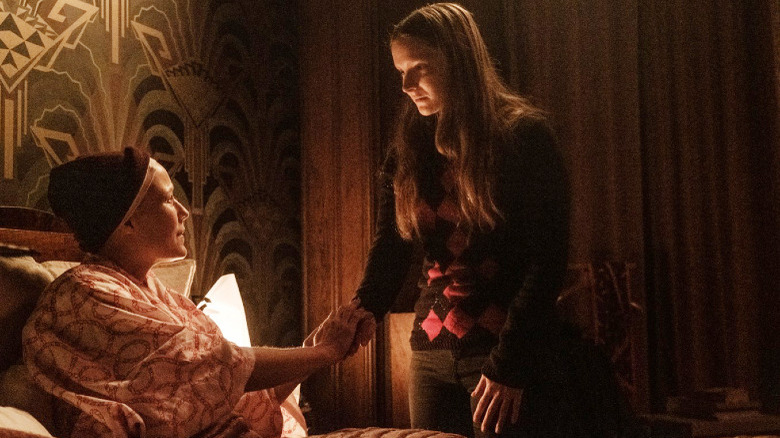 StudioCanal
"Saint Maud" evokes 1970s movies like "The Exorcist" with its atmospheric approach. Much like William Friedkin's classic horror film, the setting for "Saint Maud" (a drab, chilly English seaside town) is palpable and feels real, which only makes it all the more disquieting when Maud spots a preternatural roach crawling on the ceiling or hears the voice of God in her apartment — things that may potentially only exist in her mind. Adding to the distressing mood are the extreme measures Maud takes to affirm her faith, such as filling her shoes with pain-inducing items that would make even Arthur Harrow from "Moon Knight" say, "That's going a bit far."
Of course, as refined as Glass' sense of craft is, it's Clark who shines above all else in "Saint Maud." Her performance is, as /Film's review of the movie puts it, "all vulnerability and blackness," recalling Sissy Spacek's legendary turn in Brian De Palma's "Carrie" but also serving Glass' (again, as our review eloquently puts it ) "female-forward examination of trauma, religion, sexuality, and shame." That includes her voice-over work during Maud's internal monologues, which afford the title character a good deal of interiority and ensure she has real agency, even as it becomes less and less clear who the true instigator is behind the film's increasingly dark twists and turns.
There's also no discussing "Saint Maud" without alluding to its absolute gut-punch of an ending, the imagery from which will live rent-free in your head long after you see it. So, since it's spooky season and we're waiting for the next season of "The Rings of Power" anyway, there's no better time to finally give this chiller a look. You can stream it now at no added cost on Paramount+ or rent it through other digital platforms.