Pierce Brosnan Had To Think On His Feet For The Thomas Crown Affair's Dance Scene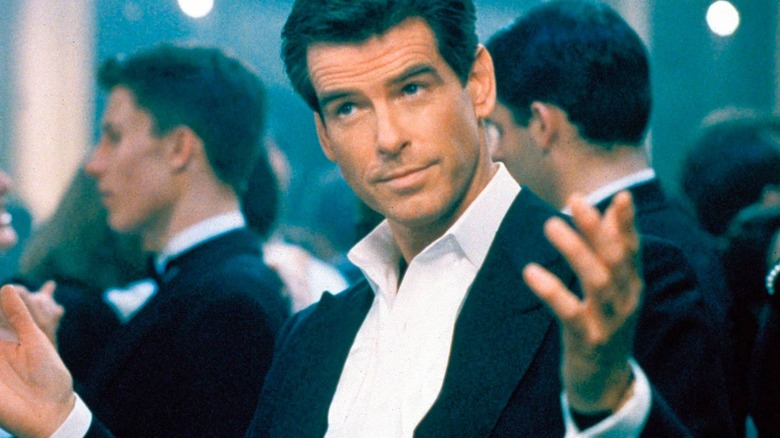 United Artists
John McTiernan's flashy remake of "The Thomas Crown Affair" had a lot going against it when it first hit theaters in 1999. The original film featured two acting icons in Steve McQueen and Faye Dunaway who completely embodied the roles of a billionaire playboy and a sexy art insurance agent in Norman Jewison's instant classic. The high fashion bar set in the first film would also be hard to top, thanks to costume designer Theadora Van Runkle's impeccable taste and McQueen's incredible transformation from bad boy to style icon. McQueen represented the pinnacle of Old Hollywood glamour bringing an American attitude and swagger to the character of Thomas Crown that rivaled the British self-assurance of James Bond. Really, it was the potential to update the style and fashion of the original that made remaking "The Thomas Crown Affair" actually make sense.
Looking back, it was the perfect choice to cast Pierce Brosnan as a rich debonair art thief. He had certainly already proved that he could pull off playing 007 in two Bond films up to that point, "GoldenEye" and "Tomorrow Never Dies." Brosnan could look positively dashing wearing the Prada and Gucci suits supplied for the film, and easily remove the OMEGA Seamaster watch he sported as Bond for a new Patek Phillipe or the rose gold Reverso Duo he dons in the finished film. Bring in Rene Russo (who's never been better) to replace Dunaway, bathe her in jewels and a Halston sequin dress and, now, you're in business. The only problem was, both actors were incredibly nervous to shoot the sensual dance scene that was planned to be a sexy centerpiece in the film. 
Learning to unlearn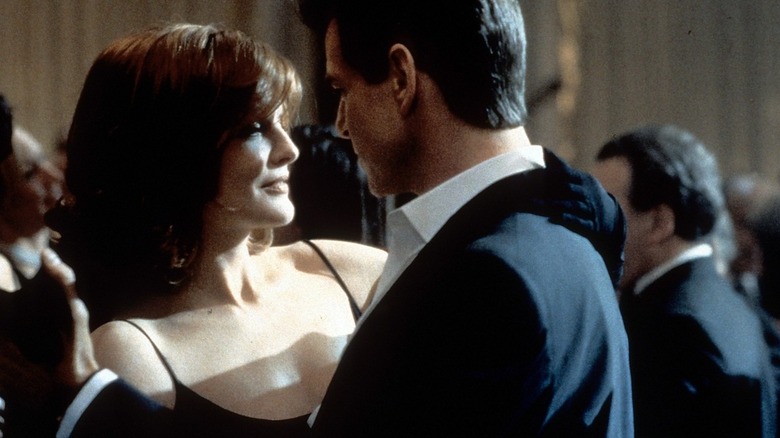 United Artists
In the ongoing GQ series on YouTube, Brosnan broke down his most iconic roles recently and admitted just how worried he and Russo were before filming the Tango scene in "Thomas Crown." They practiced constantly but still lacked confidence on the day. Brosnan reflected: 
"John McTiernan sent us down to a dance studio in Times Square. We went down, I don't know, twice a week. We learned every different dance you could possibly learn and really learnt them. And then the day we came to shoot that scene, [Rene Russo] was really nervous. I was nervous. And she said, 'Have you seen the dress I have to wear?' She said, 'It fits into this match book.'
The environment in "The Thomas Crown Affair" is so stylized and sophisticated that Russo and Brosnan must have felt a heightened sense of pressure to make sure everything they did was calm, cool, and collected. The two pros managed to get through it, nonetheless. Brosnan continued, "We went for the take and we went out there and she was in this dress, this kind of gossamer, featherweight, beautiful dress, and like 300 extras, cameras coming in. And John said, 'Just make it up.' 'Okay.' The lights came on and that's what you see in the movie. We just played." 
Sounds like Brosnan stayed a gentleman until the end, according to his recollection. Russo wearing that dress and sauntering backward reminds me of the famous quote from former Texas Governor Ann Richards when she quipped, "Ginger Rogers did everything that Fred Astaire did. She just did it backward and in high heels."