10 Movies Like The School For Good And Evil You Need To See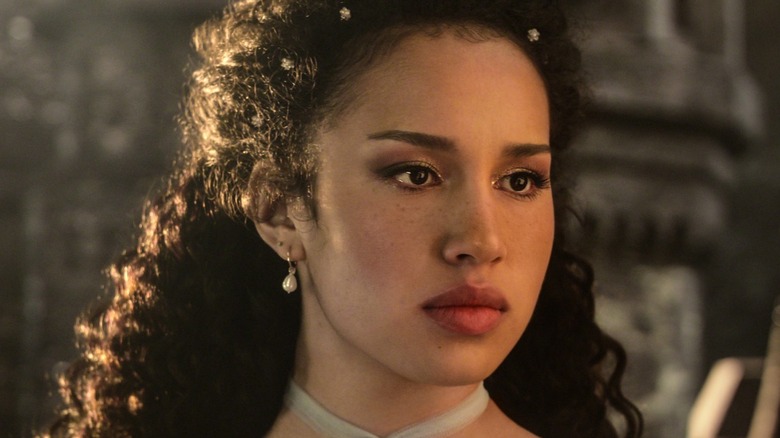 Netflix
Autumn typically signals the start of the back-to-school season, but in Paul Feig's latest film, this return contains more magic, monsters, and mystery than pens, pencils, and homework. With Netflix's "The School for Good and Evil," the filmmaker behind "Freaks and Geeks" and "Bridesmaids" tackles his biggest fantasy comedy since 2016's much-discussed "Ghostbusters" reboot as he adapts Soman Chainani's popular young adult novel series for the small screen.
In this colorful, sweeping epic, Feig transports us to a familiar world with a magical twist: The would-be heroes and villains of tomorrow are trained at a legendary school. Split into good and evil wings, this is where everyone who's anyone in this fictional land wants to be, especially pals Sophie (Sophia Anne Caruso) and Agatha (Sofia Wyle). So, you can imagine their glee when they receive an invitation to study with the fairy-tale realm's finest tutors. However, the pair's new lives take an unexpected turn when their dream destinies are flipped, putting their friendship to the test.
With a stacked cast that boasts the likes of Charlize Theron, Michelle Yeoh, Laurence Fishburne, Cate Blanchett and Kerry Washington, Feig's film has "franchise potential" written all over it. However, it's far from the only movie that splices fantastical escapism with fairy tales, mentorship, and magic. If you're looking for some extracurricular work, check out 10 more movies like "The School for Good and Evil."
The Harry Potter series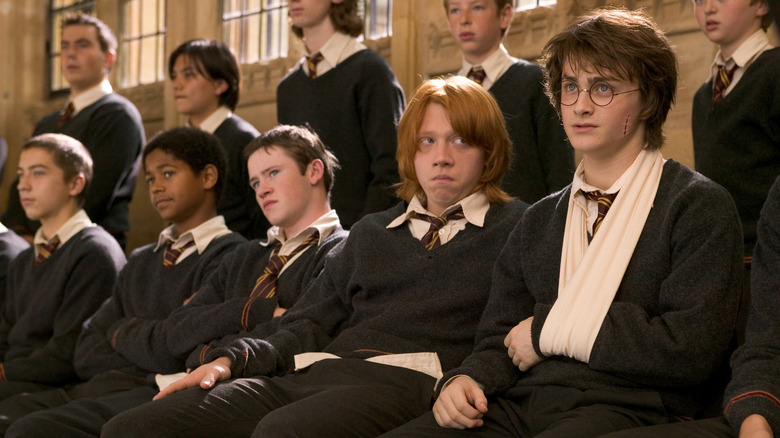 Warner Bros. Pictures
Let's start with the most obvious choice. Feig directly addressed the hippogriff in the room during an interview with IGN, saying, "The first thing people are going to think about with a movie like this is Harry Potter." He's not wrong either. Pretty much any time that a magical school appears in a movie, Hogwarts, lightning-bolt scars, and He Who Must Not Be Named are the first things that spring to mind.
On this front, the visuals in Feig's film bear some similarities to the "Harry Potter" films, especially those of its namesake house of education. Sweeping shots of the castle-like School for Evil Edification and Propagation of Sin recall Harry, Ron, and Hermione's old haunt, Hogwarts. However, for those looking for new adventures in worlds of this ilk, that's where the majority of the comparisons stop. The remainder of Feig's film focuses more on its dissection of Disney-ish tropes, playfully turning them on their head.
However, despite these differences, we'd be lying if we said that watching "The School for Good and Evil" didn't make us want to revisit the modern-day classics that constitute the "Harry Potter" series. With more imagination, attention to detail, and originality than you can wag a wand at, they remain the very best adaptations of a young adult text for good reasons. Watching Feig's latest will definitely make you want to check in on the Wizarding World.
Miss Peregrine's Home for Peculiar Children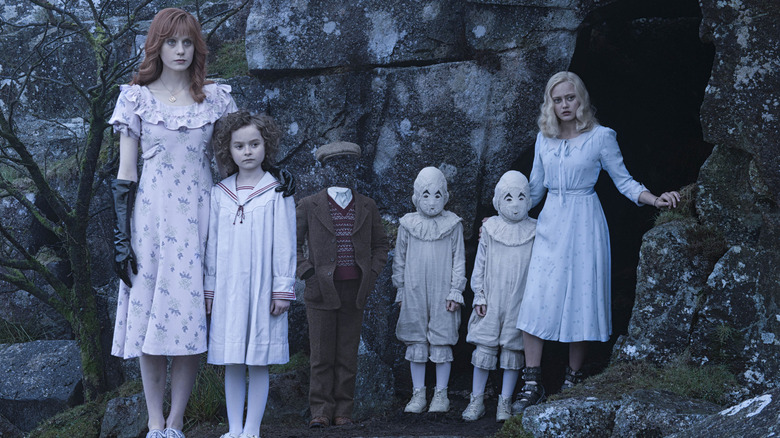 20th Century Fox
Ransom Riggs' popular young adult book series, "Miss Peregrine's Home for Peculiar Children," got the big-screen treatment in 2016 courtesy of macabre movie maker Tim Burton. In it, we follow Jacob (Asa Butterfield), a young man whose dedication to investigating his grandfather's wild tales of children with unusual abilities leads him to a place where fantasy and reality blend together.
Before long, Jacob finds himself in a time-loop reality where Miss Peregrine runs an orphanage that provides refuge for children with otherworldly skills, and protects them from the vicious monsters that hunt them. To help tell his tale, Burton enlisted the help of Eva Green, who plays the orphanage's mysterious matriarch, and Samuel L. Jackson, who appears as the dead-eyed, sharp-toothed Mr. Barron, the villain who's desperate to get his hands on Peregrine's special kids.
While it's not strictly school-based, the "building housing kids with special powers" element of this story helps it sit comfortably alongside "The School for Good and Evil." Throw in some quaint visuals, CGI monsters and Riggs' reality-with-a-twist hook, and there's definitely more than a bit of shared DNA connecting these two features.
The Sorcerer's Apprentice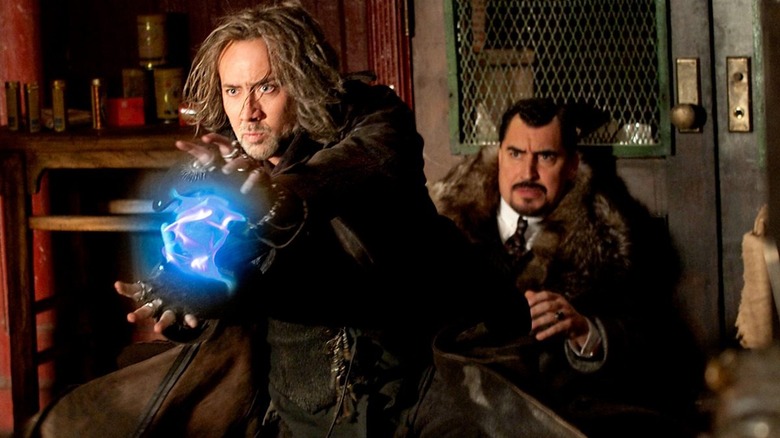 Walt Disney Studios Motion Pictures
Spell-casting, wizardry, magical training — there are more than a few similarities between "The Sorcerer's Apprentice" and "The School for Good and Evil," and yet they're very different films. The school in the latter trains the protégés of famous storybook characters — for example, Captain Hook's son, Hort (played by Nick Cave's son, Earl), is one of Sophie's classmates at the villain school. In the former film, meanwhile, we meet Balthazar Blake (Nicolas Cage), a magician who was trained by Merlin himself.
Balthazar leads us through this adventure, taking Jay Baruchel's Dave Stutler under his wing and teaching the young man the ancient magic he learned from his late mentor. Only Dave isn't just some regular guy; he's a physics expert, the "Prime Merlinean" — aka, the direct descendent of Merlin himself — and the only person with the power to defeat the ancient evil that killed the original wizarding icon in 740 AD.
In addition to its education-based plotline, "The Sorcerer's Apprentice" also has some connective tissue with Feig's new film through its Disney links. The opening village sequences in "The School for Good and Evil" are intentionally reminiscent of those featured in Disney's animated classic "Beauty and the Beast." For its part, "The Sorcerer's Apprentice" was itself loosely inspired by a segment in the House of Mouse's orchestral 1940 feature, "Fantasia."
Seventh Son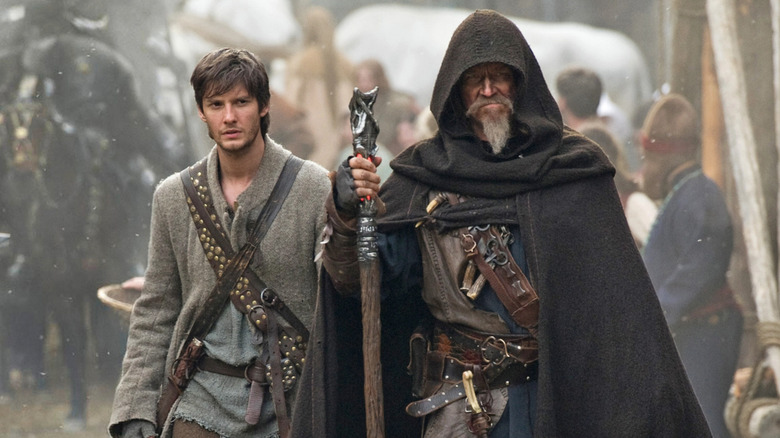 Universal Pictures
Another apprentice-focused adventure, "Seventh Son" is based on "The Spook's Apprentice," a young adult novel series by Lancashire-born author Joseph Delaney. Taking inspiration from the haunted history of his rural surroundings, Delaney dreamed up a world where witch hunters are real and spend their days battling boggarts and all other manner of ancient evils. In this 2014 film adaptation, our hunter is Gregory (Jeff Bridges). When a particularly powerful witch named Mother Malkin (Julianne Moore) kills his ward, he's forced to seek out the seventh son of a seventh son to serve as his new apprentice.
Enter Tom (Ben Barnes), who must begin his education and ultimately stop Mother Malkin's power from reaching its full potential. Training elements aside, this old world-set fantasy adventure looks similar to "The School for Good and Evil," with its rustic aesthetic, magical sorcery, and an abundance of swords, shields, and cloaks. Throw a few witches and fantastic beasts into the mix, and it's easy to see how these two features' stories and themes are similar.
Perhaps the biggest difference between the two movies is the future of each franchise. While Feig's movie lays the groundwork for more adventures, Sergei Bodrov's "Seventh Son" appears to be a one-and-done deal, despite Delaney releasing a whopping 13 books in the series (not counting a few spin-off titles), which is collectively known as "The Wardstone Chronicles."
Into the Woods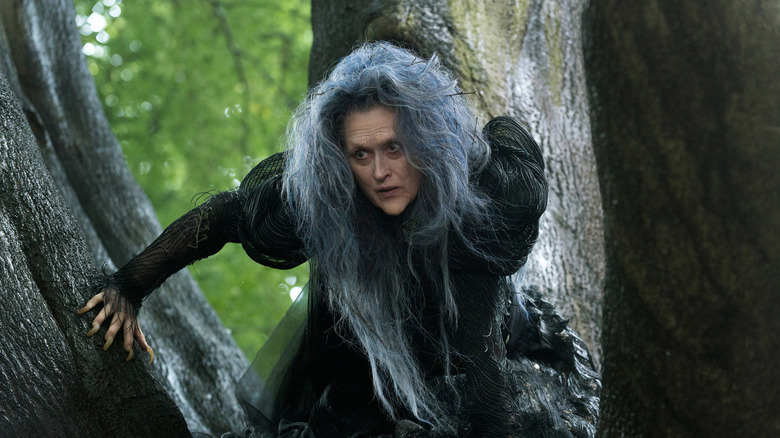 Walt Disney Studios Motion Pictures
You don't have to look far to see the similarities between Rob Marshall's musical "Into the Woods" and "The School for Good and Evil." Released in 2014, this Disney-produced adventure has fun skewing familiar motifs, moments, and characters from many classic fairy tales, weaving a number of much-loved kid's stories together in order to create something recognizable yet brand new at the same time.
In "Into the Woods," Meryl Streep plays an evil witch who places a curse on the family of a humble baker, played by a British-born star who's America's problem now, James Corden. In order to lift the spell, the baker sets out on a quest to retrieve a number of magical items featured in a handful of well-known fairy tales in order to brew a special potion. Think Red Riding Hood's red cape and Cinderella's golden slipper and you're on the right track. It's a journey that brings the baker face-to-face with a number of notable storybook characters, while stirring in a number of sing-a-long moments along the way.
"Into the Woods" relies heavily on fairy-tale narratives to power its story, just like "The School for Good and Evil." Also like "The School for Good and Evil," it's unafraid to play a little fast and loose with viewers' expectations. Finally, it boasts a similarly packed cast; joining Streep and Corden are the likes of Anna Kendrick, Emily Blunt, Chris Pine, and Tracey Ullman, among others.
Enchanted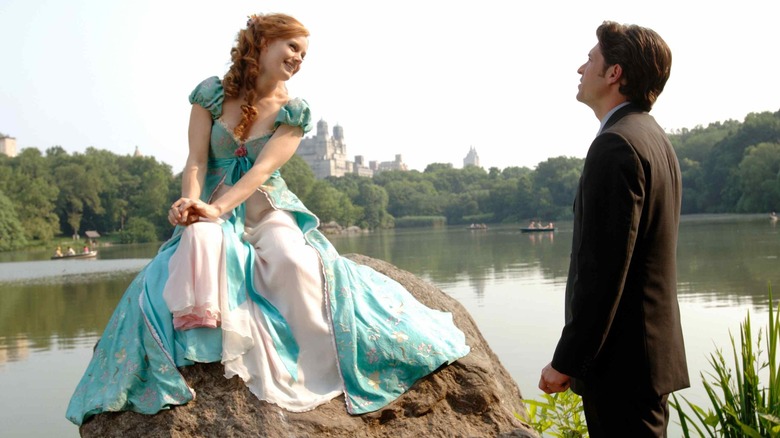 Walt Disney Studios Motion Pictures
Disney sure seems to enjoy playing with its own identity. This is best illustrated in 2007's "Enchanted," a movie that acts as a tongue-in-cheek love letter to the classic animated movies that so many of us grew up watching. In this film, we meet Giselle (Amy Adams), a humble girl living in a simple 2D-animated world who dreams of meeting a prince and being whisked off her feet. As you might expect, circumstances involving talking animals and an evil witch soon start to make this dream a reality, but then Giselle is unexpectedly transported into the real world, where her destiny takes an unexpected detour.
Finding herself in modern day, live-action Manhattan, Giselle learns a thing or two about happily-ever-afters while meeting a new Prince Charming, Patrick Dempsey's single dad, Patrick. The result is one of the most fun and unexpected Disney movies of recent years, one that's proven so popular that a long-awaited sequel will hit Disney+ in 2022.
"Enchanted" shows the same love for Disney's animated properties that "The School for Good and Evil" displays for fairy tales. It also marked one of the first times that Disney returned to traditional 2D animation after switching fully to CGI for its animated features in 2004, and features a score by none other than the much-lauded "The Little Mermaid" composer Alan Menken.
Stardust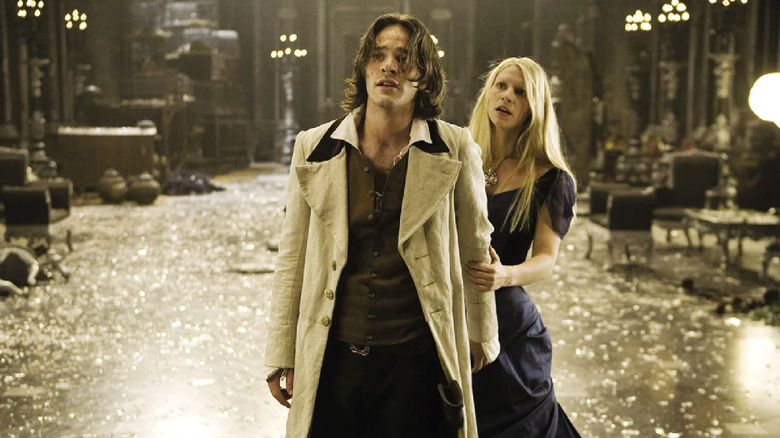 Paramount Pictures
There may be no one who plays around with fairy tale worlds better or more effectively than author Neil Gaiman. Throughout his many works, he's taken familiar fantasy ideas and motifs and pushed them into new and unexpected places, creating some of the most enduring pop-culture narratives of the past few decades in the process. However, the 2007 film "Stardust" marks one of the few times that his work has been adapted to the screen to great success (we'll always have a soft-spot for "Coraline," too). Like "The School for Good and Evil," it also contains a glitzy ensemble cast.
In "Stardust," we follow Tristan (Charlie Cox), a young man who enters a magical realm in order to retrieve a fallen star that he wants to give as a betrothal gift to the person he loves. However, he's thrown a curveball when he realizes that the star is a woman itself, and that he's not the only one after her. Cue witches, magic, swords, and intrigue.
In addition to the future Daredevil, "Stardust" also features appearances from big names like Robert DeNiro, Michelle Pfeiffer, Peter O'Toole, Rupert Everett, and Ricky Gervais. It's this starry ensemble, together with the story's fantasy roots, that helps it sit comfortably alongside Feig's magical adventure.
Maleficent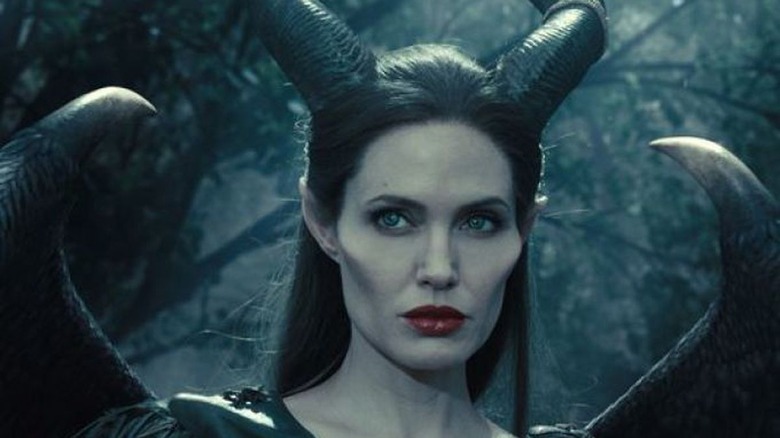 Walt Disney Studios Motion Pictures.
In 2014's "Maleficent," audiences learned first-hand that there are two sides to every story. Told from the perspective of arguably the most notorious villain in Disney's animated canon, this live-action epic sees Angelina Jolie donning the twisted horns of its titular evil queen, who's best known for terrorizing Aurora in Disney's 1959 animated film, "Sleeping Beauty."
However, in this new take on the familiar fairy tale, we discover the reasons behind Maleficent's journey to the dark side and rise to power. Starting with her innocent beginnings as a magical fairy, we see how a broken heart led this once-good creature to embrace bitterness and evil, ultimately becoming a pale-faced, looming figure with a fondness for curses and creepy shape-shifting crows.
Much like "The School for Good and Evil," "Maleficent" tells an unexpected origin story that lets viewers empathize with someone who they once believed to be wholly evil. Just as the suggested heroine of Feig's movie discovers that she may be more bad than good, director Robert Stromberg's film shows us that the tide can just as easily turn the other way.
The Spiderwick Chronicles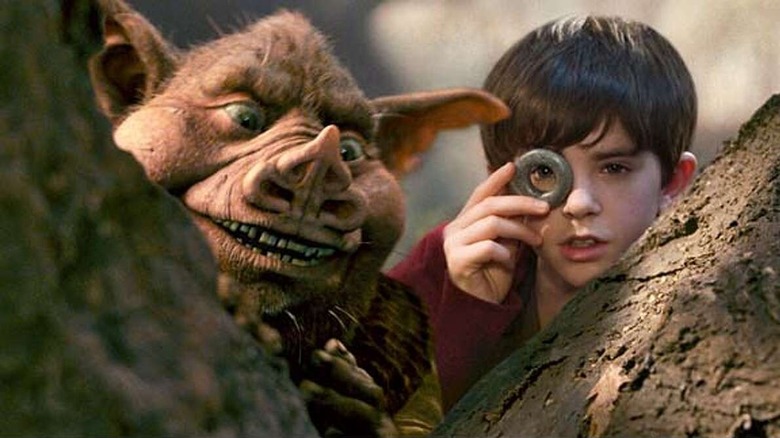 Paramount Pictures.
A young boy ushered into a whimsical world that's hidden in plain sight? It may not involve an apprenticeship or a school, but "The Spiderwick Chronicles" definitely feels like it's related to "The School for Good and Evil."
Based on the popular children's book series by Tony DiTerlizzi and Holly Black, "The Spiderwick Chronicles" takes us to a rundown estate in the middle of nowhere, much to the disdain of young Jared (Freddie Highmore). However, when the boy stumbles upon an old book that claims to be a field guide to fairies and mythical beasts, he, his twin brother Simon, and his sister Mallory (Sarah Bolger) embark on a voyage of discovery, trying their best to keep their all-important book out of the hands of an evil ogre with a thirst for power.
One of the most enjoyable parts of Feig's new movie is watching its magical tutors introduce us to a world full of real-life mythical creatures, like stymphs, the huge skeletal birds that transport new pupils to the titular school. If you enjoyed watching those creatures come to life, then you'll find lots to like in "The Spiderwick Chronicles," as Jared, Simon and Mallory uncover a treasure trove of monsters. Fairies, brownies, sprites, goblins, hobgoblins, and ogres — they're all here.
Jack the Giant Slayer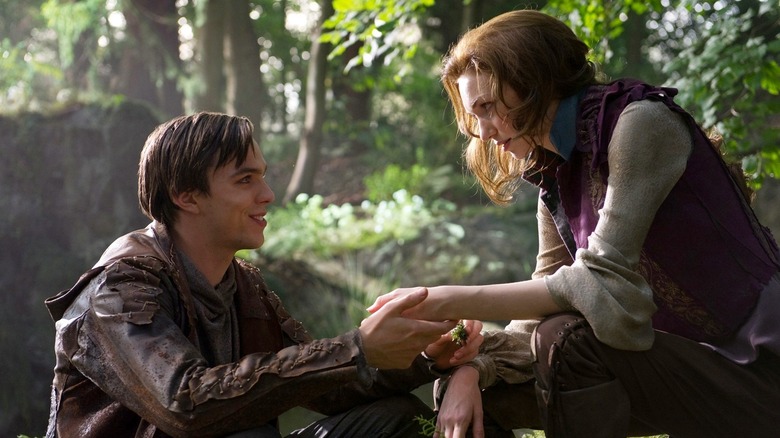 Warner Bros. Pictures
Humble farm hands, beautiful princesses, magical objects, and larger-than-life threats come together in Bryan Singer's 2014 film "Jack the Giant Slayer." Combining the classic fairy tales "Jack the Giant Killer" and "Jack and the Beanstalk" into one new, CGI-heavy story, Singer transports viewers to a world that's visually similar to our own, yet full of fairy-tale characters and storybook villains.
Here, we meet Jack (Nicholas Hoult), an unassuming villager who's fascinated by stories about a heroic king who banished giants from the world using nothing but his wits and a crown loaded with magical powers. Years later, both Jack's house and the princess-to-be are rocketed into the sky after magic beans cause a beanstalk to grow under its foundations. With his beloved trapped in the realm of the giants, Jack must climb above the clouds to rescue her, all while trying his best to avoid becoming dinner for the massive baddies lurking in the sky.
Like Netflix's adaptation of Soman Chainani's book series, Singer's glossy adventure movie also takes fairy-tale expectations and ushers them into new and unexpected places. "It's a very traditional fairy tale, probably the most traditional thing I've ever done," the director told Total Film shortly before the film's debut in 2011. "But it'll also be a fun twist on the notion of how these tales are told." This ethos makes it the perfect bedfellow for "The School for Good and Evil."