Finishing Bram Stoker's Dracula Was A Pain In The Neck For Francis Ford Coppola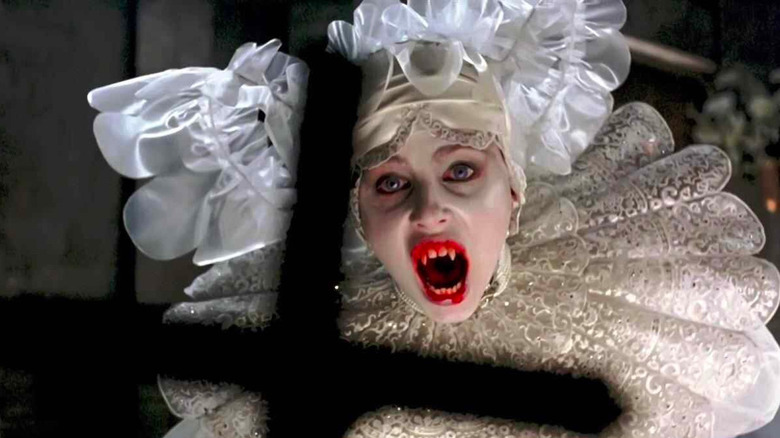 Columbia Pictures
Francis Ford Coppola is inarguably one of the greatest filmmakers of all time, but his creative process can be exhausting for his cast and crew. His excesses are on full display in "Hearts of Darkness: A Filmmaker's Apocalypse," where we watch him fall behind schedule and soar way over budget as he struggles to complete "Apocalypse Now." His potential for turning out award-winning classics with broad commercial appeal means studios and financiers will never entirely write him off, but the possibility of another box-office debacle like "One from the Heart" or "The Cotton Club" makes him a tremendously risky gamble.
1992's "Bram Stoker's Dracula" appeared to be a safe bet for Columbia Pictures. The project was buoyed by a well-regarded screenplay from James V. Hart, and attracted a powerhouse cast that included Gary Oldman, Winona Ryder, Anthony Hopkins, and Keanu Reeves. For cinephiles, it was exciting to see Coppola returning to the horror genre for the first time since his 1963 debut "Dementia 13." For vampire fans, the title promised a lustier adaptation of Stoker's bloodsucker. The film was a ready-made blockbuster. It was also yet another laborious production that nearly resulted in total disaster ... and one of Coppola's old friends even stepped in to help out.
Coppola made a bloody mess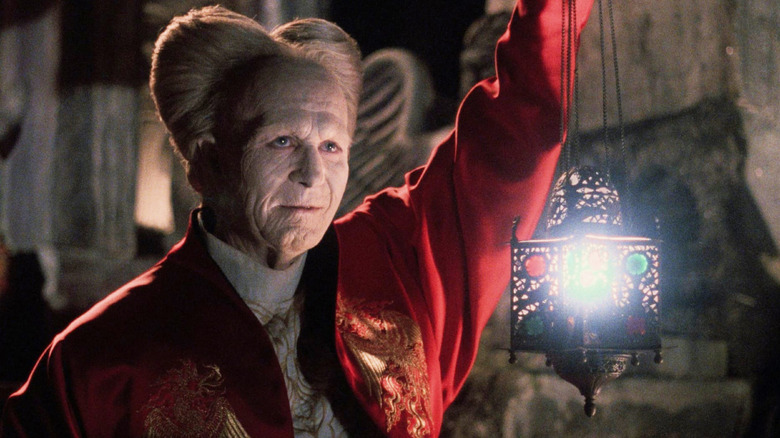 Columbia Pictures
Speaking of labor, it had taken Hart 15 long years to get his "Dracula" before cameras. He thought he'd hit the jackpot when Ryder convinced Coppola to take a crack at his adaptation of Stoker's novel. The director of "The Godfather" signing on to make your script was just about every screenwriter's dream!
Hart's reverie was short-lived. Principal photography had turned sour early when Oldman and Ryder stopped talking to each other. Coppola powered through the on-set animus, only to discover via test screenings that the film wasn't working. At all. In an entertainingly candid behind-the-scenes essay for GQ, Hart remembers Coppola phoning him at midnight to give him the bad news. "He asks [politely commands] me to get on a plane and come to San Francisco," wrote Hart. "He hates the film, hates the script, hates me for writing it, hates the cast, hates the studio, and he wants to show me the film to prove it."
After a private screening in "the Godfather room" at Coppola's Zoetrope headquarters (outfitted "with big leather couches, cigars, wine, brandy"), Hart found himself agreeing with the director's dire assessment, stating with some level of self-deprecation: 
"For 2 hours and 10 minutes, I watched the worst piece of film I had ever seen. The one I wrote. I was comatose, destroyed, drunk, and pissed. Coppola finally called the screening room since I had not made contact. I confirmed his opinion; 'I hate you, I hate the script, I hate the actors, I hate the studio, I hate myself for writing it...[etc. etc.]'"
George Lucas to the rescue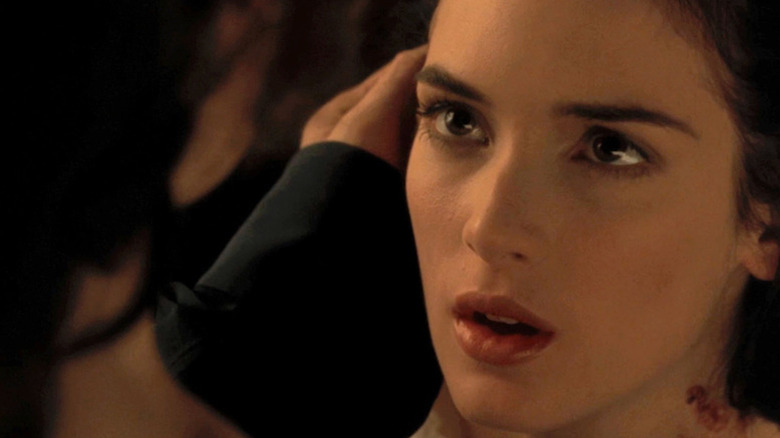 Columbia Pictures
In the original ending, Oldman's Dracula is mortally wounded by the Bowie knife. He begs Mina (Ryder) to give him peace, so she finishes the job by plunging the knife through his heart, at which point she leaves the chapel and runs into the arms of Jonathan Harker (Reeves).
Coppola lobbied the studio for reshoots, but he was unsure how to fix the finale, as was Hart. Enter Coppola's old friend, "Star Wars" director George Lucas, who helped correctly diagnose the issue. According to Hart:
"We had broken the rules of how to kill a vampire that we had established in the film; the only true way to kill a vampire is to cut off their head and cut out their heart, then burn it. Which is exactly what Van Helsing and his Vampire Killers do to Lucy in the film."
Previously, Coppola had been sweating an Oldman/Ryder reunion to the point where he was unsure if the latter would show up. Coppola asked Hart, "Do you think we can get Winona back to cut off Gary's head?" Hart replied, "It's the only way you will get her back."
The rest is film history. The R-rated "Bram Stoker's Dracula" opened on November 13, 1992 to $30 million, beating the November record then held by "Back to the Future Part II." Critics were generally positive, though the bulk of their praise was lavished on the film's sumptuous production and costume design. 30 years later, Coppola's horror extravaganza is now considered one of the best vampire movies ever made. And, in a happy turn of events, Ryder recently said she's since mended fences with Oldman.