The Simpsons Will Cross Over With Bob's Burgers For A Halloween Special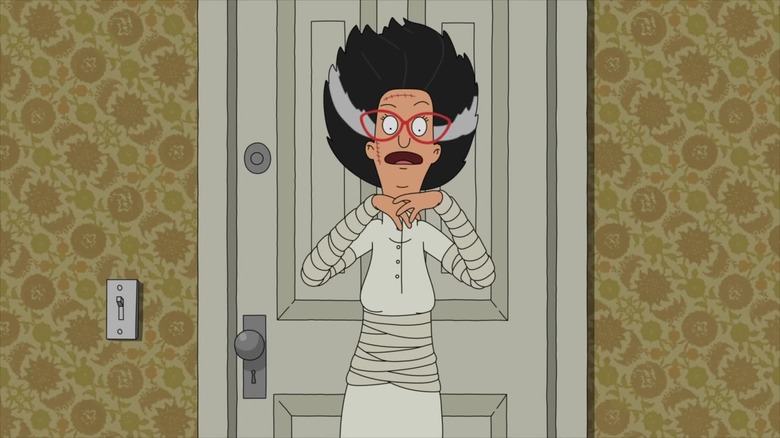 Fox
Adult animation fans are finally getting the crossover event of our dreams, as Linda Belcher herself (well, voice actor John Roberts, that is) confirmed that the upcoming "The Simpsons: Treehouse of Horror XXXIII" will feature a crossover between everyone's favorite animated families. 
"The Simpsons" set the bar for animated Halloween TV specials for years. Their "Treehouse of Horror" parodies represent some of the best and most memorable episodes of the juggernaut series' history. We've personally ranked some of their 15 best segments, but trying to choose from over 30 years of horror comedy greatness is a fool's errand. Not to be outdone, the creatives over at "Bob's Burgers" have also prioritized Halloween specials, which we've also ranked, because we love you and want you to have nice things.
The episode will mark the first crossover event with "The Simpsons" and "Bob's Burgers," although both shows have made appearances on other animated shows. "Bob's Burgers" had a fan-favorite crossover with "Archer," as H. Jon Benjamin provides the voice of both Bob Belcher and Sterling Archer, which made for some delightfully funny moments. Meanwhile, over three-decade legacy, "The Simpsons" has popped up everywhere from "The Critic" to "Family Guy," and obviously "Futurama." Plus, there's bee some playtime with "Rick & Morty," a most impressive feat as the show is not part of the FOX Animation Domination family.
What we know about Treehouse of Horror XXXIII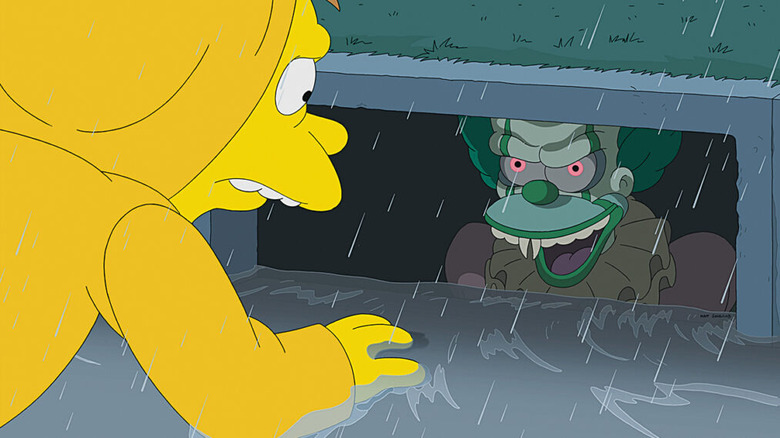 Fox
"Treehouse of Horror" segments typically parody popular horror stories, but season 34 of "The Simpsons" is shaking things up a bit by providing two different Halloween specials. On October 23, 2022, FOX is debuting "Not It," a parody of Stephen King's "It" starring Krusty the Clown as Pennywise. It's kind of shocking to realize this parody hadn't been done already, but better late than never, I guess. This will also be the first time that the series focuses on one story for a full half-hour special. The official "Treehouse of Horror XXXIII" will air the following week on October 30, 2022, and it's said to be parodying "Death Note," "Westworld," and "The Babadook."
I can't wait for all of the anime fans to have to explain "Death Note" to their parents, but I'm even more excited to see "The Simpsons" drawn in an anime style. There have been no details released yet regarding how the Belcher/Simpsons meet-up will play out, or whether characters other than Linda will appear, but I am begging, praying, and willing to make a human sacrifice if it means Linda Belcher will get to sing one of her trademark improvised songs in the town of Springfield, preferably while wearing Mr. Babadook's black hat.
Set your reminders for "The Simpsons" Halloween specials over the next two weeks!