The 14 Best Hockey Movies, Ranked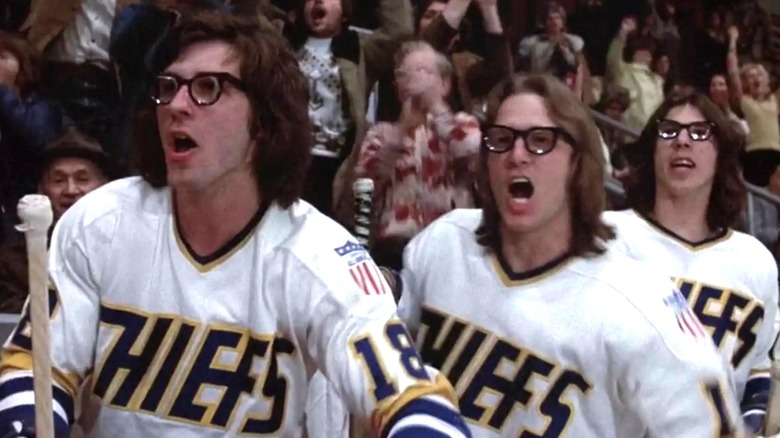 Universal Pictures
In HBO Max's excellent miniseries "Beartown," a rural hockey coach explains why his team's enforcer punches his opponents so often. "He's not fighting. He's protecting the most important investment this town has ever seen." That investment is the team's star forward, and when a parent pushes this coach to elaborate further, he responds curtly, "Either you understand that aspect of hockey or you don't."
That brusqueness, both on the ice and off, could be why there are so few hockey films. It's a sport that you either understand or you don't, a wildly popular worldwide phenomenon that still mystifies and alienates many. A recent Gallup poll had football, baseball, basketball, and soccer ranked above hockey as Americans' favorite sports despite the NHL having more reach and organizations than the MLS and NWSL combined. That means that the best hockey films aren't just good cinema, they're a gateway to understanding the tough and bruised soul of a thrilling, worthwhile game.
Here are the 14 best hockey movies, ranked.
14. D2: The Mighty Ducks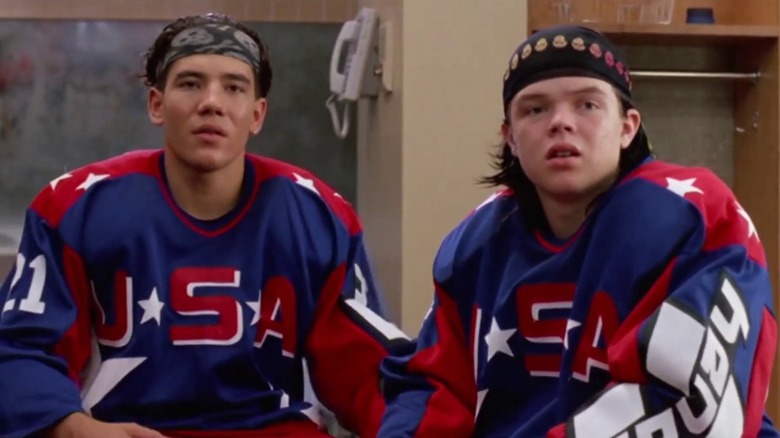 Walt Disney Pictures
Everything good about "D2: The Mighty Ducks" occurs within the margins of its story. Gordon Bombay (Emilio Estevez) getting injured before his pro career can take off is merely the catalyst for his return to Minnesota youth hockey, but it hints at hockey's sobering realities. Bombay's infatuation with Los Angeles, which manifests the second he takes the Ducks there for an international tournament, is real — and potentially crippling. Bombay doesn't want the Ducks. The Ducks are out of their element. There are moments when "D2" approaches the heartbreak of childhood sports as much as it does its triumphs. 
That said, the endless quotability of "D2" is also why the movie makes this list. Sometimes, the best sports teams aren't great. More often than not, they get the job done and they're loveable. From "you lost it for yourself" to Kenan Thompson shooting "knuckle pucks," "D2" is more endearing than its predecessor, and it instills a love for hockey that's hard to shake, even if it's not a movie you grew up with.
13. Net Worth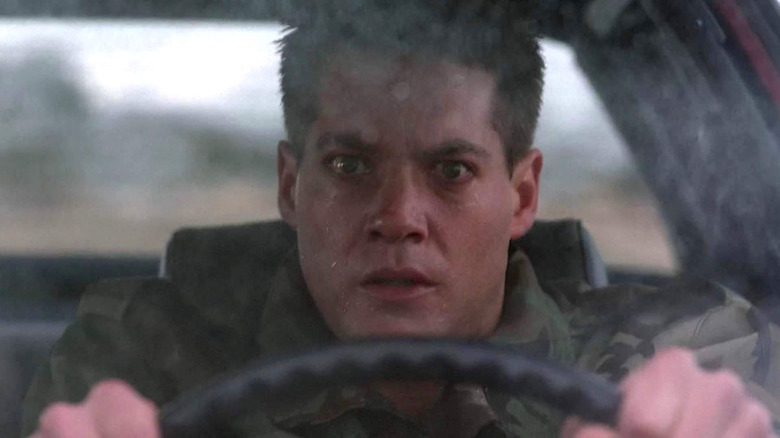 CBC
Every sport deserves a behind-the-scenes docudrama. Baseball has "Moneyball." Basketball recently got "High Flying Bird." Football has "Any Given Sunday" (and more realistically, Peter Berg's "Friday Night Lights," though, that's high school football, not pro athletics). "Net Worth" isn't nearly as famous as those four films, but it's invaluable to its sport's fanbase. Jerry Cicciorti's Canadian TV movie about the formation of the NHL Players Association is an emotionally brutal look at greed and self-preservation. It pits hockey players against team owners, a battle that has raged with rapid frequency across multiple sports since the movie's release in 1995. Because it's hockey, this fight was particularly bruising.
In some ways, this is what makes "Net Worth" essential viewing. Future Hall of Famers Ted Lindsay (Aiden Devine) and Gordie Howe (Kevin Conway, the future voice of Batman) endured sinister threats from corporate brass when they weren't taking in-season blows on the ice. Cicciorti draws an unsubtle but impactful parallel between the two (one of many reasons he won a Gemini Award for Best Direction in a Dramatic Program) and the accumulated power has hat-trick-level impact. "Net Worth" soars by leaning into what makes hockey hard to stomach. That decision makes it a smoother, smarter viewing experience.
12. Youngblood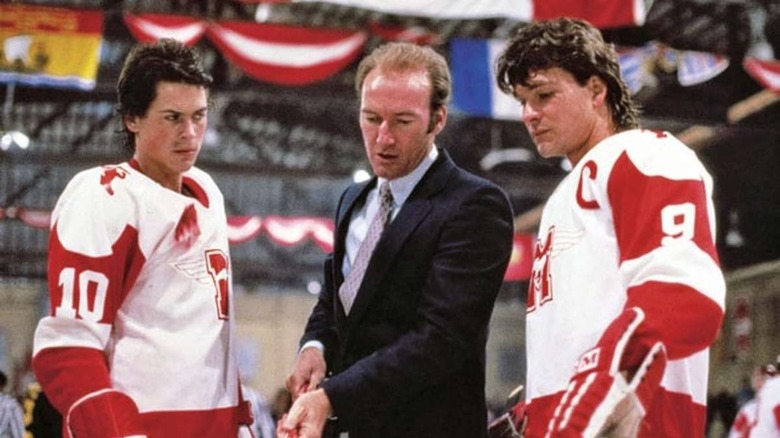 MGM Studios
It's fitting (and glorious) that there's an incredibly 1980s hockey film. Hockey is, in its deliberately violent and crass way, inherently excessive. And the '80s were the decade of excess. Enter "Youngblood," a movie that capitalizes on both to be tremendous fun and sneakily effective. It would be a curiosity for the presence of Rob Lowe, Patrick Swayze, and Keanu Reeves alone. Lowe is at the peak of his Brat Pack powers as a punch-happy speedster named Dean Youngblood who shakes up the Hamilton Mustangs locker room from the moment he arrives. Reeves shines in a supporting role, but Swayze burns brightest as Dean's mentor, Derek Sutton, a character who anticipates Johnny Castle and Bodhi simultaneously. If hockey can make athletes stars, "Youngblood" is resolute proof movies about it can, too.
It's the sheer '80s of it all, though, that makes "Youngblood" endlessly watchable. The obligatory shirtless training montage would be perfect post-modern comedy if it wasn't straight-faced. It has nothing on the jousting fight which anchors the film's third act — yes, a jousting fight — which is so nonsensical that "Youngblood" becomes giddy. No one could ever make this movie again if they tried, and the sheer audacity of it all is worth at least one viewing.
11. Sudden Death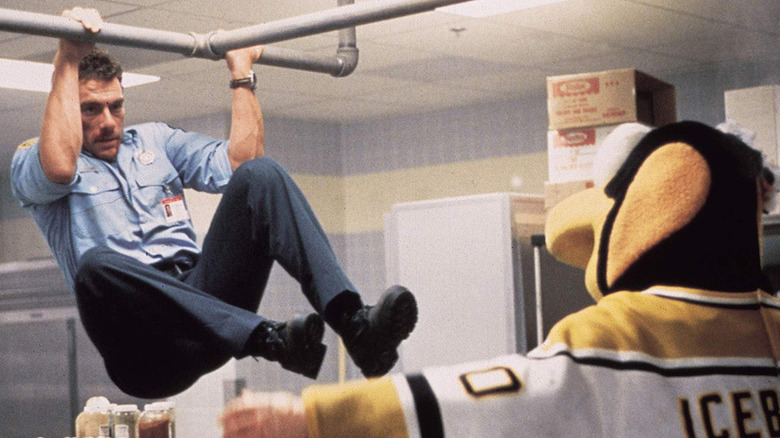 Universal Pictures
For those who don't know, in "Sudden Death," Jean Claude Van Damme beats down a mascot that's a henchman. More specifically, Van Damme throws down with Iceburgh the Pittsburgh Penguin in the PPG Paints Arena kitchen, and, at one point, shoves red pepper flakes down its throat before kicking it through a drying rack. Inexplicably, this isn't the craziest thing that happens in "Sudden Death." To be transparent, this 1995 Peter Hyams-directed thriller is only tangentially about hockey. 
"Death" belongs to the canon of "Die Hard"-style movies that includes "Under Siege" ("Die Hard" on a battleship) and "Speed" ("Die Hard" on a bus). What makes "Sudden Death" soar is how it embraces hockey's mean streak. It's an unapologetically nasty film in which charismatic, sardonic bad guys are killed via chicken bones to the neck, and the film's Hans Gruber clone, Powers Boothe's Joshua Foss, casually shoots innocent people without warning. Hyams was wise to make the cinematic equivalent of a center-ice brawl that leaves both teams in the penalty box. "Sudden Death" is a great hockey movie because it isn't content to play tourist in its setting. The sport's spirit is well within it, and it makes for an icy and ripping good time.
10. Red Army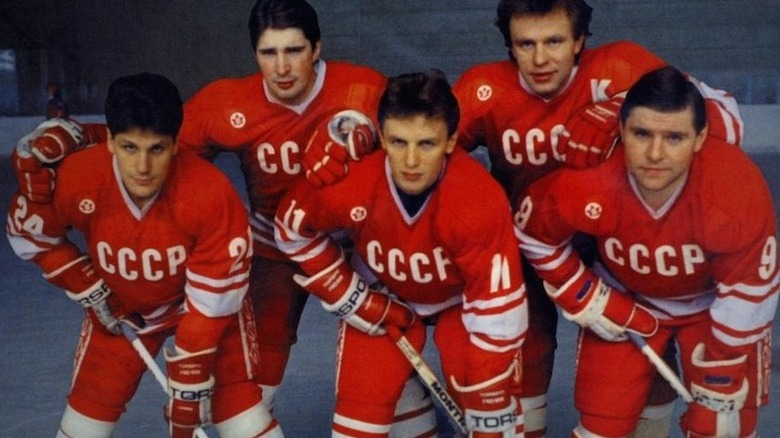 Netflix
Some sports movies articulate the heart of a game's particular culture, but "Red Army" goes one step further. It spotlights the heart of an entire country, too. It's the story of Soviet hockey in all its forms from its rise to dominance to its players reaching the NHL and becoming overnight successes. The film delicately chronicles the precision and razor-sharp formation work that made Soviet hockey closer to art than athletics. For hockey fans, that alone should make it a must-watch movie.
"Red Army" is also a story of rebellion. Its focal point is Slava Fetisov, the first player to stand up to the megalomanic coach of the Soviet team Viktor Tikhonov, and how that defiance paved the way for Russian players to thrive in America. In this sense, "Red Army" is a compliment and counterpoint to "Miracle." If the latter is the story of modern-day American hockey mythos, "Red Army" is the empathetic other side of the coin that humanizes the Soviet players who honored, and then, defined their country. It makes the "Miracle on Ice" more wonderous and also sadder.
9. Indian Horse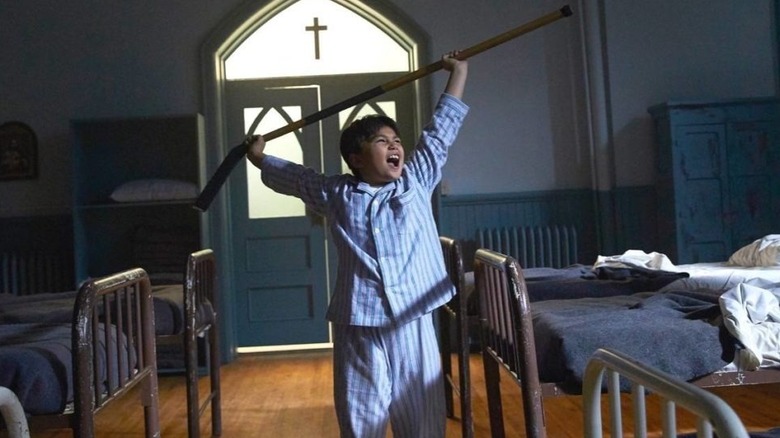 Devonshire Productions
"Indian Horse" is about survival. More specifically, it is about how sports and the dream of playing them, the experience of watching them, and the way they linger in the minds of those that love them help people survive heartbreak and hardships. The tragedy of director Stephen Campanelli's movie is that no amount of skill or passion for hockey can protect its hero. Saul (Sladen Peltier, Forrest Goodluck, and  Ajuawak Kapashesit) from everyday racism and discrimination. At age 6, Saul (Peltier) begins surviving the Canadian Indian residential school system. By age 15, Saul (Goodluck) is a burgeoning hockey star whose all-indigenous team is berated for being First Nations. Things don't improve by the time he hits his mid-20s. 
If "Indian Horse" sounds unbearably heavy, it is at times. Campanelli's direction is deeply empathetic but rarely subtle. The movie has an important story to tell and is well aware of it, occasionally coming across as melodramatic. That said, it also effortlessly communicates hockey's most enthralling elements from its physically demanding play to the fluid, blunt-force thrill of dashing across the ice. "Indian Horse" is uneven but when it soars, it flies high while spotlighting an underrepresented population. That makes it a worthy film and hockey story.
8. Les Boys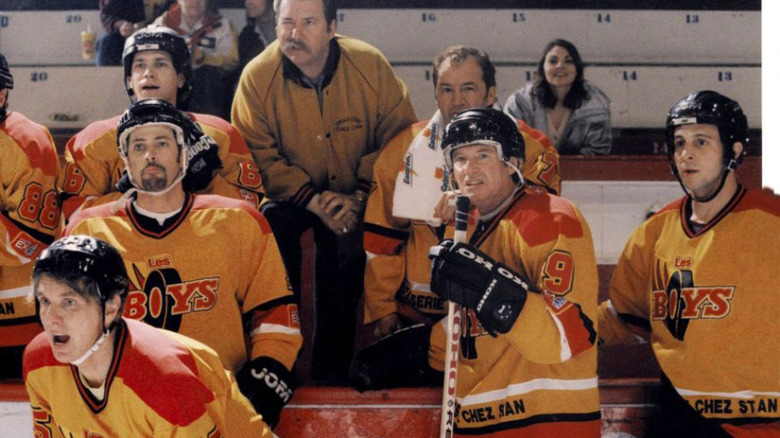 "Les Boys" is one of the most successful films set and produced in Quebec. Most American audiences don't know it. That isn't for lack of exposure. The Louis Sala-directed sports comedy starring hockey cinema icon Marc Messier made $4.7 million in its limited American release. What becomes clear when you see "Les Boys" is that it's a crackerjack film both wildly ahead of and very much of its time. The plot points (amateur hockey team must help local pub owner win back pub from leering crime syndicate) and societal perspectives (humor derived from characters needing to get laid and women being treated as sexual objects) reek of the '90s crass comedy boom. "Les Boys" is as close to the Farrlley Brothers' "Kingpin" as it is to the "Major League" movies. That's what's dated.
What isn't dated, however, is its crystal-clear portrait of what hockey means to the heart of Canadian everymen. There are few professional athletes in "Les Boys." The team is comprised of, among others, police officers, mechanics, and unemployable hockey trivia buffs. What's at stake is a run-down pub being muscled out of business by low-level criminals. Hockey is the answer. In rising to the occasion through the one sport that transcends the cold, shabby origins of Quebec, the Les Boys become local folk heroes — just like the best athletes. That makes "Les Boys" a rare breed of sports movie.
7. The Mighty Ducks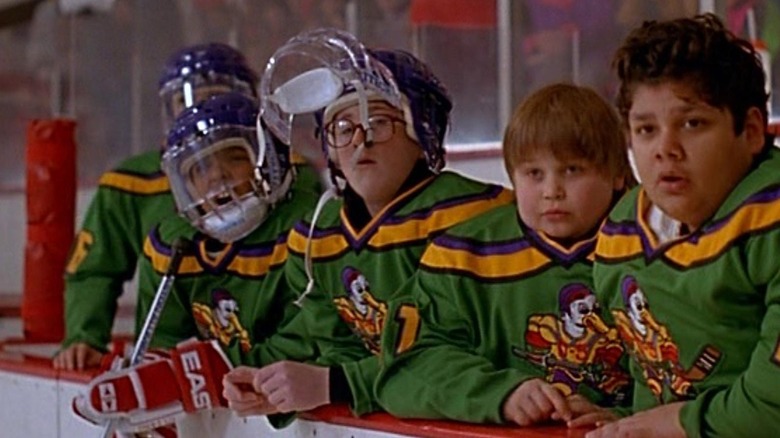 Walt Disney
There are many movies about hockey. There are far fewer that reshaped professional hockey forever like"The Mighty Ducks." 
The 1992 Disney family classic is built from every well-worn cliche in the sports movie textbook. There's a coach who needs redemption, the players are misfits nobody believes in, and predictably, the film's third act is a non-stop string of crowd-pleasing payoffs. None of that's inherently bad. "The Mighty Ducks" embraces cliché and fills its tropes with enough humanity to avoid the simple and saccharine. Remember, this is a movie that opens with its hero, Coach Gordon Bombay (Emilio Estevez), getting a DUI (and it was meant to be even darker). "The Mighty Ducks" doesn't make the world of youth hockey magical so much as it finds the magic within it. That's why the film genuinely looks at league district lines and lets Coach Bombay be a man whose spirit is worn but whose hockey mind is sharp. "The Mighty Ducks" may be for kids, but the adult world which surrounds its childhood activities is real and lived in.
Perhaps that's why "The Mighty Ducks" inspired the name of an NHL franchise. Stephen Herek's film shaped the concept of what hockey is and could be for the millennial generation from those who watch it to those who play it. Its impact can be seen on the ice every day of the NHL season. That's the mark of a movie with staying power.
6. Mystery, Alaska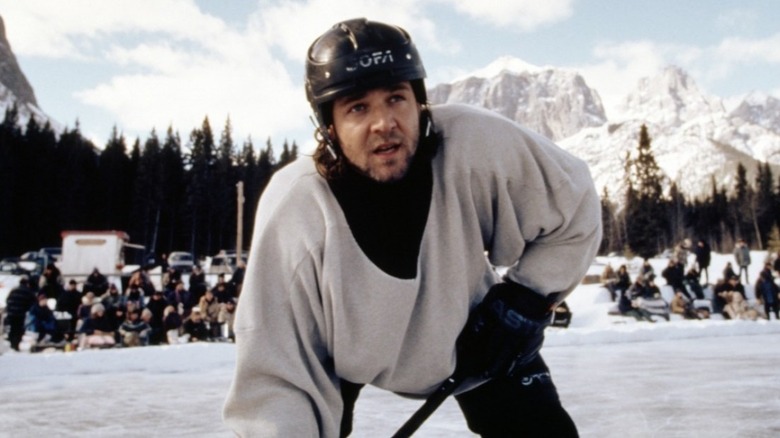 Walt Disney Pictures
In many ways, "Mystery, Alaska" is America's answer to Canada's "Les Boys." It is, first and foremost, a portrait of small-town America. Since it's written by David E. Kelley and directed by Jay Roach, two talents who fundamentally love American drama and all its hallmark tropes, that portrait is inoffensive and loving. "Mystery, Alaska" lacks "Les Boys" savage edge or self-critical streak, but its innocuous tendencies have helped it age well, as have Kelly and Roach's burgeoning obsession with American culture. 
Roach would go on to make both "Recount" and "Game Changer," and the film's local politics subplot, courtroom sequences, and small-business-versus-big-retail themes foreshadow that filmography. Meanwhile, Kelley's script engages in the kind of small-town, massive ensemble-building that made "Big Litlle Lies" so good. The characters are all recognizable archetypes, but their portrayals land just left of center. That's also due to the excellent cast, which includes everyone from Russell Crowe as a Sherrif and former hockey star to Hank Azaria, Burt Reynolds, and Mike Meyers. 
You'll notice I have mentioned the plot of "Mystery, Alaska" yet. That's by design. The movie may be about a rag-tag hockey team from the boonies taking on the New York Rangers, but it's a great hockey and sports movie because it remembers that hockey and sports are about people first and foremost. The people of "Mystery, Alaska" make it a film well worth watching.
5. Happy Gilmore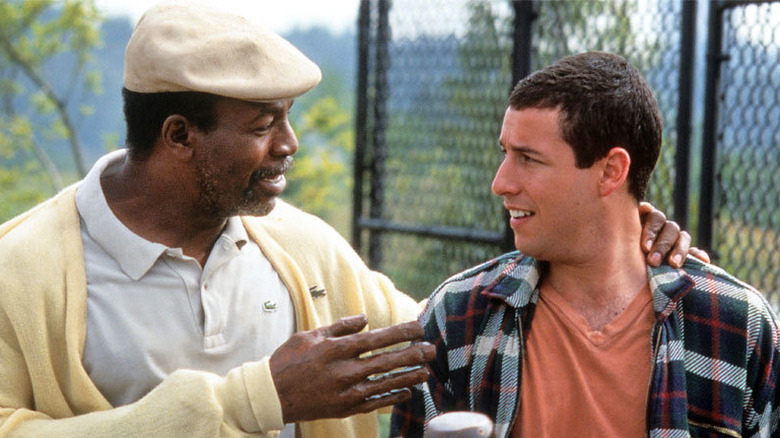 Universal Pictures
Adam Sandler's "Happy Gilmore" is simultaneously one of the best hockey and best golf movies ever made. This might seem hyperbolic at first. Hockey is the catalyst for Sandler's "Billy Madison" follow-up but hardly its focal point, and the film spends a limited amount of time on the ice, much less staging actual hockey sequences. Why, then, does it make this list at all? Simply put, "Happy Gilmore" celebrates the transformative power of hockey's blunt force honesty. 
Happy turns the golf world upside down because his approach to playing shatters all of the game's treasured civility. He brings hockey skills and attitude to a sport that shouldn't have them. Instead of making golf worse, Happy and his insane, off-the-tee ability make golf more accessible and fun. That goes for the fans who participate as well. As Happy's star ascends, the courses he plays on are populated by boisterous, beer-swigging sports lovers. The film may make these spectators a punchline from time to time (Shooter McGavin's "I saw two ... naked bikers in the woods off 17 having sex. How am I supposed to chip with that going on?" remains iconic), but it never punches down on them. It's on their — and hockey's — side.
4. The Rocket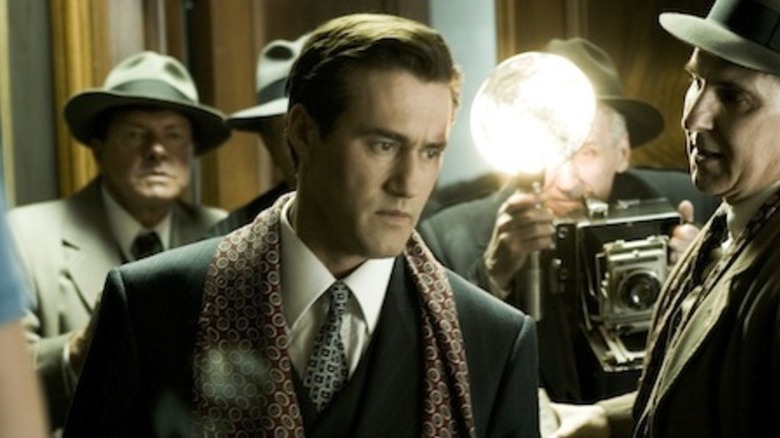 Universal Pictures
"The Rocket" turns an admiration for its subject into art. The film is the story of Canadian hockey legend Maurice Richard, and Richard himself reviewed the film's dialogue and hockey sequences for authenticity before he passed. That lends Charles Binamé's film a legitimacy that few in the genre can match. However, historical accuracy doesn't equal good cinema. "The Rocket" is that and then some.
It helps that Richard's life story is inherently stirring. Richard became a French-Canadian icon primarily due to his time playing for both the Montreal Canadiens and New York Rangers, during which he became the NHL's all-time leading scorer. He was suspended in 1955. That penalization led to Quebec's Richard Riot, an event that kicks off the country's Quiet Revolution. 
Put simply, Richard is French-Canadian history. "The Rocket" understands this. As it details the legend's life (embodied in detail by actor Roy Dupuis), ordinary people are never beyond the film's purview. The movie doesn't draw socio-political parallels so much as make unrest the undercurrent of its entire running time. That's one of many wise calls "The Rocket" makes. Many of the others are technical. The movie won nine Genie awards, including best art direction, best cinematography, and best editing, and it is, accordingly, as handsome and crisp as Richard flying across center ice. It's a must for hockey fans, period piece fanatics, or those who want more than a cursory understanding of Quebecois history.
3. Slap Shot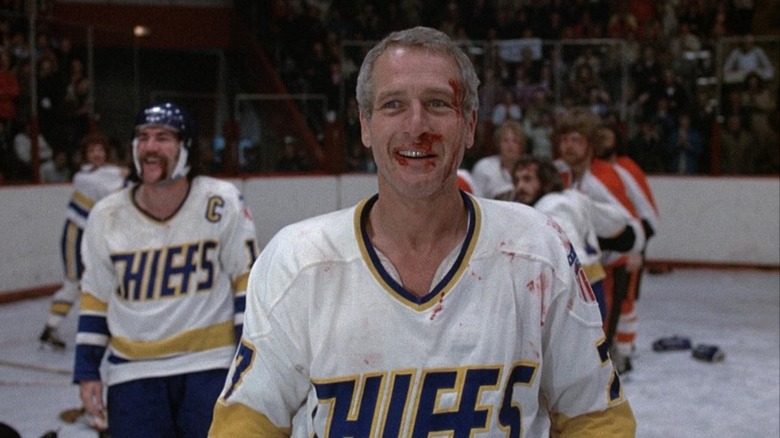 Universal Pictures
"Slap Shot" is the de-facto hockey movie. It stars all-time Hollywood legend, Paul Newman. It made instant cult icons of the Hanson Brothers (David Hanson, Steve Carlson, and Jeff Carlson, who would return for the lesser "Slap Shot" sequels) when it was released in 1977. The question is: Does "Slap Shot" live up to its legendary reputation? Yes, but not so much as you think it might.
What makes "Slap Shot" endearing (and necessary) is its memorable comic violence, which is the lynchpin of the entire movie. Newman plays Reggie Dunlop, a coach who uses his brutish recruits, the Hanson Brothers, to draw crowds and win games by knocking opponents around. Funny beatdowns and literal punchlines made "Slap Shot" infamous. The movie's comic timing and direction are exquisite and Nancy Dowd's script is memorably profane, even decades later.
Unfortunately, it's also massively reliant on shock value for humor's sake. The shock is seeing Paul Newman and the Hanson Brothers swear to degrees we as an audience aren't used to. Sadly, a lot of that swearing boils down to slurs. Add in that the hockey sequences can't approach the elegance of those in "The Rocket," "Miracle," or even "Goon," and you have a movie whose importance to sports comedy cinema outweighs its self-contained values. That's why "Slap Shot" makes the top three but doesn't earn our top spot.
2. Miracle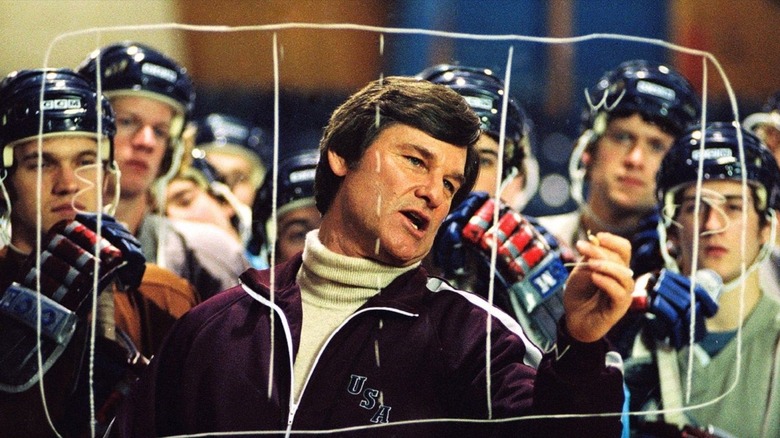 Walt Disney Pictures
"Miracle" is a great movie about classic hockey tropes: perseverance, hunger, and the line between madness and magic, but it also shines a spotlight on less-explored elements. First and foremost is the coach. Gavin O'Conner, who's made a career of off-kilter sports films, makes Herb Brooks (Kurt Russell) the focal point of his '80s Olympics epic. Brooks is a complex, pugnacious man. O'Conner and Russel never ask for the audience to sympathize with Brooks, as he deliberately puts his players through the psychological wringer. The film never paints him as mythic or revolutionary. He's an ordinary man who led an extraordinary Olympic campaign. That goes against the typical sports movie grain, but it plays right into the hockey mythos. As Brooks says to his hand-selected Team USA squad, "You cannot be a team of common men because common men go nowhere." "Miracle," tells the story of common men who accomplish the extraordinary because they decide to be extraordinary.
Crucially, "Miracle" also captures a moment when hockey was part of the American zeitgeist. "The Miracle on Ice" captured the imagination of fervent and casual sports fans alike (as the Olympics often do), and in fully realizing that atmosphere, it serves as a feature-length argument for why people should watch hockey in the first place. That's a cinematic miracle.
1. Goon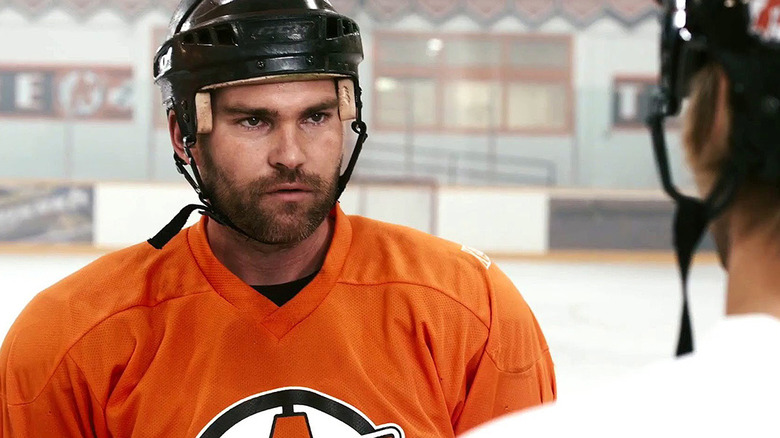 Magnet Releasing
"Goon" isn't the best sports movie of all time, but it might be the best character study in sports movie clothing. For all its colorful profanity and comedic set-pieces, Michael Dowse, Jay Baruchel, and Evan Goldberg's tale of a Massachusetts bouncer turned hockey enforcer (Sean Williams Scott) is closer to "Moneyball" than "The Mighty Ducks" or "Miracle." "Goon" is invested in its characters' souls. It wonders if hockey, a sport that involves no shortage of purposeful violence, can bring out the best in someone. The way it does (or doesn't) answer that question makes for some of the most compelling sports cinema released this century.
Tons of credit must go to Dowse. The director shoots hockey sequences with both kinetic flair and humorous restraint. Sometimes, events build to a static shot of Scott knocking someone out. Other times, we track a goalscorer as he flies across center ice, the stadium lights looming large around him. Dowse knows comedy can be cinema and "Goon" is all the better for it. However, the film wouldn't work without Sean William Scott, whose performance as Doug Blatt is easily his career best. Most excellent sports movies locate the beating heart of both their protagonist and the actor playing them. That's exceedingly true of "Goon." Scott is as warm and open as he's ever been while conveying a penchant for dull-headed brutality that borders on the prodigious. No one else could play Blatt better. "Goon" has no equal.