Return To Seoul Review: A Restless, Roaming Reverie On Cultural Identity [NYFF]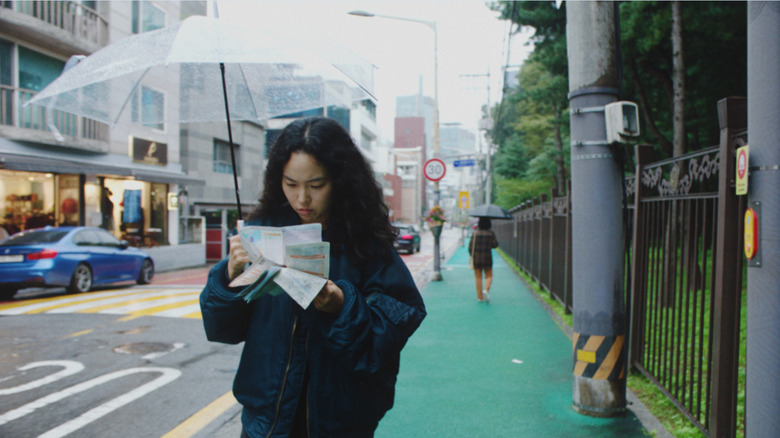 Sony Pictures Classics
Cultural identity is a messy business. Its boundaries are undefined, its meaning is oft-debated, and yet it means so much and so little all at once. For transracial adoptees, that meaning is all the more muddled. Many children of Asian descent who are adopted by (usually white) parents from different countries find themselves perpetual outsiders — they look different than the friends and family they grow up alongside, but have a hard time finding a comfortable place in the cultures of their biological parents. "Return to Seoul," a restless, roaming adoption drama directed and written by Davy Chou, captures the ineffable angst of this feeling of not belonging, yet always yearning to belong.
Freddie Benoit (Park Ji-Min, a tremendous discovery in her feature film acting debut) doesn't want to meet her biological parents. Probably. Adopted by French parents from Korea as a baby, the 25-year-old young woman traveled to Seoul, Korea, on a whim — her usual trip to Japan got canceled — and finds herself wandering in a country she has no familiarity with. But every person she meets, upon learning that she's an adoptee, assumes immediately that she naturally wants to meet her parents. When their expressions of curiosity and bemusement flicker into something that looks a little like pity, Freddie bristles and avoids the subject. But like the pull of gravity, Freddie finds herself unable to stop herself from beginning a journey in search of her roots that would keep bringing her back to Seoul over the course of many years.
Chou, a Cambodian-French filmmaker, based "Return to Seoul" on the experiences of his friend, whom he saw meet her biological father and mother in South Korea for the first time. Using a combination of his friend's personal experience and research, Chou crafts an intimate character drama about a knotty issue; an issue tangled up in deeply embedded political, historical, and personal scars. So it's fitting that "Return to Seoul" — and its frequently self-destructive protagonist — is equally just as knotty and complicated.
Who are you?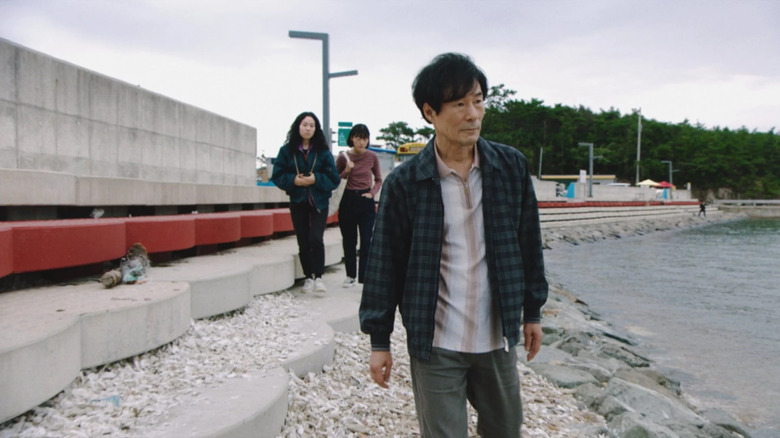 Sony Pictures Classics
Freddie is by all accounts happy before her spontaneous trip to Seoul — she has loving parents and friends, a whole life in France. She's unapologetic about who she is, to the point that she's a little bullish in not practicing any cultural courtesies she's taught in Korea. "I'm French," she says curtly, whenever anyone suggests any innate Korean-ness about her.
Maybe it's a front that gets unraveled by the possibility of meeting her biological parents. Maybe getting in touch with her roots unlocks something in her that lets a timid vulnerability seep into all that confidence. Freddie doesn't seem to be able to put it into words either, only lashing out with wild, sometimes destructive behavior, before seeking out her biological parents through the adoption agency in Korea. 
But she doesn't find the solace she won't admit she craves when she meets her biological father (Oh Kwang-rok), whose overwrought and remorseful reaction to her makes her uncomfortable. Leaving her for adoption was his greatest regret, he tells her, as he and his mother openly weep over her return. Her friend Tena (a lovely Guka Han) explains that this is how Korean men are, but Freddie's discomfort only turns to disgust, as her father insists that she move in with him and his family, and when she refuses, he doggedly leaves her messages and drunkenly calls her, sobbing in Korean.
All the people I'll never be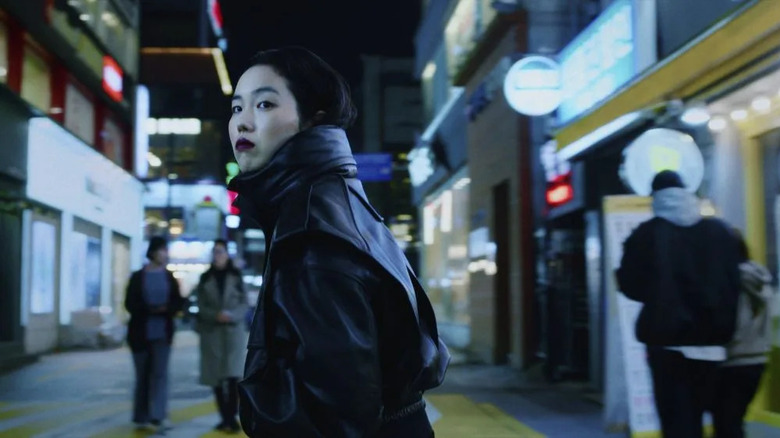 Sony Pictures Classics
The original title for "Return to Seoul" was "All the People I'll Never Be," which feels more accurate to Freddie's meandering search for meaning. Freddie is something different to everyone: a reminder of his greatest mistake to her father; an unwanted child to her mother; a fellow outsider to the people of the underground party scene she falls into after years of waiting for her mother's response. And Freddie shapeshifts to be all these people, sometimes of her own accord, sometimes by accident — as if putting on these different identities will help her get to the core of her own identity that she's been searching for all these years. But even as her clothes and outward appearances change through the years, Park's electric, intuitive performance shines through — conveying a turmoil and timidity that bubbles beneath Freddie's stony-faced stoicism.
Chou's gauzy but direct direction — often resembling the documentaries that he is best known for — complements Park's magnetic performance, allowing Freddie the room and space to wander, and discover, and implode. Seoul never feels like home to Freddie, but an unfamiliar foreign land where she just doesn't fit. Chou gives it an unglamorous hue, one that never gets warmer or more familiar no matter how many times Freddie goes back. It adds unpredictability to the film, which often feels as aimless and confused as Freddie herself — a feature, not a bug, even if it can lead to the film feeling sluggish at times.
But the search for one's identity is never an easy one. "Return to Seoul" understands that, and allows us to live in — and finally, accept — that uncertainty.
/Film Rating: 7 out of 10