James Wan Doesn't Want Saw Overshadowing The Rest Of His Career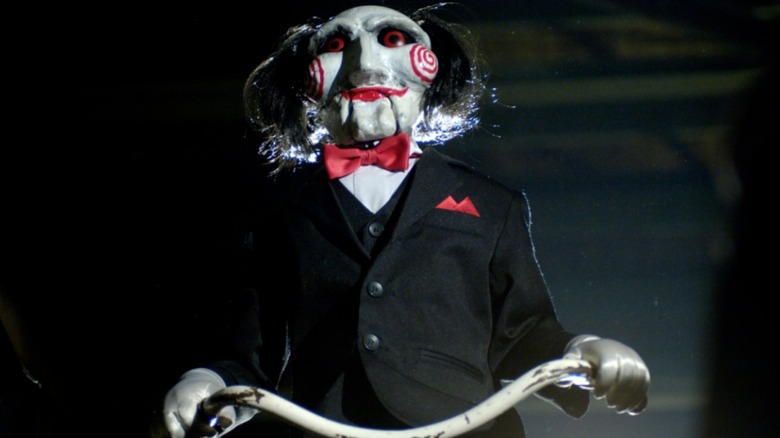 Lionsgate
If you look at James Wan's career since the beginning, it's impressive how far he has come in a relatively short time. A horror maestro, most now know the director for his work on "The Conjuring" universe. The frightful film franchise started out focusing on the paranormal investigators Lorraine and Ed Warren, before expanding to cover all the supernatural entities that have been directly or indirectly involved in the Warrens' lives.
If they didn't know Wan from his work on that IP, most audiences today may associate him now with the balls-to-the-wall horror film "Malignant." The movie with a shocking twist ruled the internet for months after its release last year, producing memes focusing on the villainous Gabriel. A horror film that was fun and didn't take itself seriously was just what horror audiences needed, and Wan and his wife, Ingrid Bisu, delivered.
Not a fan of horror? But still familiar with the name "James Wan"? You likely saw "Aquaman," where Wan took on the superhero genre and injected his own creative twist to it. And yes, he did make sure to throw an eldritch-looking creature in there to keep the horror spirit alive!
While the constantly working director has expanded his portfolio drastically, there was a time when he was primarily associated with one film (and the resulting sequels). I'm talking about "Saw." As his horror career was about to take off, Wan had concerns that his career would forever be overshadowed by the franchise — which he had little involvement in after the original. As "Saw" marked his feature directorial debut, these concerns weren't unfounded.
The original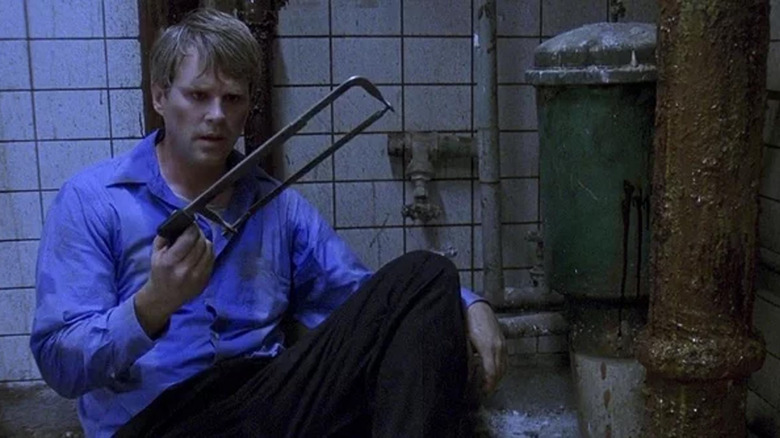 Lionsgate
Back in the early 2000s, Wan and Leigh Whannell collaborated together to bring "Saw" to life. In an interview with Guardian, Whannell reflected back on the origins of the first film. "A lot of people talk to us thinking that we came up with Jigsaw first and worked back from there," says Whannell. "But the first idea we had was of two people trapped in a room. And a great twist at the end. That's all we had." Neither of them had any idea that "Saw" would spin off into a multi-film horror movie franchise, but that's what ended up happening. 
Before long, the "Saw" franchise became associated with "torture porn," a phrase that Wan has always pushed back against in reference to the first film: 
"People who've seen the original 'Saw' don't usually use that term. They'd maybe use it to describe the sequels and the imitators. I was approached to do the sequel, but I felt that I'd already told the story I wanted to tell." 
But the franchise's longevity and subsequent descent away from the original themes of the first three "Saw" films would inexplicably be linked to Wan thanks to his the first film. Wan's association with that franchise wasn't helped by the fact that his subsequent horror films flopped. His work on "Dead Silence" and "Death Sentence" failed to make any money back in theaters. 
Things shifted, however, with his work on "Insidious."
Insidious shifts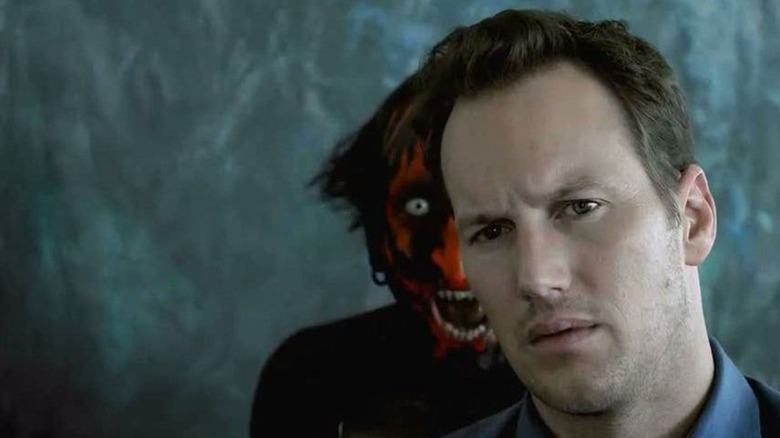 Warner Bros.
2010's "Insidious" marked a major shift for Wan. After the failures of "Dead Silence" and "Death Sentence," his career could have been ruined. However, as he told the LA Times, he pivoted back to indie, and focused on distancing himself from the "Saw" franchise: "I made 'Insidious' to remind people that I could make an old-school movie that hearkened back to suspenseful storytelling." Reuniting with Wannell, they wrote up a script, shot the film, and the rest was history.
In 2013, Wan's "The Conjuring" was released, yet he was still trying to distance himself away from the "Saw" franchise — but he did acknowledge that "Saw" put him on the map. "I like to say I just directed the pilot," Wan said, "For better or worse, you get what comes with it. If it weren't for 'Saw,' I wouldn't have a career."
The success of "The Conjuring" launched a whole cinematic universe, and a strong working relationship between Wan and Warner Bros. Pictures. He'd go on to work on Universal Pictures' "Furious 7" and "Aquaman," expanding his portfolio beyond the horror genre. But horror is where the director has his most fun, building horror films out from simple ideas and fears.
It's been almost 20 years since "Saw" hit theaters, and what fears Wan had of "Saw" overshadowing his career should be put to rest. From "Insidious" to "The Conjuring" to "Malignant," he's done so much for horror.