The Daily Stream: Justified Is A Satisfying Neo-Western Anchored By Great Performances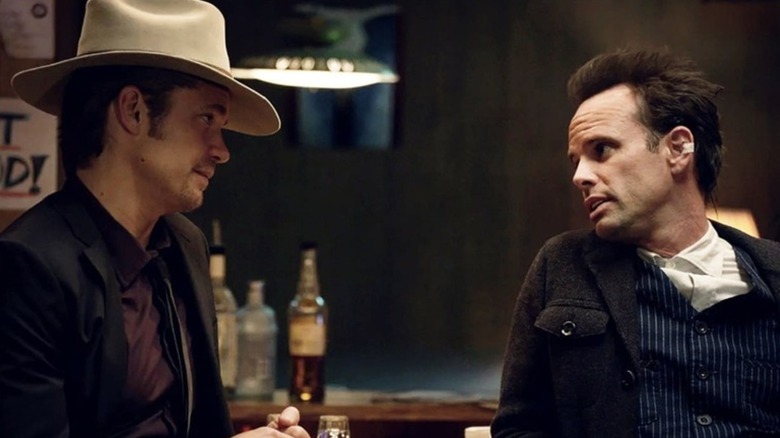 FX
(Welcome to The Daily Stream, an ongoing series in which the /Film team shares what they've been watching, why it's worth checking out, and where you can stream it.)
The Series: "Justified"
Where You Can Stream It: Hulu
The Pitch: Trigger-happy deputy U.S. Marshal Raylan Givens (Timothy Olyphant) gets transferred from Miami to his childhood stomping grounds of Harlan county, Kentucky at the beginning of "Justified." There, he crosses paths with Boyd Crowder (Walton Goggins), a loquacious and intimidating man in black who is constantly refashioning himself into whatever type of villain best suits his needs. A soulful neo-Western at heart, "Justified" uses a near-procedural format (episodes typically follow Raylan as he chases down criminals, with overarching season-long plots) to tell a story about circumstance, class hierarchies, and the trickiness of American mythmaking.
As a series based on the writing of Elmore Leonard, the show respects its bad guys as much as its heroes, and often blurs the lines between them in interesting ways. Raylan and Boyd mined coal together as teenagers, and as adults, they seem inextricably linked by dual traumas and mirrored life choices — including their interest in tough-as-nails local woman Ava (Joelle Marie Carter). Boyd isn't the only all-time-great villain in the series though: throughout its initial six-season run it also introduces sinister butchers, snake charmers, gator hunters, moonshiners (Margo Martindale puts in a career-best performance), femme fatales, entire hillbilly crime families, a D.B. Cooper-type, and something called the Dixie Mafia.
Why it's essential viewing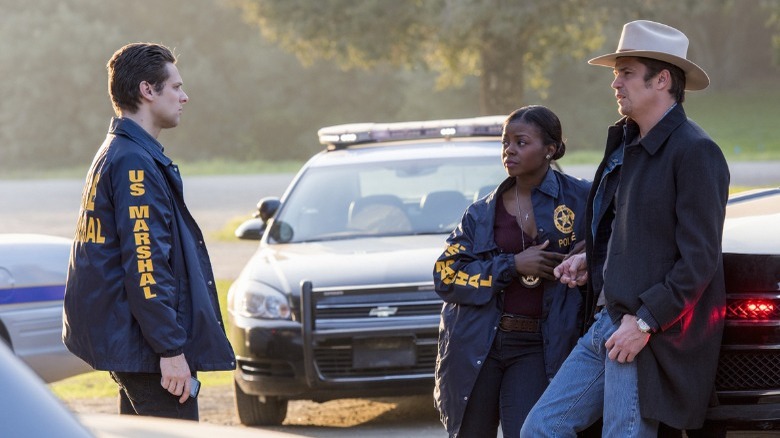 FX
Nearly as interrogative of the Western hero in general as it is reverent of its Western hero in particular, "Justified" is an already great series elevated by firecracker performances from its two opposing leads. Olyphant is hot as hell, and "Justified" not only knows this but bakes it into his character's personality on a fundamental level. Raylan moves through the world with the effortless cool of someone who can get what he wants with just the wink of an eye, yet he's also prone to recklessness and, as his ex-wife Winona (Natalie Zea) keeps pointing out, has a lot of pent-up rage and a gun to go with it. That makes him a perfect match for Svengali-like Boyd, a bad guy whose initially repugnant actions mostly give way in later seasons, resulting in an impressively complex — and often realistically contradictory — character.
The series is in the world of small-town America but not exactly of it, often using its of-two-worlds protagonist as a means of questioning both the backwards ideals of the bigots who populate Harlan and the city slickers whose greed threatens the region's livelihood. With scripts by a writers' room that includes series creator Graham Yost and source material from Leonard, its writing is snappy, propulsive, and often devastatingly badass. The rare actors' and writers' showcase that's also firing on all cinematic cylinders, "Justified" also includes fantastic direction, unforgettable needle drops, and pacing that's at once relaxed and compelling.
In the end, the show bridges the gap between the type of problematic American hero of bygone days — the gunslinging cowboy — and a modern world that increasingly demands reflection and evolution of its heroes. It's also, quite simply, a deeply satisfying watch — one that starts strong and finishes even stronger.