The Daily Stream: Zack And Miri Make A Porno Is A Pitch-Perfect Romantic Comedy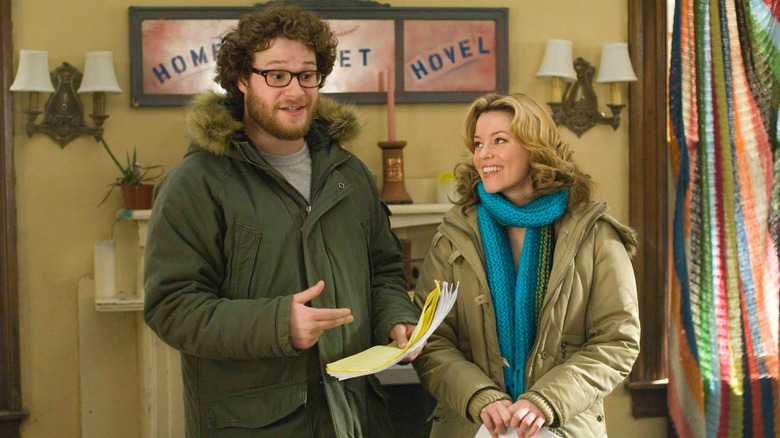 The Weinstein Company
The movie: "Zack and Miri Make a Porno"
Where you can stream it: Prime Video
The Pitch: Writer and director Kevin Smith brings his brand of crass but heartfelt comedy to a romantic story about two best friends, Zack (Seth Rogen) and Miri (Elizabeth Banks) who decide to make a porn film as a last-ditch effort to pay their rent and utility bills. While Smith usually prefers his performers to stick to the script because he writes such great dialogue, working with a bunch of actors who had come from the Judd Apatow world of improv acting allowed him to loosen up his storytelling style and let his performers go wild. The result is a heartwarming, absolutely hilarious romantic comedy that also might be one of the filthiest and most wholesome movies ever made. 
As Zack and Miri try to make their movie, they meet a ragtag crew of sweet deviants who help them. Among them are real-life adult film alums Traci Lords and Katie Morgan, along with long-time Smith collaborators Jason Mewes and Jeff Anderson. Rounding out the cast are Craig Robinson, Ricky Mabe, and Gerry Bednob, with cameos by Brandon Routh, Tom Savini, and Justin Long. 
Why it's essential viewing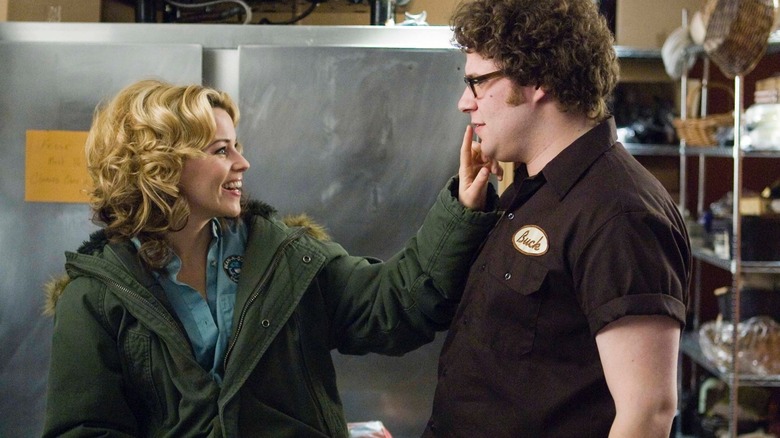 The Weinstein Company
"Zack and Miri Make a Porno" suffered from bad marketing that left people totally confused as to what the movie was about, with a poster that had stick figures and a title that was cut down to just "Zack and Miri" in many markets, and that's a massive shame. It's one of Smith's better films and is a nearly perfect romantic comedy that manages to avoid many awful tropes while still being sweet and wildly funny.
I have a hard time with rom-coms because many of them lean into relationship drama that is toxic at best and abusive at worst. As a domestic abuse survivor, it's impossible for me to root for any couple to get together if one of them does something really awful, and that happens a lot in rom-coms, which are usually based on some kind of deceit. In "Zack and Miri," the primary relationship drama comes from the fact that Zack and Miri are falling in love with one another but don't know how to process it. Unwilling to admit that they've caught feelings for one another, they deny it and try to prove that they're just friends, and that's what backfires and causes the movie's big climactic conflict. Their love is so true-to-life and authentic, and I'm not just saying that as someone who also fell in love with their best friend. 
"Zack and Miri" is genuinely romantic, despite being a truly filthy sex comedy, which makes it the perfect mix of "rom" and "com."
One seriously silly sex comedy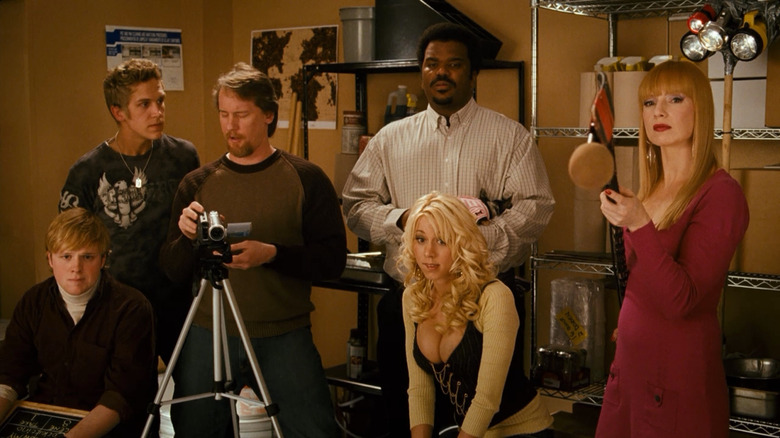 The Weinstein Company
"Zack and Miri" isn't just positive in its depiction of a healthy romance between friends, it's also a sex-positive sex comedy that embraces people's kinks and fetishes (as long as they're between consenting adults) and really lets them shine. It's not the insane kink fest of something like John Waters' "A Dirty Shame," but it is a warm celebration of sex and sexuality with some memorable characters and some of the funniest laugh-out-loud moments in any movie of its kind. Kevin Smith and Seth Rogen are a match made in stoner comedy heaven, mixing humor and heart to make something that's both a blast to watch and leaves you feeling good for a while afterward. 
There are few movies that can make you feel warm and fuzzy that also make you laugh until you cry, and "Zack and Miri Make a Porno" is that movie for me. With its team of misfit movie-makers, the clear love between the real-life cast, and the gut-busting humor, "Zack and Miri Make a Porno" is the ultimate romantic comedy.