Of All Her Roles, Viola Davis' Character In How To Get Away With Murder Had The Biggest Change From Script To Screen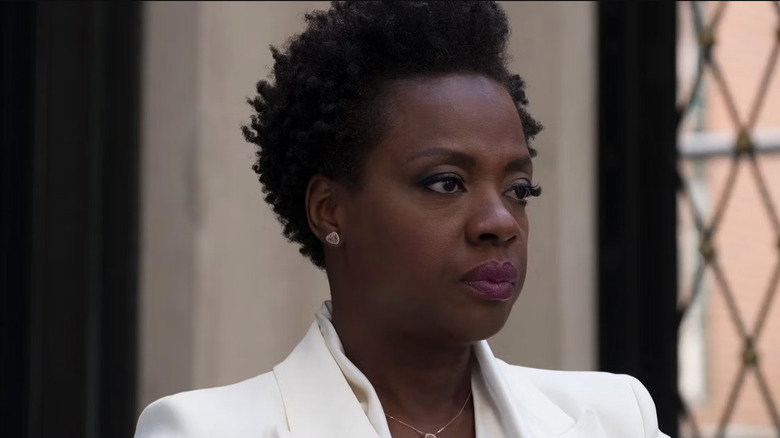 ABC
Viola Davis has been a dynamite performer for decades, and is the first and only Black actor to achieve the prestigious Triple Crown of Acting (having won an Oscar, an Emmy, and a Tony). As a graduate of the drama program at the prestigious Juilliard School, when it comes to acting, there are few alive on the planet with as much experience and education as Viola Davis. Her roles have ranged from Shakespearean classics on stage to wild DC Extended Universe romps, and everything in between. On a recent episode of the popular series "Hot Ones," Davis was interviewed by host Sean Evans, where she shared deeply personal and poignant answers to some pretty hard-hitting questions, all while enduring the increasing Scoville Heat Unit score of some seriously spicy wings.
Evans cited a talk Davis had done at Emory University back in 2014, where she shared acting advice with the students. She said that her preparation includes reading the script and taking out all of the factual elements that cannot be changed about the character and then if the scene doesn't answer the questions she has, she'll "bother the hell out of the director." This inspired Evans to ask Davis about which character of hers changed the most from page to screen, and she confessed it was the role of Annalise Keating in the drama series "How to Get Away with Murder," the role that made her first Black actress to win the Primetime Emmy Award for Outstanding Lead Actress in a Drama Series.
On making Annalise Keating real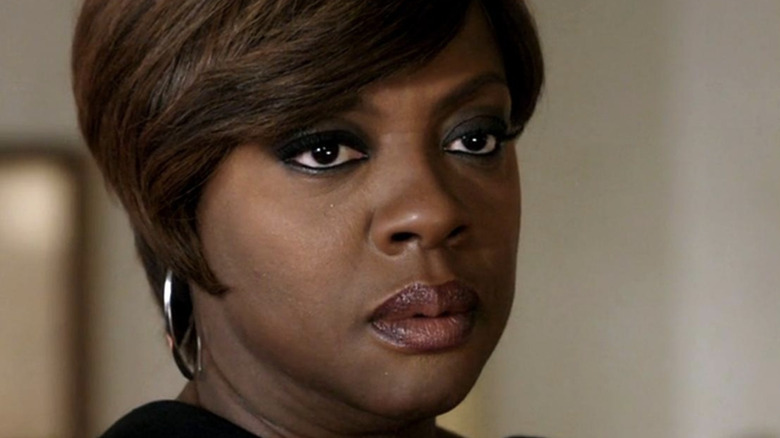 ABC
While enduring the heat of "Hot Ones" Karma Sauce – Cosmic Disco (SHU 103,000), Davis talked about shooting the pilot episode of "How to Get Away with Murder." She said she remembered it distinctly, because it was also the first sex scene. In the episode, Annalise meets Nate (Billy Brown) and the two have sex on the hood of a car in 12-degree Philadelphia weather outside of her character's home while Annalise's husband is upstairs in his office. "And you know, no disrespect, but I didn't believe that they wrote from a perspective of making her real," Davis said, continuing:
"I just felt like she was coming from a past where there was trauma and sexual abuse, so you see you're painting the character. And then she changed her name. Why is she changing her name? Whoever she was, she hated. So there was a level of self love that wasn't there. And juxtapose that with this badass criminal defense attorney, then you start shaping a person. Conversations had to keep happening for me to do that."
It's clear that Davis' input on the character and the questions she presented to the creative team was beneficial, as Annalise Keating has become a truly memorable character in TV history. In addition to her Emmy, Davis won two Screen Actors Guild Awards for Outstanding Performance by a Female Actor in a Drama Series and the Image Award for Outstanding Actress in a Drama Series for the role. Annalise Keating brought her countless other nominations, and allowed her to shine for six seasons.