John Wayne Borrowed A Tank To Answer A McQ Challenge From The Harvard Lampoon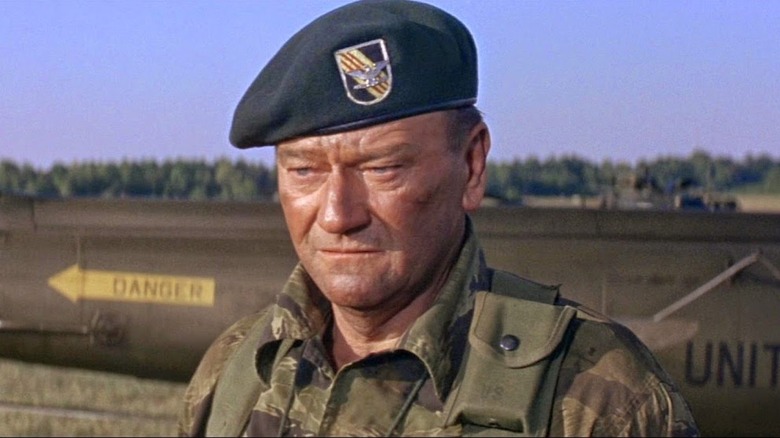 Warner Bros.
After a brief critical and commercial revival kicked off by his Oscar-winning turn in 1969's "True Grit," John Wayne fell back into the creative slump that had dogged him throughout much of the previous decade. In 1973, the star slogged through a couple of listless Westerns in "The Train Robbers" and "Cahill, United States Marshal." They were Old Hollywood tripe in an age of New Hollywood innovation. A few years prior, Wayne foolishly passed on a script about a loose-cannon cop called "Dirty Harry," which wound up serving as Clint Eastwood's transition from Spaghetti Westerns to Hollywood action flicks. It was the late-career break Wayne needed, but his taste was too old-fashioned to identify a delectable new flavor of film.
Wayne eventually found a pale imitation of "Dirty Harry" in "McQ," which, if nothing else, flaunts The Duke wielding a newfangled MAC-10 machine gun. It's mediocre, but at the time it gave Wayne the appearance of trying something different. Still, he was a punchline to Baby Boomers, many of whom detested their parents' conservative, pro-Vietnam War hero. 
The most savagely witty members of this hateful cohort were hurling bombs from the Ivy League bully pulpit of The Harvard Lampoon. Near the end of 1973, they felt emboldened enough to challenge The Duke to cross enemy lines and personally screen the just-finished "McQ." They probably didn't expect Wayne to accept their challenge, but he did. And, just like in his movies, he came out on top.
The Duke goes to Harvard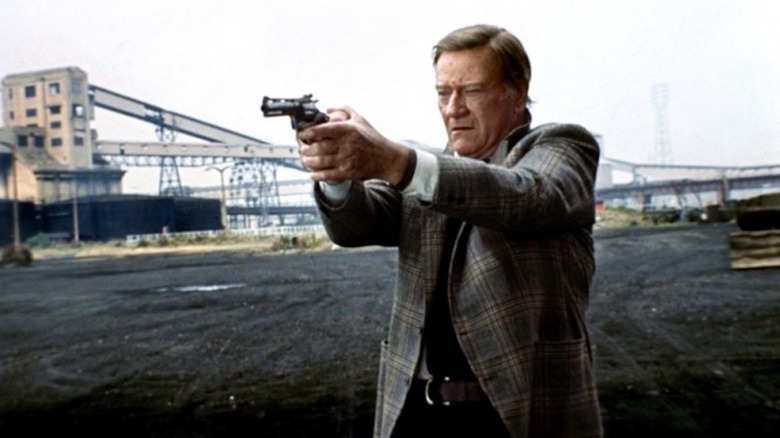 Universal
The goofy feud kicked off when Jim Downey, the undergrad president of the Lampoon and future head writer of "Saturday Night Live," fired off a missive to Wayne. According to Scott Eyman's "John Wayne: The Life and Legend," it read as follows:
"You think you're tough? You're not so tough. You've never pored through dozens of critical volumes on imagist poetry. You've never gotten your hands dirty with Corrasable Bond and corrector fluid. You've never had to do three papers and a midterm all for one course. The halls of academia may not be the halls of Montezuma, and maybe ivy doesn't smell like sagebrush, but we know a thing or two about guts."
They dared Wayne to set foot on "the most intellectual, the most traditionally radical, in short, the most hostile territory on earth." The Duke, perhaps mindful that he was increasingly viewed as a filmmaking fossil, returned fire.
"I'm sorry to note in your challenge that there is a weakness in your breeding, but there is a ray of hope in the fact that you are conscious of it ... I shall be most happy to stop by your campus on my way to London to visit the original college whose name you have assumed and whose breeding and manners you haven't been able to buy. May the Good Lord keep you well until I get there."
He got there on January 15, 1974. In a tank.
The Harvard Lampoon surrenders to a charm offensive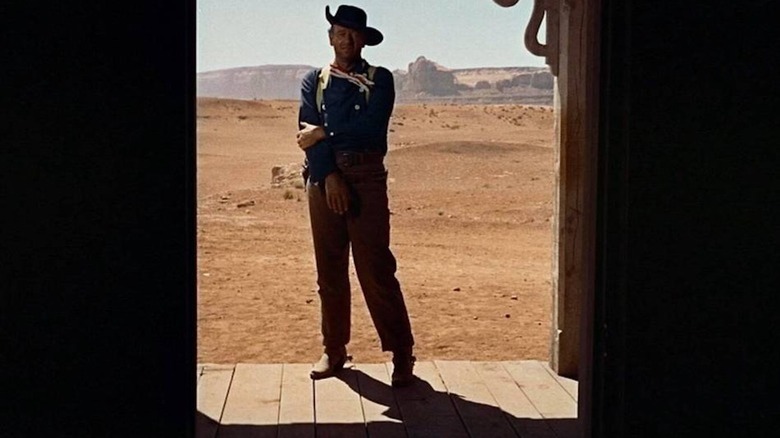 Warner Bros.
If you ever find yourself in a public dispute with a movie star, keep in mind that their career hinges on knowing how to make an entrance. To wit: when Wayne descended on the Lampoon's headquarters, he did so in a U.S. Army tank requisitioned from Massachusetts' Fort Devens. Wayne was pelted by a few snowballs en route to the building, but once he took the stage for a Q&A at the Harvard Square theater, he gave as good as he got.
Consider this exchange between the Lampoon's moderator and The Duke:
Q: "Is it true that since you've lost weight, your horse's hernia has cleared up?"

A: "Well, the weight was too much for him, so we canned him, which is what you've been eating over at The Harvard Club."
After the screening, the Lampoon boys succumbed to Wayne's plain-spoken charm just as many of his detractors had in the past. They were in the presence of an American icon, and, being young men with malleable beliefs (Downey, then a self-professed "commie," would eventually become the conservative cornerstone of "SNL"), they fell for the old cuss:
"They thought I was a horse's ass," said Wayne, "but when they saw I was as honest about what I thought as they were about their beliefs, they came around. Then they went too far the other way. We stayed up all night drinking. I guess I was the father they never had."