The English Trailer: Emily Blunt Gets Bloody While Hunting For Revenge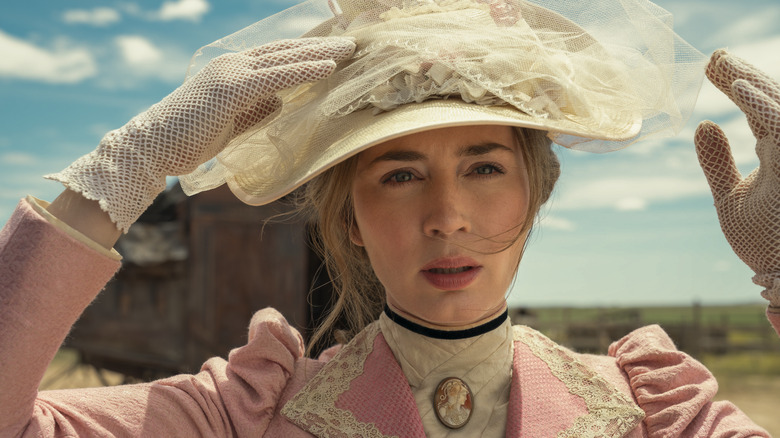 Prime Video
The mere presence of Emily Blunt should be enough to pique your interest in "The English," but what if I told you that the beloved British actress will spend six episodes dressed as a gun-wielding aristocrat who is hellbent on getting revenge? If watching Blunt load a shotgun at the end of "A Quiet Place" gave you chills then this will send you over the edge: she may be wearing lots of fancy gowns, but they will absolutely end up splattered in blood because this co-production from BBC and Prime Video is a classic Western revenge drama.
In "The English," Blunt stars as aristocratic Englishwoman, Lady Cornelia Locke who crosses paths with Pawnee ex-cavalry scout, Eli Whipp (Chaske Spencer) just in time to join forces on their respective hunts for vengeance and journey across the violent American landscape as a team. But seeking vengeance is just the tip of the iceberg for these two. Based on the series synopsis, they'll also have to investigate a series of unsolved murders and come face-to-face with an unexpected truth about their shared history. Officially interested? You can check out the first trailer for the series below.
Watch The English trailer
Don't let the gorgeous gowns deceive you, Cornelia is not a woman to be trifled with. As she reveals in the trailer, she's on a warpath for revenge, desperately seeking justice against the person who killed her child. Crossing paths with Eli is lucky — he's got the skills and interest to help her and based on the trailer, they make a solid team. Their very first encounter sees them outnumbered and facing bad odds, but after a flurry of violence, Cornelia ends up marveling at the results: "Here we are, and it's everyone else that's dead!" Someone inject this into my eyeballs, immediately.
"The English" was created by Hugo Blick ("The Honourable Woman," "Black Earth Rising"), who serves as writer and director on every episode. Blick also serves as executive producer with Blunt and "Peaky Blinders" producer Greg Brenman. Along with Blunt and Spencer, other stars include Stephen Rea, Valerie Pachner, Rafe Spall, Tom Hughes, Toby Jones, and Ciarán Hinds.
All six episodes of "The English" will hit Prime Video on November 11, 2022. 
An aristocratic Englishwoman, Lady Cornelia Locke, and a Pawnee ex-cavalry scout, Eli Whipp, come together in 1890 middle America to cross a violent landscape built on dreams and blood. Both of them have a clear sense of their destiny, but neither is aware that it is rooted in a shared past. They must face increasingly terrifying obstacles that will test them to their limits, physically and psychologically. But as each obstacle is overcome, it draws them closer to their ultimate destination—the new town of Hoxem, Wyoming. It is here, after an investigation by the local sheriff Robert Marshall and young widow Martha Myers into a series of bizarre and macabre unsolved murders, that the full extent of their intertwined history will be truly understood, and they will come face-to-face with the future they must live.