Chainsaw Man Brings Horror, Carnage, And Emotional Devastation In The Biggest Anime Of The Season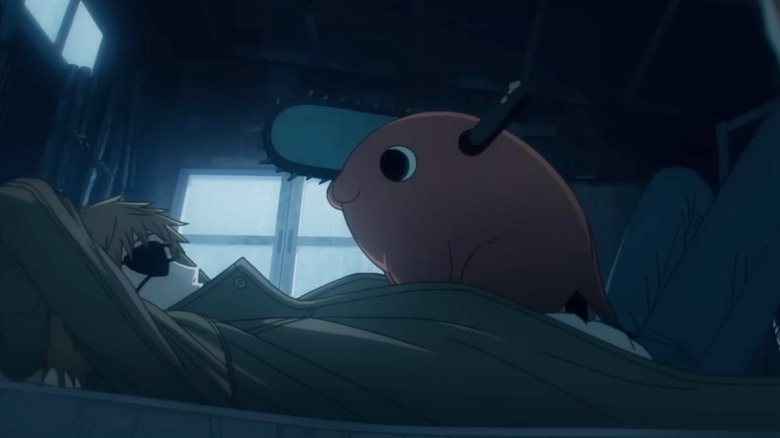 Crunchyroll
The fall 2022 anime season is jam-packed with anticipated shows, from returning franchises with surprising new takes, to new seasons of beloved shows and more. However, here is arguably no bigger or more anticipated premiere than "Chainsaw Man."
Based on the manga sensation of the same name by Tatsuki Fujimoto, the hype for this show is on the same level as something like the final season of "Attack on Titan," despite it only just airing its first episode. The "Chainsaw Man" anime comes from Studio MAPPA ("Attack on Titan," "Jujutsu Kaisen"), and is directed by Ryū Nakayama (the spectacular 19th episode of "Jujutsu Kaisen"), with scripts by Hiroshi Seko ("Attack on Titan"). "Devilman Crybaby" composer Kensuke Ushio is handling the soundtrack.
In its premiere, "Chainsaw Man" essentially adapts the very first chapter of the manga, which is more about introducing us to our main character than the plot or world of the show. In truth, this is one of the few anime that could have actually benefitted from a double-sized premiere, as this feels like just a tease, a brief introduction. Those without any familiarity with the manga may find themselves wondering just what the show is actually about, because manga readers know we are in for many surprises than what first meets the eye.
One of the biggest strengths of "Chainsaw Man" is how straightforward its initial premise is: this is a show about a man ... who is made of chainsaws. That's it. Before we meet the titular Chainsaw Man, we first meet Denji. He is not your standard anime protagonist, he's not Eren or Deku or Luffy. Denji isn't wide-eyed, or optimistic, and he doesn't have some grand dream. Instead, he's a destitute teenager who has already sold several parts of his body to try and pay off an enormous debt he inherited from his father.
A boy and his (devil) dog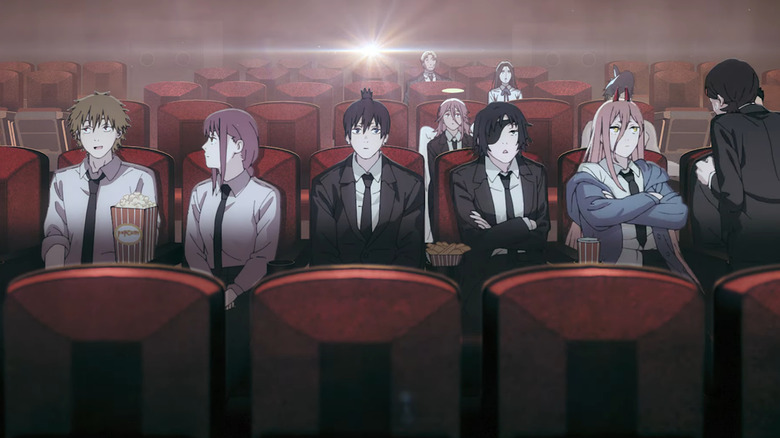 Crunchyroll
Rather than dream about becoming Pirate King or going on an adventure, all Denji wants to do is sleep on an actual bed and eat more than just a single slice of bread (that he has to make last for several days). At least he is not alone, because the "Chainsaw Man" premiere is also a story of a boy and his dog, only the dog is a devil with a chainsaw coming out of his head. 
The scenes we get of Denji and the devil-dog Pochita are fantastic, and they show how different "Chainsaw Man" is from other action shonen anime. This is a very bleak world, one where devils are the least of our characters' problems because before they worry about devils they have to earn money for food and shelter. The manga's author, Tatsuki Fujimoto captures the horrors young people experience today, the absolute bleak and nihilistic experience of living in a world that rejects your existence because you were not born into money. This is a world so bleak, horrific, and violent that it makes perfect sense for a young boy to befriend a devil and make a pact to stay together and help each other no matter what — Denji feeds Pochita, while the dog allows Denji to use his chainsaw body to hunt down other devils for the yakuza to pay off the debt.
Even the visuals play into this, with Studio MAPPA using muted colors and lots of shadows to show how hopeless this world is. The only thing that can stand out in this gray world is red, and there is a lot of it.
Unleash the carnage!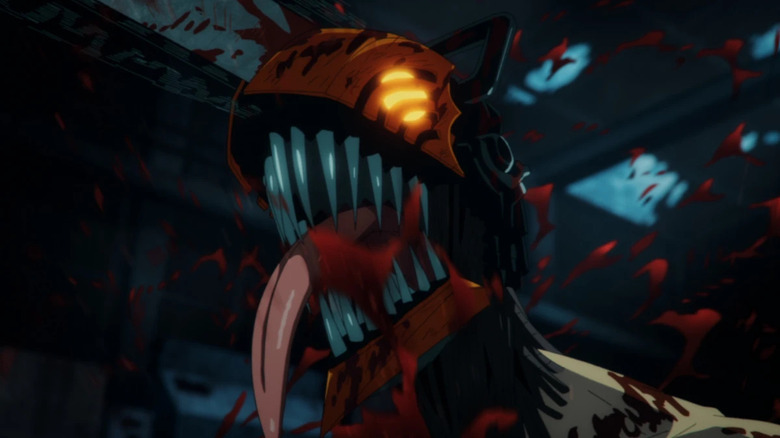 Crunchyroll
If you get take away one lesson from this premiere is that you should never trust the yakuza, especially when they seem overtly interested in devils. Turns out, Denji arrives at a warehouse to do a new job for the yakuza, but instead finds all his employers turned into zombies as a result of making a deal with a zombie devil. What happens to our poor Denji? Well, if you thought "Attack on Titan" killing Eren after five episodes was shocking, how about the sight of the protagonist of this show mutilated and cut into pieces in the very first episode?
Of course, that is not the end, but the beginning. After a lovely and kind of emotional scene where Pochita offers Denji his heart in exchange for his best friend fulfilling his dreams, we see the birth of Chainsaw Man. Now, the use of CGI to animate the titular Chainsaw Man will be polarizing, but it works here. We get a smorgasbord of gnarly violence, a cacophony of chirring chains, bones being crushed, muscles and organs being torn apart, and a flood of blood that makes "Attack on Titan" and "Devilman Crybaby" look like kids' fare. This is by far the most violent anime of the season, and it works, because we've seen how dark this world is, so having absurd violence feels like an appropriately cathartic release. The action is accompanied by a fantastic soundtrack, the highlights of which are the opening and ending themes. The latter is meant to change with each episode, while the opening sequence has some incredible visuals and tons of movie references to everything from "Attack of the Killer Tomatoes" and "Pulp Fiction," to "The Big Lebowski" and "The Texas Chainsaw Massacre." This sequence perfectly captures the surreal, irreverent tone of the story, and the song is a banger too.
After a stunning fight scene, we are introduced to Denji's new employer, and surprise, he's still being treated like a dog. Things are not going well for him, and they will doubtfully get much better, but at least he's having a full breakfast out of it!
"Chainsaw Man" streams new episodes Tuesdays on Crunchyroll.