Andor Episode 6 Has Another Star Wars First: Someone Taking A Piss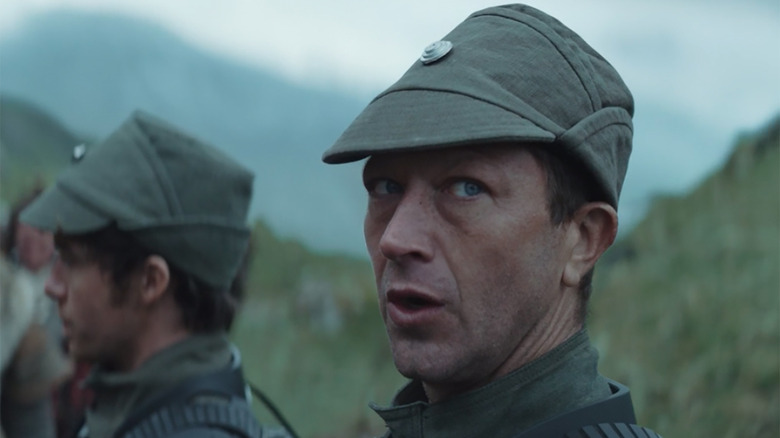 Lucasfilm
Spoilers ahead for "Andor" episode 6.
The "Star Wars" universe is full of food and drink. Blue milk and noodles, cereal, polystarch portion bread, bantha tartare... it's a galactic smorgasbord out there. Our heroes and villains and assorted alien species all feast regularly.
Then what?
All of that sustenance has to go somewhere, right? The famous kids' book tells us that everybody poops, and though we haven't seen that in the "Star Wars" universe (and really, really, really don't need to), we knew it had to happen. Of course, we hadn't even seen a bathroom until Wedge was interrupted in the "refresher" in "Star Wars Rebels," and a vac-tube toilet showed up in "The Mandalorian" premiere. Now, with the sixth episode in "Andor," all that has changed. A man has peed, people. I repeat, a man has peed.
In case you missed it, the momentous event takes place right before Vel Sartha (Faye Marsay) and Cinta Kaz (Varada Sethu) dive into the drink to further their mission around 11 minutes into the episode. Through their hiding spot, the rebels see some troops walk up, joking about a woman one of them saw. Vel is not happy as the man does his business, rolling her eyes. I mean, can you blame her? 
Not that you can see much, other than a little shake at the end as one of the comets from the Eye of Aldhani event flies overhead. It was a nature pee, folks, and you can certainly hear it. 
All that blue milk has to go somewhere, right?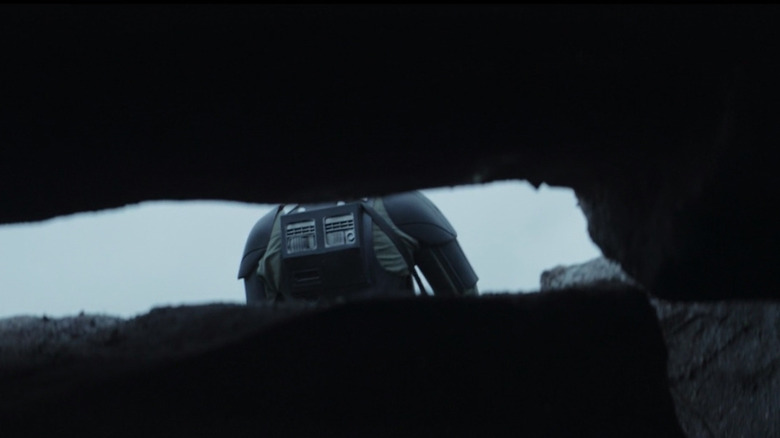 Lucasfilm
I know this is all very silly, but "Andor" is really the first "Star Wars" show to give us enough time to experience what actual life is like, right down to throwing around some profanity previously unheard in the franchise.. We hear about how the Dhanis don't bathe enough to remove all scent from themselves. We see regular people — even in the Imperial army — wanting to watch a light show in the sky rather than respond to a call. I'm not saying I needed to see (or sort of see) someone peeing in a "Star Wars" show, but hey, we celebrate pop culture history here at /Film. This is a first, so get out the yellow balloons, I guess? 
Surely, I can't be the only person who has wondered about the mundane aspects of life in the galaxy far, far away. I wondered the same thing when I watched "24." We saw 24 hours in real-time, and I never once saw Jack Bauer (Kiefer Sutherland) use a bathroom. Oftentimes, these real-life things are left out of a film or TV narrative. (My number one pet peeve is when characters hang up the phone without saying goodbye. No one does that!) 
Seriously though, "Andor" has been one of the best "Star Wars" shows so far because we have more time with the characters, and we can really get to know them and care about them without the series relying on our foreknowledge. We're not barreling through a story just to get to the next one. It's nice to remember that the world we've continually visited for over four decades now has regular people, not just Stormtrooper blaster fodder and a bunch of heroes. Actual normal people exist as well and do what normal people do. 
"Andor" is streaming on Disney+.