'Old Hollywood' Gladly Came To John Wayne's Aid On The Set Of The Shootist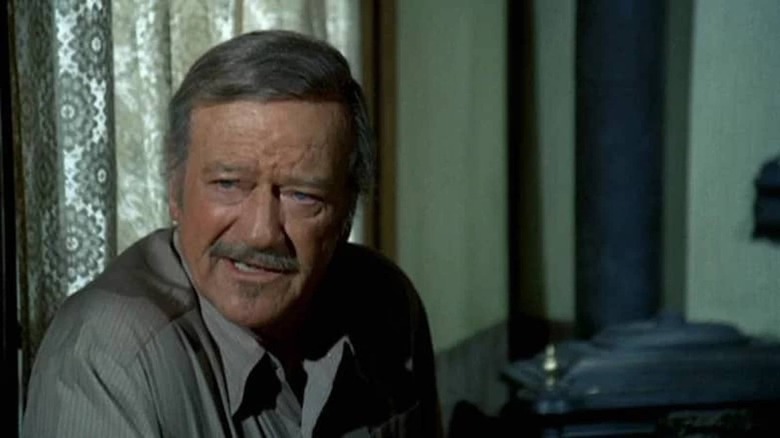 Paramount
When producer Mike Frankovich set out to make "The Shootist," he did not initially pursue John Wayne for the role of J.B. Brooks, a lawman-turned-gunfighter who discovers he is dying from cancer. Given the elegiac tone of Glendon Swarthout's novel, and Wayne's real-life battle with cancer, you'd think he would've been at the top of Frankovich's list. Alas, Wayne's health was in steep decline; he'd struggled through the shoot of 1975's "Rooster Cogburn," and was likely not up to the task of one last leading-man part. But when top Hollywood stars like Paul Newman, Clint Eastwood, Charles Bronson, George C. Scott, and Gene Hackman passed on the project, the universe seemed to be telling the producer there was only one man for this particular job.
Frankovich finally caved and offered the part to Wayne, who not only accepted but proved to be a boon to the film's casting prospects. "Old Hollywood came to the rescue," said Frankovich's producing partner William Self. Within a short span of time, director Don Siegel found himself blessed with a cast that included legends like James Stewart, Lauren Bacall, Richard Boone, Scatman Crothers and Hugh O'Brian. They were all there to pay their respects to The Duke in the flesh before he rode off into the sunset, and some of them took pay cuts for the experience. As O'Brian said in Scott Eyman's "John Wayne: The Life and Legend," "We all felt it might be his last film."
The company of friends was a great comfort to The Duke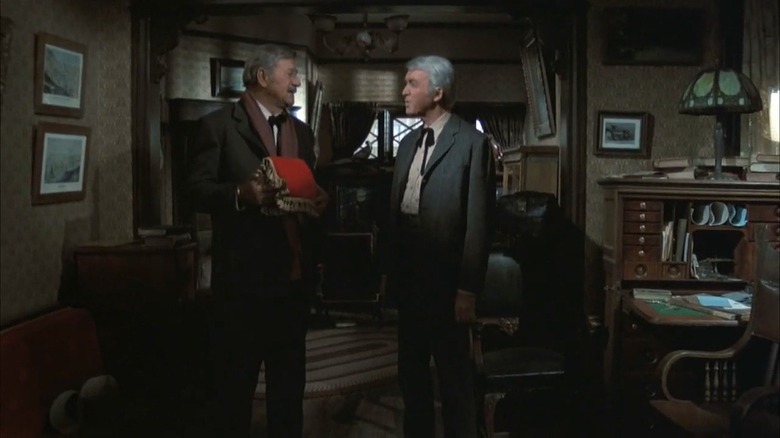 Paramount
For Wayne, having friends and esteemed entertainment colleagues hanging around lightened the mood on the set. At the end of the shooting day, the old timers would reminisce about dear departed friends like Humphrey Bogart, Spencer Tracy, and John Ford. But it wasn't all fun and games. Far from it. Wayne was in poor health, and freely complained about it ("I don't mind being old, I just mind not being able to move.") According to Bacall:
"'Wayne wasn't particularly reflective, at least not with me. He loved to enjoy life, but he wasn't feeling well. One day he said to me, 'God, I can't drink, I can't smoke, life's no fun anymore.' But he was still feisty, ornery in a way. A very sweet man, actually. We got along very well."
The most poignant moment of the shoot came when Wayne was reunited with his "The Man Who Shot Liberty Valance" co-star Stewart. Stewart, who'd segued from features to television in the early 1970s, was, according to Eyman's book, thrilled to be making a big-screen Western again with his movie-star pal. Though Stewart's hearing loss occasionally caused him to miss cues on occasion, the scene ultimately came together in a fashion that pleased all parties.
An elegant swan song for an ornery cuss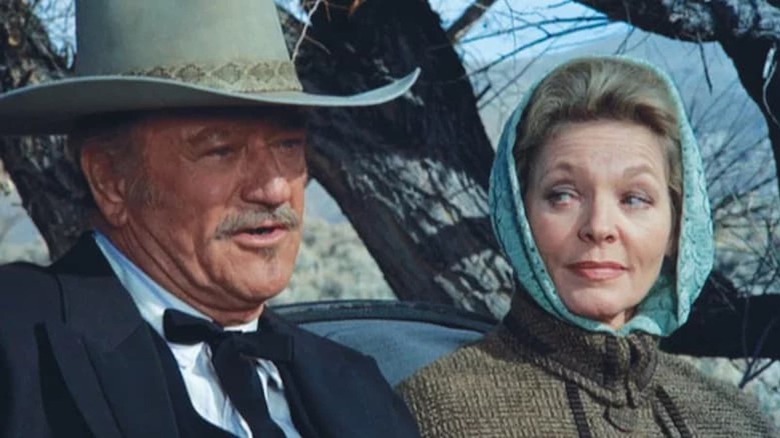 Paramount
"The Shootist" was released on August 20, 1976 to laudatory reviews, and performed reasonably well at the box office. It's a quiet film that builds to a violent climax, one orchestrated by Books, who prefers to die on his own bullet-whizzing terms. The film is too modest in its ambitions to rate as a masterpiece, but it's a fine send-off to Wayne's career.
And while Wayne was very much in pain throughout the filming, he greatly appreciated the companionship of his peers. As Bacall remembered, "Every now and then we would just be standing next to one another and he'd kind of just hold my hand. One of the crew mentioned that it was a beautiful day, and he said, 'Every day you wake up is a beautiful day.'"