Star Wars Comics And Novels To Look Out For In 2023 [NYCC]
The galaxy far, far away keeps expanding its cosmos in the world of print. The 2022 New York Comic-Con unveiled some exciting comic and novel titles for Star Wars at the "Star Wars: Stories from a Galaxy Far, Far Away" panel. A gathering of authors and Lucasfilm publishing's creative director, Michael Siglain, teased some upcoming reveals that have major implications for the Star Wars galaxy. /Film gathers what we've learned at the panel.
Inquisitor Iskat finally gets a name and book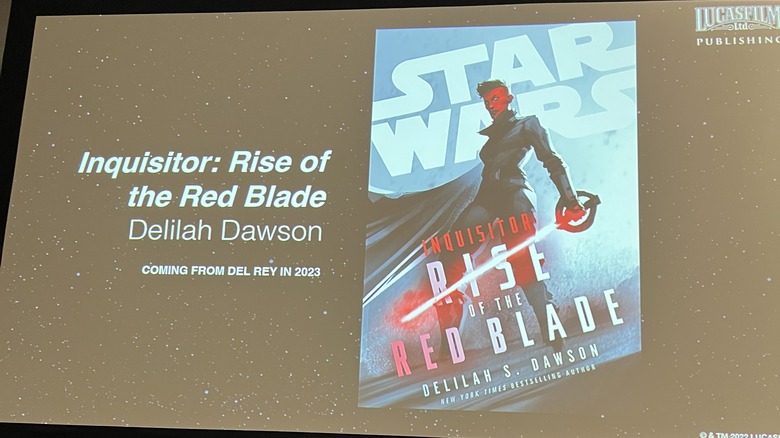 Caroline Cao
In Charles Soule's "Vader" comic, an enraged Darth Vader slaughters a pair of unnamed Inquisitors, suspecting them of committing treason (or simply just being in a romance). His blatant pursuit on Coruscant led his boss Darth Sidious to relocate the Inquisitor base to where it was in the "Obi-Wan Kenobi" show, the watery moon of Nur.
No longer is one of those Inquisitors just the "Unnamed Red-Skinned Inquisitor" as die-hard fans and Wookiepedia editors once called her. We now know her as "Iskat" (although loyal Inquisitors do not tend to go by their given names in order to cast off their Jedi identity) though we haven't received her number designation as of now. "Phasma" author Delilah Dawson is tackling this Inquisitor's story, sharing that Iskat joined the Inquisitors "in the hope of uncovering the hidden past the Jedi refuse to share with her." Interestingly, Iskat was handpicked by Darth Sidious himself. No wonder Sidious was a little cross with Vader slaying her.
"Inquisitor: Rise of the Redblade" will arrive July 18, 2023.
Star Wars: Revelation teases 2023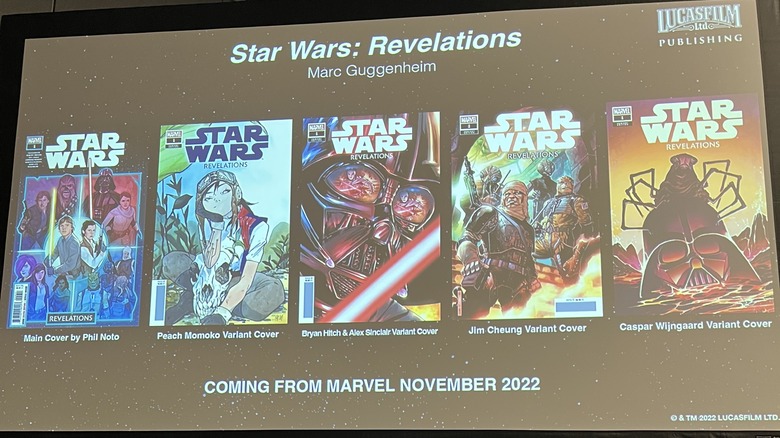 Caroline Cao
This is not quite coming in 2023 but it matters for next year. Darth Vader is seeking a Force-sensitive Mustafar creature, The Eye of Webbish Bog, in the one-shot "Star Wars: Revelations." Comic writer Marc Guggenheim said that if the "The Star Wars Holiday Special" served as an introduction to Boba Fett, "Revelation" is an introduction to something(s) coming in 2023 across the Marvel various "Star Wars" comics. He hinted that the creature will show Vader the future. Pictured above, New York Comic Con showed the variant covers by Peach Momoko, Bryan Hitch and Alex Sinclair, Jim Cheung, and Caspar Wijngaard. The "Revelations" arrive November 2022.
Han Solo and Chewbacca and more ongoing comics!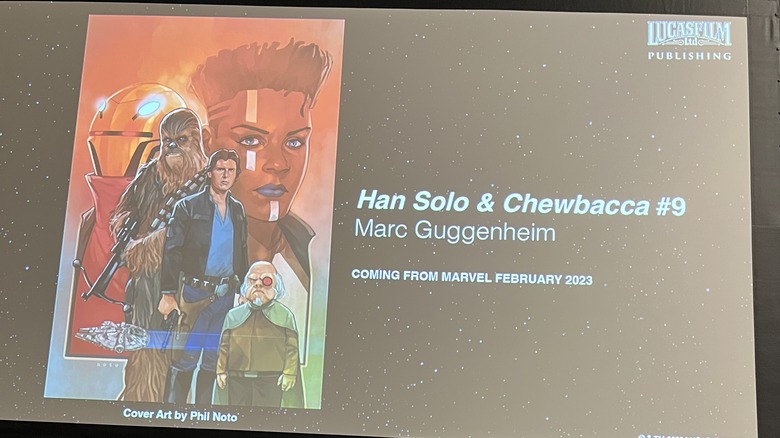 Caroline Cao
Comic writer Marc Guggenheim spoiled that "Han Solo is probably not dead" in Marvel's ongoing "Star Wars: Han Solo & Chewbacca." That's right, we know that tragedy comes later in the sequel trilogy. Guggenheim said that "Han Solo & Chewbacca #9" will reveal something about the urn's mysterious contents, and it's not the remains of Jabba's enemy as initially claimed.
Speaking of another character that shares a creative lineage with "Indiana Jones" with from Han Solo, Doctor Chelli Lona Aphra (a rogue archaeologist with a smart mouth and a penchant for being a nuisance) has always found herself in trouble throughout her treasure hunts and double-crossing in the galaxy. Things do not look great for Aphra in "Doctor Aphra #29," especially because she's possessed by the Sparks Eternal.
Also arriving is "Bounty Hunters #31." The cover by Giuseppe Camuncoli shows the bounty hunter Beilert Valance (a legacy figure since 1978) locked into a Force-choke by Vader's grip. These three issues are coming February 2023.
Doctor Aphra's ex Sana Starros finally gets a comic!
Caroline Cao
Enough about Doctor Aphra. Let's talk about one of her ex-girlfriends. Much to applause in the NYCC panel room, it was announced that comic fan-favorite Sana Starros is getting her own solo comic series by Justina Ireland (author of "Lando's Luck")! A smuggler and swindler originated from Nar Shaddaa, Sana had a whole funny deal when introduced in canon as Han Solo's (supposed) wife — it's a long story. Sana currently plays a major role in the "Doctor Aphra" comic series as a level-headed foil to the chaotic Aphra, with whom she had a messy past romance with. "Sana Starros" will arrive in February 2023.
Visions Original Manga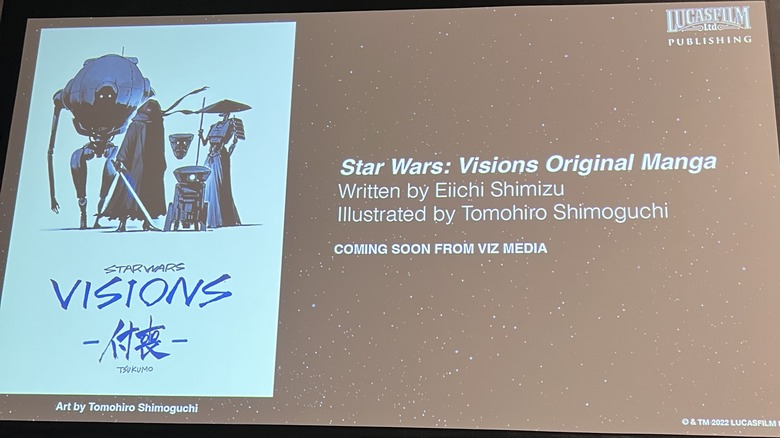 Caroline Cao
Powered by the creative imagination of various animators, "Star Wars: Visions" enlivened the Star Wars series with its colorful takes on the Force, Jedi, and Sith. The Ronin of the Kamikaze Douga's animated short "The Duel" received a supplemental one-shot in Marvel's "Star Wars: Visions #1." Now, Lucasfilm publicist Michael Siglain announced that "Visions" is getting a tie-in Viz Media manga "Visions Original Manga," written by Eiichi Shimizu and illustrated by Tomohiro Shimoguchi. At the panel, Siglain said he can't say anything more. So it's unclarified as of now if the manga is adapting any of the shorts or providing supplementary spin-off stories or possibly both. Considering the title "Original Manga," there may be new stories. The release date is unannounced. 
Star Wars Timelines covers a wide range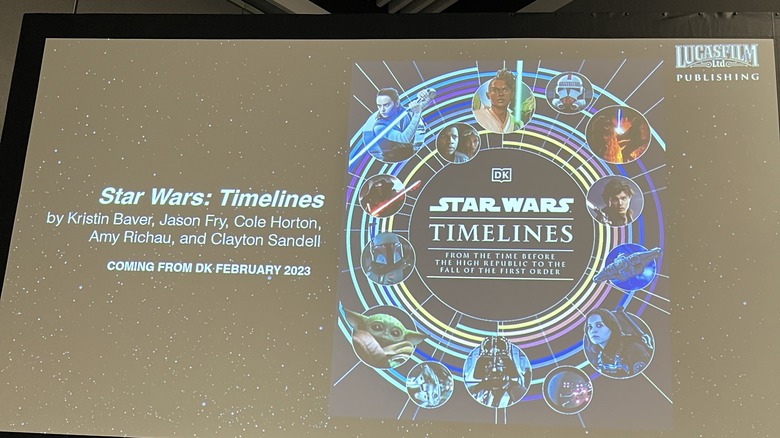 Caroline Cao
It's an exhausting task to chart the continuity of the Star Wars galaxy. But some devout Star Wars historians (Kristen Baver, Jason Fry, Cole Horton, Amy Richau, and Clayton Sandell) are up for the task. In their sprawling book "Star Wars Timelines," they will cover the range of the entire Star Wars saga in chronological order, from movies, series, comics, books, to more. An official preview shows records of Luke Skywalker training new Jedi, a younger pre-Knight of Ren Ben Solo in a rivalry with another young Jedi, and Poe Dameron's misadventures with a crime syndicate. "Star Wars Timelines" arrives February 7, 2023.
The Chronicles of the Jedi in their golden age
Long before the Great Jedi Purge, the Jedi thrived in a golden age. "The High Republic" series takes place centuries before the destruction of the Republic, the rise of the Emperor Palpatine, and the Skywalker saga. Among those who lived in the High Republic era are Avar Kriss, Bell Zettifar, Stellan Gios, Keeve Trennis, Burryaga, and Yoda. 
The long-titled "Star Wars: The High Republic: Chronicles of the Jedi: An Illustrated Guide to the Galaxy's Golden Age" will catalog that Gilded Age. New York Comic-Con finally released some new artwork by Cole Horton and discussed the lush character studies by Ario Anindito. The book is marketed as "rewarding for current readers of [Star Wars: The High Republic books] as well as a good jumping-on point." "The Chronicles of the Jedi" will arrive March 21, 2023.
100 Objects and High Republic Specific Lightsaber Collection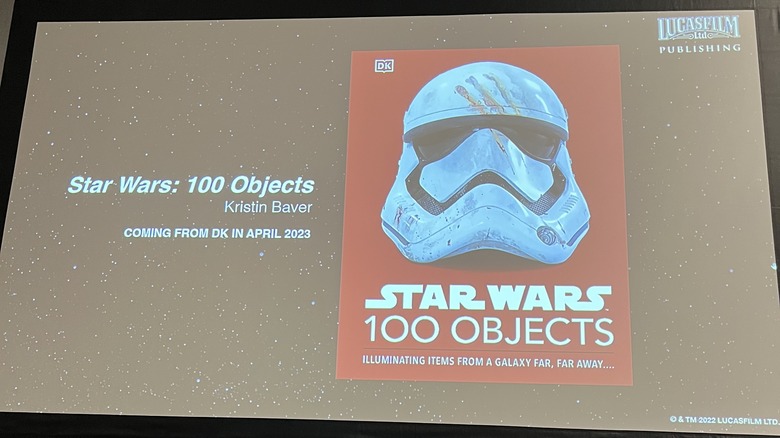 Caroline Cao
General Grievous would totally collect the book "High Republic Specific Lightsaber Collection" among his lightsabers. The more Star Wars expands, so does its variety of documented lightsabers and their wielders. "High Republic Specific Lightsaber Collection" will arrive spring 2024 (yup, a long wait).
Enough about lightsabers. In "Star Wars: 100 Objects," Kristin Baver ("The High Republic") assembles a compilation of essays on Star Wars items. Although it catalogs the familiar pop culture iconography, like Vader's helmet, Baver realized "each object also was telling a story that might be a different facet of a different character" so she picked an unorthodox choice to represent Master Yoda.
"You know, the first thing that came to mind was his cane. And that illustrates a certain part of his life. But I thought that's a little too obvious tool to use, and I thought it was a lightsaber. But as you might imagine, there are a few other lightsabers in here and it's not "Star Wars" with 100 lightsabers."
Baver highlighted a certain item that's unexpected: Yoda's flute, a handmade Blissl. "I think it's not necessarily the first thing you think of with Yoda," Baver said. As I was writing the essay, it allowed [me] to explore the playfulness of Yoda." She figured he wasn't just meditating or making stew on Dagobah, "he's having some fun, playing music."
"Star Wars: 100 Objects" will arrive April 2023.