The Midnight Club Stars One Of The Best Final Girls In Horror Movie History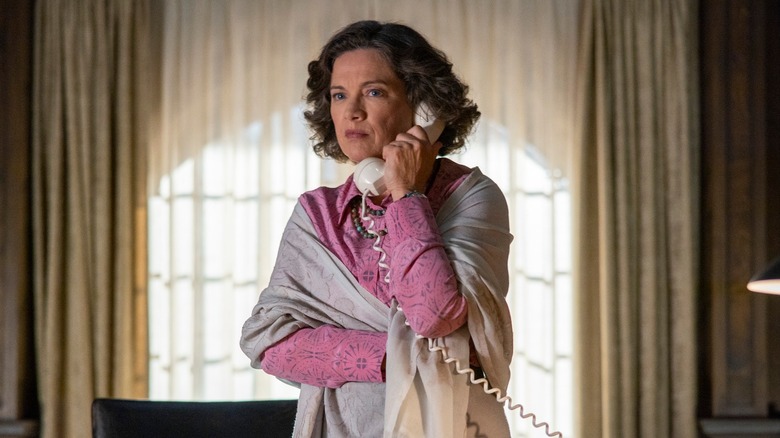 Eike Schroter/Netflix
This post contains spoilers for "The Midnight Club."
"The Midnight Club" hit Netflix over the weekend, and the new horror series features more than just the many familiar faces of past Mike Flanagan works. On the cast list, nestled between Flanaverse favorites like Rahul Kohli and Henry Thomas and talented up-and-comers like Ruth Codd, is one of the best scream queens of all time: actor, producer, and special makeup effects coordinator Heather Langenkamp.
Langenkamp's name will likely be familiar for anyone who grew up on a steady diet of '80s horror films. The actress had her breakout role in 1984's "A Nightmare on Elm Street," where she played terrorized yet resilient 15-year-old Nancy Thompson. When Nancy and her friend Tina (Amanda Wyss) begin having nightmares about a knife-handed man who seems intent on hurting them despite living in their unconscious minds, the legend of Freddy Kreuger is born.
While Tina doesn't make it to the end of the first "Nightmare on Elm Street" movie, Nancy becomes a triumphant final girl, besting the bad guy and becoming part of a touchstone in slasher history in the process. Langenkamp went on to appear in two more films in the popular franchise, first playing Nancy again in "A Nightmare on Elm Street 3: Dream Warriors," then playing a version of herself for "Wes Craven's New Nightmare." She also collaborated with Craven in 1989's "Shocker," and recently popped up in 2018's "Hellraiser: Judgment."
Flanagan's works always convey a deep love of horror as a genre, so it makes sense for the filmmaker and series co-creator Leah Fong to cast Langenkamp in their Christopher Pike adaptation series. Here, the actor plays Dr. Georgina Stanton, the head of Brightcliffe House hospice who, for much of the series, seems to be a stern but loving ally to the super-curious kids who live there.
This isn't the first scare for Dr. Stanton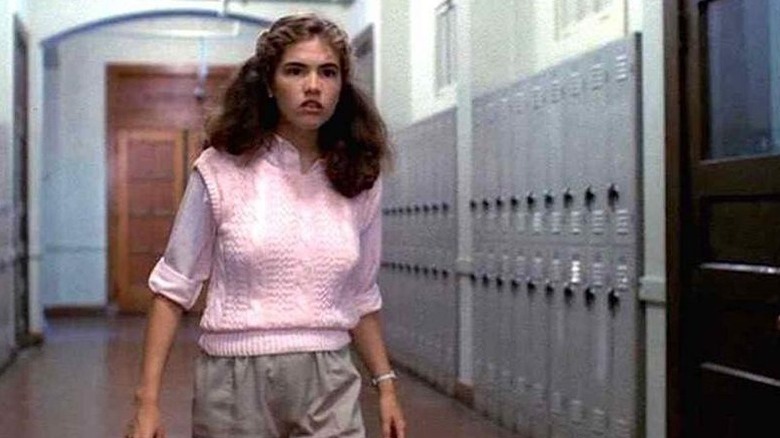 New Line Cinema
As the series unfolds, we learn that she's more aware of The Midnight Club's goings-on than the teens and young adults thought, and also savvier in general: not only does she know about their rituals, but she's also familiar with the Paragon cult and Shasta (Samantha Sloyan), the increasingly pushy and disturbing woman who Ilonka (Iman Benson) meets in the woods one day.
The end of "The Midnight Club," though, reveals that there's even more to Dr. Stanton than The Midnight Club realizes. Just before the finale cuts to credits, we see that the doctor has a familiar tattoo: an hourglass, just like the Paragon cult symbol. What are her ties to Brighcliffe's history? Is she a friend or foe to the sick, storytelling teens? Regardless, the twist is a narrative move that works well on the surface, and even better when you remember Langenkamp's own horror roots.
Not only does Dr. Stanton make it to the end of the season — once a final girl, always a final girl — but she also gets to reveal a surprise to viewers who may have expected a neat conclusion from the series. Surprise: this isn't a limited series! While many audience members (myself included) assumed based on Flanagan's past works that "The Midnight Club" was a self-contained story, it looks like the show's gearing up for a possible second season, and if it gets one, Dr. Stanton's culty connections will be the cliffhanger that leads straight into it. This feels right for an actress whose career kicked off with a genre-defining movie that couldn't help but end on one last twist, as Nancy Thompson's seemingly happy ending suddenly turns back into a Freddy-fueled nightmare.
"The Midnight Club" is now on Netflix.