Here's The James Bond Scene Every New Bond Candidate Uses To Audition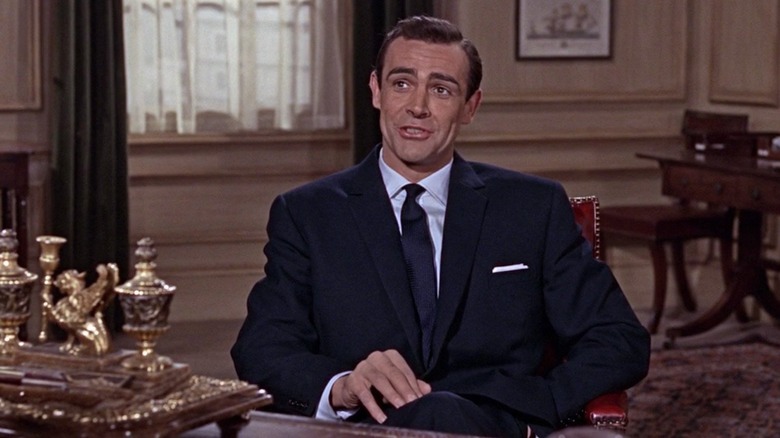 United Artists
The role of British secret agent James Bond has a storied history. Every actor that plays him joins a long line of legends and disappointments, and the pressure is on the performer to meet the standards of the role.
There have been many different flavors of Bond, from Roger Moore's goofy interpretation to the latest Bond, Daniel Craig, who has brought a great degree of seriousness to the role. The most iconic Bond of all time is Sean Connery, who played the spy seven times between 1962 and 1983. His Scottish brogue and cool demeanor lent Bond a cool factor that's proven tough to replicate.
Of course, no Bond lasts forever. Connery eventually grew tired of the role and refused to return, leading to his replacement. This passing of the torch has become a common occurrence, with new Bonds being appointed like new popes. It makes sense that the audition process is always the same, as they want actors who can encapsulate all that makes James Bond. Producer Michael G. Wilson recently revealed in a conversation at the British Film Institute that all potential Bonds audition with the same exact scene from "From Russia, With Love."
"From Russia, With Love" was the second James Bond film, but is possibly the most iconic. The story of James Bond helping a Soviet defector while the evil group SPECTRE attempts to assassinate him is a simple entry into the franchise, but it allowed Connery to do all the iconic James Bond things. He drinks martinis, he shoots guys, and he gets beautiful women. It makes sense then that this film is used for the audition, as it's really Bond at his basest form.
A rite of passage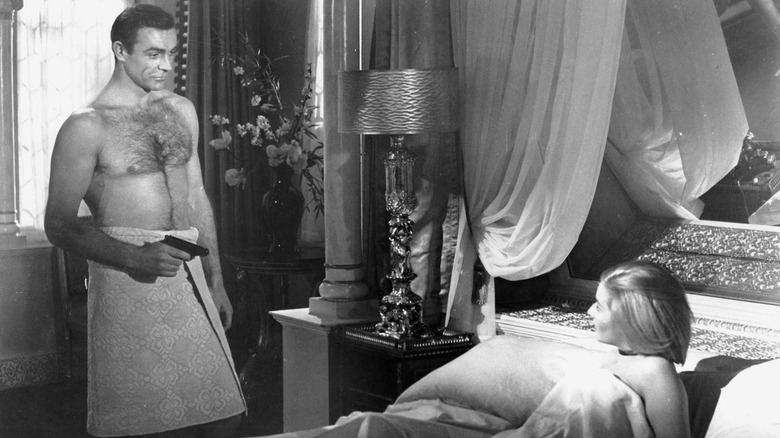 United Artists
The scene is a simple one. It features Bond returning to his room after an assassination, getting undressed, and going to the bathroom. Then Bond hears something, and readies his gun while he goes to see what it is. To his pleasant surprise, it's a mostly naked woman in his bed, whom he then makes some flirty quips at.
The scene serves as a representation of who the Bond character is. A man who has been trained to kill almost casually, so much so that he can return to his bedroom after an assassination and not seem too bothered. But because of his line of work, he always needs to be on alert, always ready to pull out his gun. And ultimately, Bond's a man of many vices, whether it be alcohol or women. He sees a beautiful woman in his bed and he turns on the charm, because that's just who he is.
With our most recent Bond, Daniel Craig, retiring from the role, it opens up an opportunity for a new actor to take up the mantle. Fans everywhere have been endlessly speculating about who the next actor to don the suit will be. While it's been confirmed that no new Bond will be anointed unless a villain has been cast first, it's exciting to imagine who will be the next to audition using the scene that all of the previous Bonds have done. It's a rite of passage for the person who will become the head of one of the biggest movie franchises in history.