One Rudy Moment Still Never Fails To Bring Sean Astin To Tears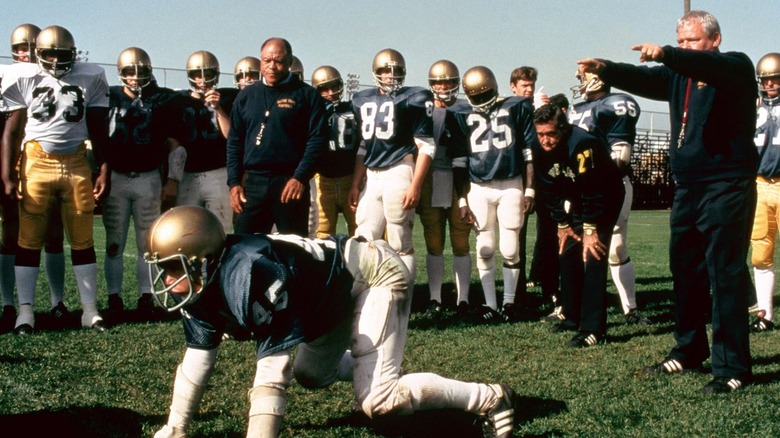 TriStar Pictures
The college football classic "Rudy" was released in theaters almost thirty years ago on October 13, 1993. It remains as one of the most inspirational true stories in modern moviemaking. The legacy of "Rudy" even transcends sports; in the halls and on the field of Notre Dame University, it's the stuff of legend. But the story of steadfast determination in the face of overwhelming adversity has become a symbol for every person to try to achieve the impossible. 
The true story of "Rudy" took place in the seventies and is based on a dyslexic student who enrolled at Notre Dame's sister school, Holy Cross College, in hopes of one day being able to suit up for one of the country's most elite college football programs. The film chronicles the hardships and overwhelming odds that Dan "Rudy" Ruettiger overcame in order to make his dream become reality. Sean Astin's portrayal of Ruettiger's triumphant underdog story still pulls at the heartstrings to this day.
In fact, even Astin still gets emotional rewatching the inspirational moment where Rudy is carried off the field at Notre Dame Stadium after tackling a Georgia Tech quarterback with just 27 seconds left on the clock. There's also one scene, in particular, that never fails to bring a tear to his eye. 
Astin told Us Weekly, "When I watch the movie, it's Jon Favreau's cry that chokes me up."
The power of a real friend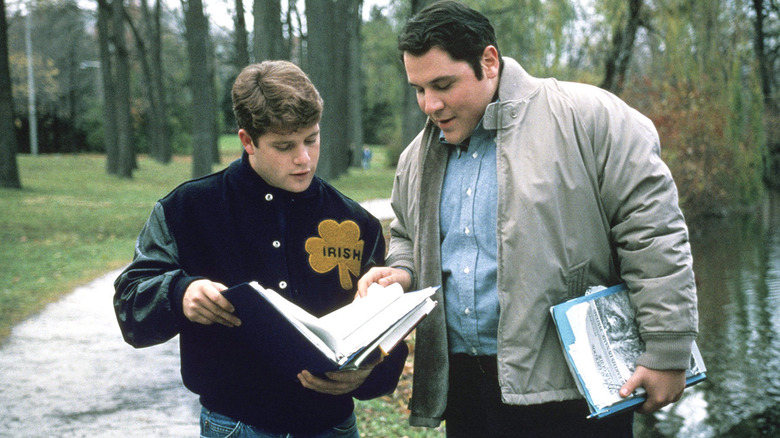 Sportsnet
Favreau showed what true loyalty was all about in his performance as Rudy's best friend, D-Bob. When Rudy defies all odds and actually makes it out onto that field, it's D-Bob shouting, "He's so little!" that makes it feel real. Astin recalls the moment vividly (via Us Weekly):
"My wife [Christine Harrell] was on the sideline, I looked at her before the big final snap. That and the sound of the crowd are my enduring memory. That and the extraordinary accomplishment of this small crew. And I was happy for Rudy."
The enduring friendship between Rudy and D-Bob may be the emotional heart of the film, but there are so many enduring moments that Astin will never forget. Personally, the scene that always gives me goosebumps is when Rudy is finally admitted into Notre Dame after two years of constant struggle. Astin recalled filming that moment saying, "Getting the acceptance letter was a strain, that ended in victory." Astin also remembered the scene showing every Notre Dame player requesting to give up their roster spots so Rudy could play:
"I'm a father of three daughters. I cry at everything. That scene ... so many scenes with Rudy's dad and the players ... it's Jerry Goldsmith's score. That music makes me cry throughout."
Undoubtedly, Goldsmith's uplifting score is still indelible almost three decades later. 
"Rudy" is also a story about a son earning the respect of his father. My Dad attended a motivational talk featuring the real Dan Ruettiger and managed to get a signed copy of his book for me. I still have it.