Starman's Opening Forest Fire Scene Was A Wet Mess For John Carpenter To Shoot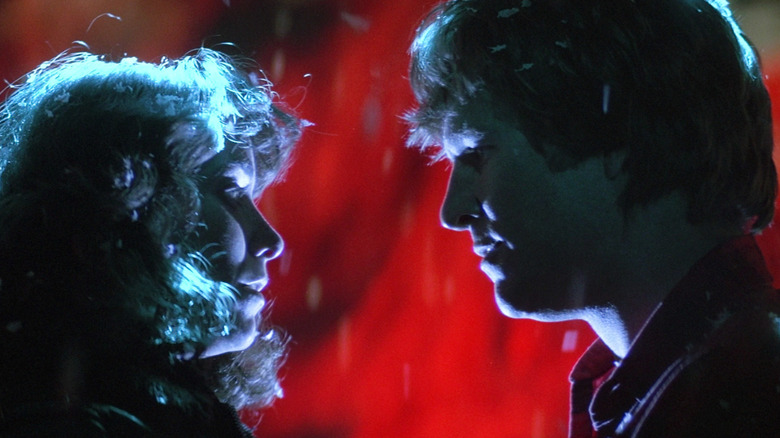 Columbia Pictures
It's always interesting to see what happens when a director tries their hand at a film unlike any they've made before or since. Consider David Fincher's "The Curious Case of Benjamin Button," a whimsical romantic fantasy drama far removed tonally from the grim thrillers and dark character studies the masses are accustomed to seeing from the "Se7en" and "Social Network" helmer.
John Carpenter's "Starman" is his "Benjamin Button," at least in that respect. There are times the 1984 sci-fi film recalls the director's down-and-dirty action flicks, just as there are visuals and scenes that speak to his horror oeuvre. But for the most part, "Starman" plays out as a love story by road movie, albeit where one of the leads is a visitor from a distant planet. That would be the titular character, a cordial extra-terrestrial being who crash-lands on Earth after their spacecraft is shot down by the U.S. government (wrongly perceiving it as a threat).
Karen Allen stars in Carpenter's movie as Jenny, a recently widowed woman who agrees to help reunite said alien with their kind before they die from being ill-adapted to life on Earth. What ensues is part fish out of water comedy, part romantic drama, one made all the more unusual by the fact that the "Starman" creates a human body for itself by cloning Jenny's late husband Scott (Jeff Bridges). The film does, however, kick off with a literal bang in the form of a forest fire —  a bit of pyrotechnics that proved surprisingly difficult for Carpenter and his crew to manage.
'Nothing would burn'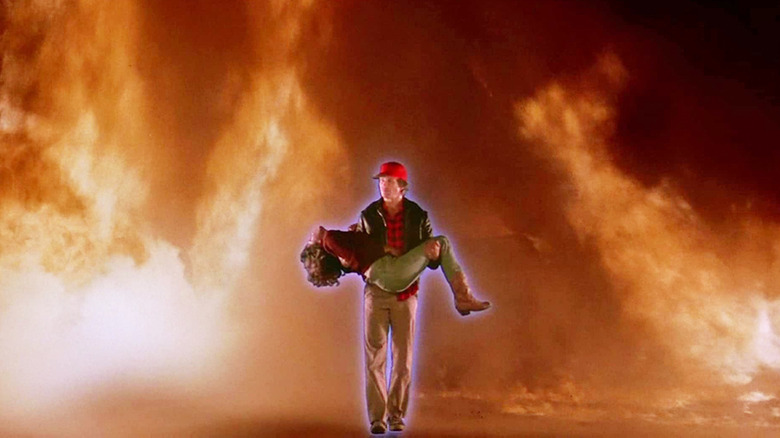 Columbia Pictures
Columbia Pictures was all-in on Carpenter's low-key approach to "Starman." By the time the "Halloween" helmer boarded the film, the studio had already cycled through several iterations under different directors and was eager to keep its costs from rising even higher. The movie might've avoided going over its original $20 million budget, too, had it not been what the Chicago Tribune described in 1985 as "an unseasonably wet spring" in Tennessee (which "doubled" for Wisconsin) when production began.
As you can imagine, those conditions make it very difficult to film the movie's opening, in which the alien's vessel crash-lands and sets off a forest fire. "We couldn't sustain the explosion," explained producer Larry Franco. "Nothing would burn. We had people and equipment waiting around for weeks. Finally, we had to build up tires and cardboard, drench them with fuel and create our own fire."
But why not merely film the scene elsewhere? In an interview with NBC5 reporter Bobbie Wygant, Carpenter explained that it was specifically the state of Tennessee that gave the production a green-light to "burn down several acres of a forest." When Wygant, naturally, expressed some concern about the wording of his answer, Carpenter quickly clarified the forest area in question was, in fact, a fire hazard and "needed to be denuded" anyway. "We had to check with all the environmentalists," he added.
E.T. for grown-ups?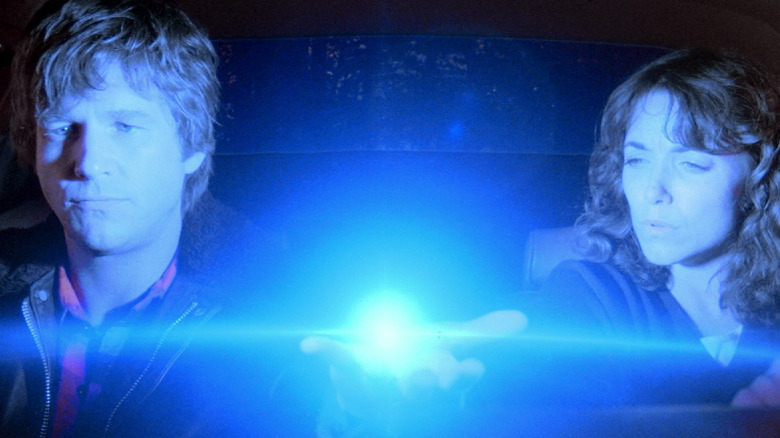 Columbia Pictures
By the time "Starman" was finished, the film's budget had only (well, "only") risen to $24 million, which gave it a decent shot at making back its money. But even with mostly positive reviews on its side, Carpenter's movie bombed at the box office, only grossing $28.7 million. 
In a bitter twist of fate, Columbia had elected to produce the film after dropping the somewhat similarly plotted "E.T. the Extra-Terrestrial" a few years earlier. As uncredited "Starman" co-writer Dean Riesner ("Dirty Harry") explained to the Chicago Tribune, the studio felt "Starman" was the more likely of the pair to become a hit. In his words:
"They made the decision on the grounds that `E.T.` was more or less for kids, more Disney-like, whereas `Starman` was an `E.T.` for grown-ups."
There are indeed a number of surface-level parallels between "E.T." and "Starman." The aliens in both movies possess borderline magical powers; "Starman," for example, can revive dead animals and more thanks to a set of mysterious small spheres he carries with him. Then there's the presence of a benign government agent — in the case of "Starman," Charles Martin Smith's SETI scientist Mark Shermin — who ends up trying to protect the alien from those who seek to exploit or harm them for self-serving purposes.
For the most part, though, these similarities are superficial and comparing the two films this way does both of them a disservice. Where "E.T." is a fairy tale about childhood that speaks to all ages (and an all-time classic, let there be no confusion about my meaning), "Starman" is more of an adult fable about grief, human nature, and the mysteries of love. It's very much a worthwhile movie taken on its own merits, whichever way you feel about the rest of Carpenter's filmography.