The Lost Boys' Corey Feldman And Jamison Newlander On Joel Schumacher's Legacy [Exclusive]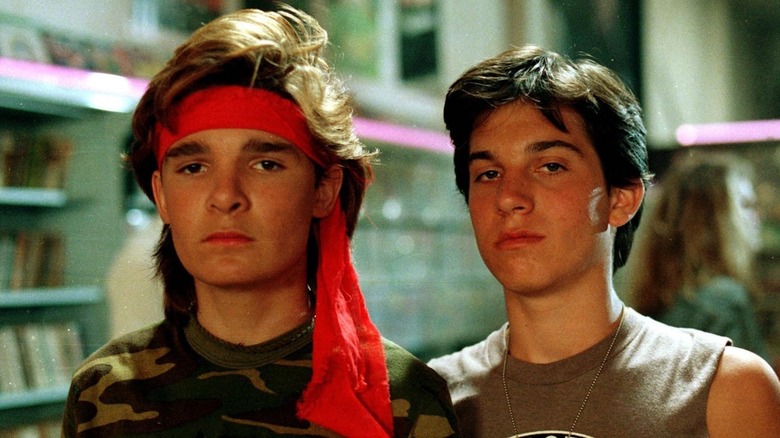 Warner Bros. Pictures
Recently this writer provided a commentary track for Arrow Video's 4K release of director Joel Schumacher's 1990 horror film "Flatliners." Over the course of researching Schumacher's career it became clear that not only was he an underrated filmmaker, he was a legitimate visionary. While he may have worked in any number of genres from thriller ("Falling Down," "Phone Booth") to romance ("Dying Young," "Cousins") to courtroom drama ("The Client," "A Time to Kill") to comedy ("St. Elmo's Fire," "Flawless") to musical ("The Phantom of the Opera"), he was no journeyman. Schumacher had a distinct visual flair, not to mention a peerless eye for discovering genuine talent, be it Kiefer Sutherland, Julia Roberts, or Colin Farrell. Even his controversial duology of 1990s bat-flicks ("Batman Forever" and "Batman & Robin") carry his unique blend of neon-colored kitsch and stadium rock gusto. 
It was this same flavor that he brought to "Flatliners" as well as his first entry into the horror genre, 1987's teen vampire hit "The Lost Boys." A savvy mix of MTV-inspired cool and goofy comedy, "Lost Boys" recently celebrated its 35th anniversary with a brand-new 4K Ultra HD release from Warner Bros., and we had the chance to speak with The Frog Brothers themselves — Corey Feldman ("Stand By Me," "The Goonies") and Jamison Newlander ("The Blob," "Bone Tomahawk") — about the legacy of Schumacher as a director worthy of recognition.
'He was very big on seeing the image in his mind'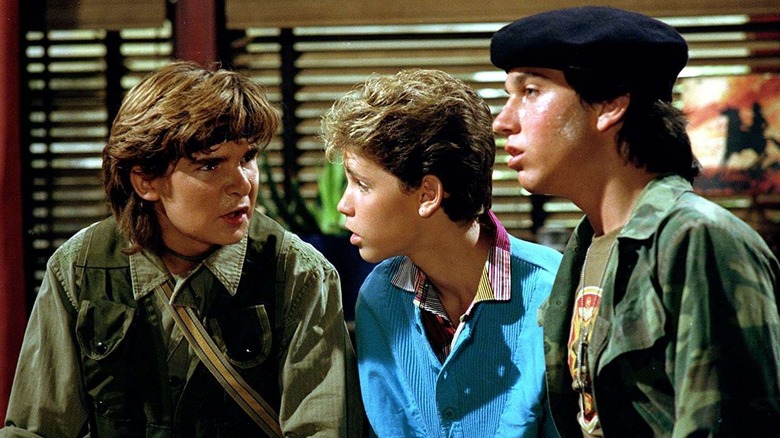 Warner Bros. Pictures
When it comes to the late Joel Schumacher, who passed away in 2020 at the age of 80, Jamison Newlander had nothing but fond memories:
"Well, what I will say about Schumacher, having worked with him and known him for a long time, is that he was really so dedicated. With 'Lost Boys' certainly he had such a vision, and that vision was visual, as well. It was all pieces of it. He worked with great designers and he found really talented actors, but it all stemmed from this vision that he had of it."
Newlander's fellow Frog Brother, Corey Feldman, concurred that Schumacher is an underrated visionary, perhaps unfairly maligned due to the negative fan reaction to his Batman films: 
"Overall, as far as designing goes, he started as a writer and a costume designer, right? He was a costume designer on the old Woody Allen movies, and he did a lot of design on 'The Wiz,' where he was a writer as well. So there was a lot of that coming to the forefront. If you think about it, he redesigned the whole look of Batman and Robin. Maybe not to everybody's approval, but he still did his thing with it and made it his own. So he was a visionary, and he was very big on seeing the image in his mind and then bringing it to life, which is something that I do in everything that I do creatively, whether it's making films, or music, or touring, or whatever. But it always stems from this picture that you get in your mind and then you bring it to life. I think he was great at that."
The feeling was mutual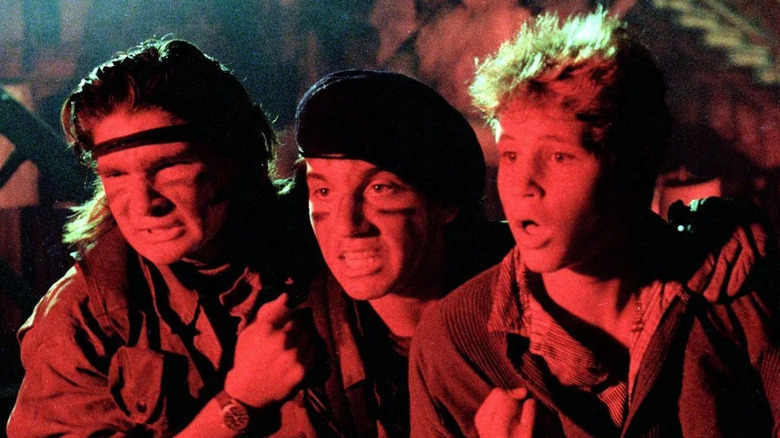 Warner Bros. Pictures
While Jamison Newlander and Corey Feldman may speak highly of Joel Schumacher, the fact is the director felt the same way about their performances in "The Lost Boys." Schumacher recounted as much during the 2004 DVD special feature "The Lost Boys: A Retrospective" (which is also available on the new 4K Blu-ray):
"The Frog Brothers will always remain two of my favorite characters in any of my movies, because you wish you knew them. They're singularly focused ... I told them they were marines, commandoes. Well they don't think they're funny, they're going to kill vampires! You better not make fun of the Frog Brothers, I'll have them stake you. No, they're dead serious, they're the G.I. Joe's of this movie."
Schumacher's keen eye for actors came through in spades on "The Lost Boys," where the cast not only had great chemistry but also became friendly in real life. Newlander and Feldman continue to work together, including in two direct-to-video sequels ("Lost Boys: The Tribe" and "Lost Boys: The Thirst"), while "Lost Boys" boasts the very first pairing of Feldman and Corey Haim. Becoming known to fans and the press as "The Coreys" during their heyday, the two became best friends and worked on many projects together including "License to Drive" and "Dream a Little Dream." The film's two older male leads, Jason Patric and Kiefer Sutherland, have also remained close pals. 
While Schumacher certainly went on to have a stellar career as a box office powerhouse throughout the '90s, it is a shame that he is not spoken of more highly as the genuine pop artist that he was. If you're looking to reconsider a singular career, then "The Lost Boys" is certainly a great place to start.