Did Arnold Schwarzenegger Really Replace OJ Simpson As The Star Of The Terminator?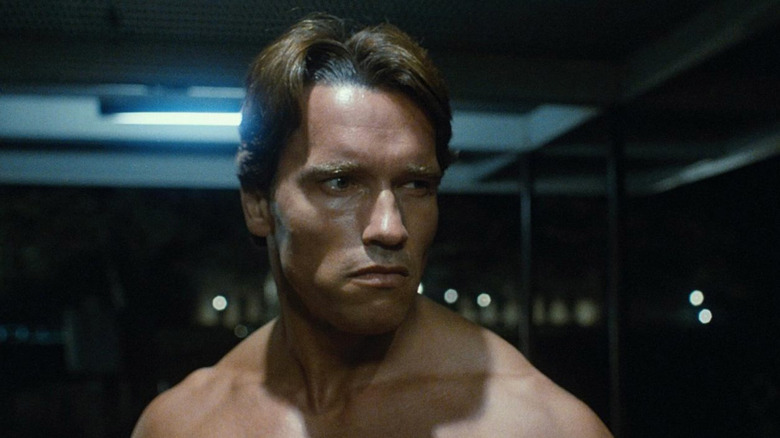 Orion Pictures
The casting for James Cameron's "The Terminator" has been a persistent Hollywood rumor for years, partly due to statements made by the Terminator himself, Arnold Schwarzenegger. As the story goes, Schwarzenegger was not the first choice to play the titular T-800, but rather O.J. Simpson, the former football star whose controversial murder trial has since overshadowed his brief career as an actor. Cameron was apparently so keen on the latter that he used his likeness in concept art for the film.
Schwarzenegger has said for years that he ended up "stealing" the role from Simpson, telling The Independent (and many others) that Cameron ultimately (and ironically) couldn't see Simpson as "a killing machine." That prompted Cameron to cast Schwarzenegger in his place, and even paint Schwarzenegger's face over a piece that once featured Simpson. That same painting now hangs in Schwarzenegger's home. "If anyone would ever scrape off the part of my face," the actor said, "underneath will be O.J."
It's a pretty fascinating story, but is any of it actually true? To hear Cameron himself tell it, Schwarzenegger is way off base.
In the beginning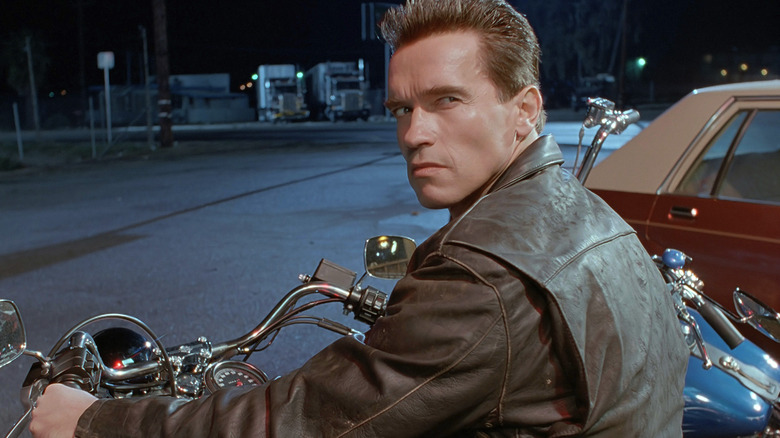 Tri-Star Pictures
Cameron set the record straight on Schwarzenegger's "Terminator" casting in 2019. While it's true that O.J. Simpson's name was briefly in the running for the film, it was quickly shot down before it could gain much traction. Back when "Terminator" was just getting off the ground, Orion Pictures co-founder Mike Medavoy pitched his dream cast to Cameron. "Medavoy said, 'Are you sitting down? I've got this movie cast: O.J. Simpson as The Terminator and Arnold Schwarzenegger as [Kyle] Reese,'" Cameron told The LA Times.
Neither suggestion sat well with Cameron, or with his producer and co-writer Gale Anne Hurd. While he took Simpson's name out of the running then and there, he did agree to meet with Schwarzenegger for the role of Kyle Reese, the resistance fighter that travels from the future to save Sarah Connor (Linda Hamilton) from the T-800. Still, he wasn't exactly sold on that prospect either. And, as luck would have it, neither was Schwarzenegger himself:
"I went to have lunch with him and was utterly charmed by him, found him to be absolutely fascinating and we hit it off completely. He loved the script — but interestingly, all the scenes he was quoting to me were not Reese scenes. They were Terminator scenes. 'He crashes into the police station! He does this and he does that!' And while he's talking I'm thinking, 'He'd make a pretty damn good Terminator. He'd be a human bulldozer!'"
And the rest is history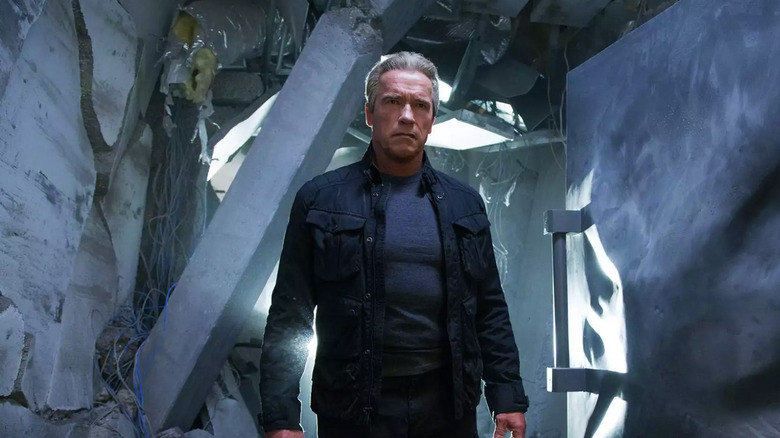 Skydance
Cameron offered Schwarzenegger the role of the Terminator, not Kyle Reese, that very same day. "O.J. Simpson was never in the mix at all," the director affirmed. "That was rejected out of hand before it ever got any traction."
As for the mystery behind the painting, Cameron also denied that Simpson's likeness was lurking beneath Schwarzenegger's. "There's no O.J. under that painting ... I gifted [Schwarzenegger] that painting after the film, and I'm going to go over to his office and get it back now," he joked. "I'm gonna go over there and go, 'Arnold! I'm taking this painting back because you don't appreciate it!'"