Christian Bale's Dream Star Wars Role Is Not As A Major Character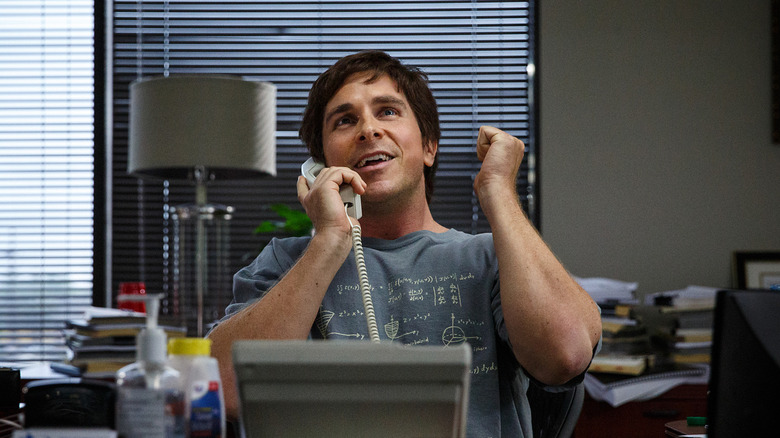 Paramount Pictures
Christian Bale is, without question, one of our most in-demand and talented actors working today. He can do it all, from real-life dramas such as "The Fighter" to gigantic superhero movies like "Thor: Love and Thunder. An Oscar-winner and an A-lister, it seems he's accomplished so much. But Bale's big dream is to someday be in the "Star Wars" universe. Though not necessarily in a role befitting someone of his stature. Rather, Bale is willing to dream small in this arena.
It is no secret that Bale is a big "Star Wars" fan and that he would like to appear in the franchise someday. But in a recent chat with The Hollywood Reporter, the actor made clear his seemingly reasonable ambitions. Namely, he only ever wanted to be the Stormtrooper that hits his head in "A New Hope."
"All I ever wanted in Star Wars was to be in a Star Wars outfit and hit my head on a door or something as I walked through. The real nerds who watched Star Wars way too many times always knew about that one scene where the Stormtrooper hits his head on the door as he comes through. I wanted to be that guy. That was it. But look, if I'm fortunate enough to be more than that, oh man, yeah. What a delight that would be. I've still got the figures from when I was little. I also know Kathy Kennedy very well because she was working with Spielberg when I did Empire of the Sun, and now, she runs the Star Wars universe."
A dream that can and should come true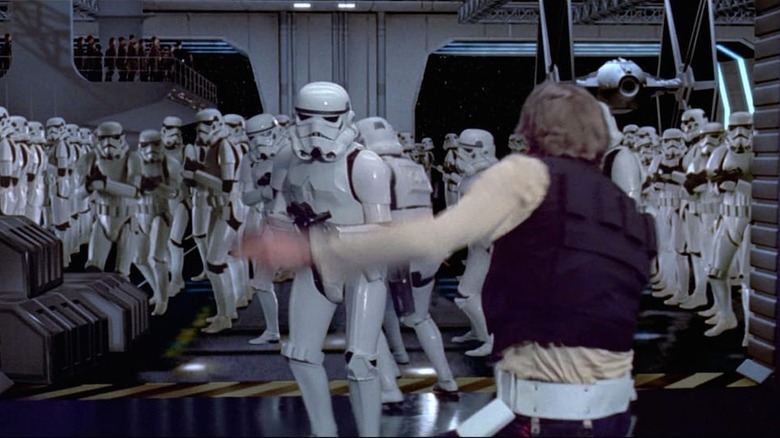 Lucasfilm
A couple of things are true here. First off, there is a whole bunch of "Star Wars" coming down the pipeline. Several movies are in various stages of development, with Taika Waititi currently writing one that he may direct. Coincidentally, he just worked with Bale on "Love and Thunder." We also have the many, many TV shows in the works for Diseny+ that have all come about as a result of the success of "The Mandalorian." In short, there will be plenty of warm bodies needed to fill out lots of roles in a galaxy far, far away.
Aside from that, plenty of big actors have had bit parts in various "Star Wars" projects. Just look at Daniel Craig's turn as a Stormtrooper in "The Force Awakens." That being said, it seems completely reasonable to assume that Lucasfilm would be willing to bring a guy like Bale into the fold, even if it was for something relatively minor. It feels mutually beneficial as Bale is an outstanding actor and would certainly bring some eyeballs, and it would accomplish a lifelong dream for him. So, perhaps Kathleen Kennedy would do well to give him a ring.