Roger Moore Had A Hilarious Trick For Facing Down James Bond Baddies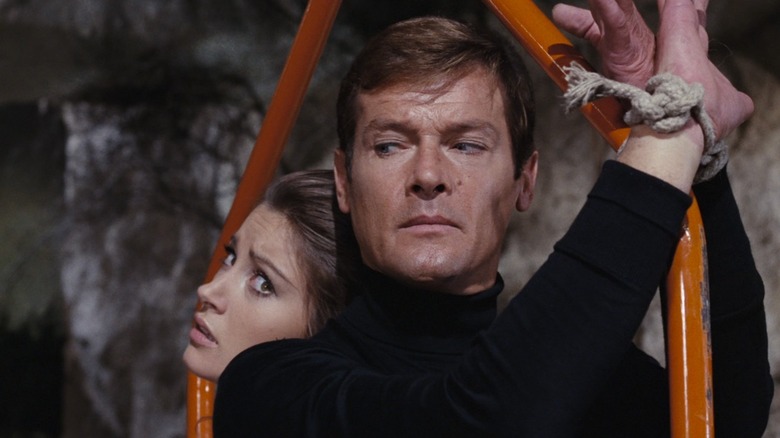 United Artists
The debate as to which actor best played Ian Fleming's James Bond will never be settled. One fan's personal favorite will never match with everyone else's, and the debate will continue in perpetuity as long as Eon Productions keeps churning out these movies. This author happens to be most fond of Pierce Brosnan in the role, with a secondary preference for David Niven, but he will not confront anyone who likes George Lazenby or Danel Craig or that one Scottish actor. 
Starting in 1973, actor Roger Moore played the role of James Bond, and he would go on to play the part in six additional feature films. Moore's own favorite Bond actor was ... well, anyone but Moore. The tall, handsome, effortlessly charming actor was always openly self-deprecating when it came to his own performances, and often came out in public touting his own lack of talent. Whether or not he has talent as an actor, Moore certainly possessed a great deal of wit, once saying, "My acting range has always been something between the two extremes of 'raises left eyebrow' and 'raises right eyebrow." He also once admitted a deep satisfaction in being knowingly overpaid. 
This quote was repeated in a 2008 interview Moore had with Entertainment Weekly. It turns out his self-deprecation was a defense mechanism, usually wielded near critics. Although, Moore did admit a bit of method acting when it came to facing villains in James Bond movies. Every Bond villain, it seems, has bad breath.
Critic-proof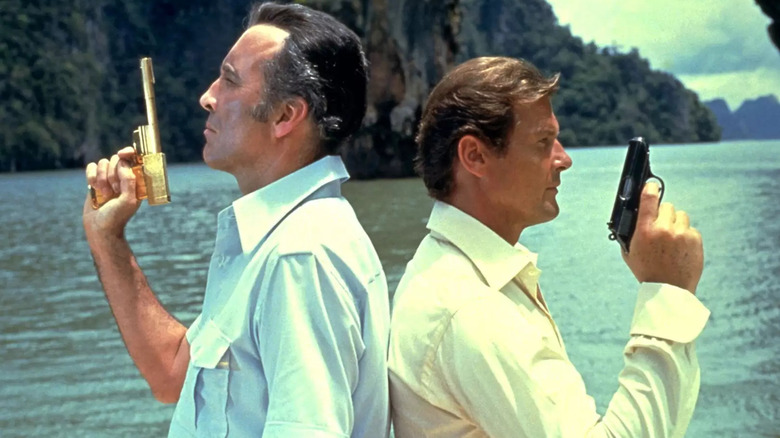 United Artists
Moore was an adherent to the philosophy that you can't hurt him if he's in on the joke. While Moore was generally accepted as Bond, he appeared afraid that critics would lambaste his performance. Moore was, after all, mocked occasionally for his eyebrow-centric performance style. The surreal 1984 puppet-based sketch comedy show "Spitting Image," at the very least, lampooned the actor quite well. Moore preferred, then, to keep expectations low. There would be less disappointment that way. He said: 
"Listen, if I say I'm s**t as an actor, then the critic can't, because I've already said it! For years my agents would tell me, 'You've got to stop saying these things about yourself. People will believe you.' So? They may also be pleasantly surprised!"
James Bond exists in a parallel universe that, like in superhero movies, has fewer moral shades of gray than reality. There are Good Guys and there are Bad Guys and it's rare that heroes or villains will emerge as ethically ambiguous. As such, Moore felt free to view the villain characters as repulsive through and through. His method acting technique for putting on a face of disgust was simple. If every villain had halitosis, Moore could more convincingly recoil. Imagine, say, Christopher Lee's breath in "The Man with the Golden Gun" was decidedly skunk-like, and suddenly Moore's performance has more greatly informed Lee's character. "If you watch those scenes," Moore said, "you'll see I look mildly repulsed."
Moore vs. Connery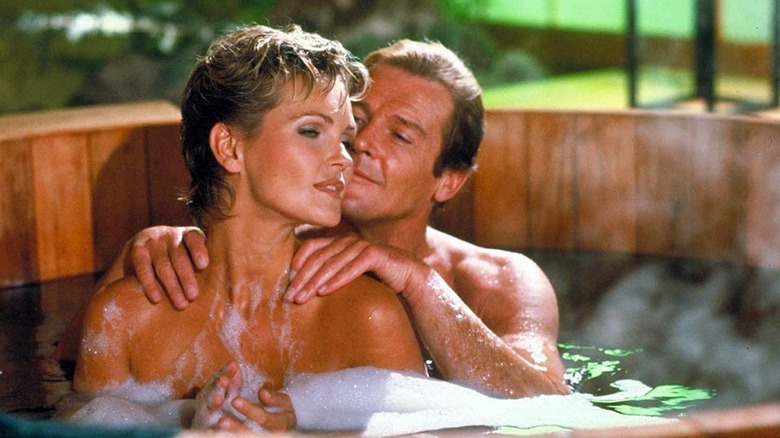 United Artists
Moore, for however much he was beloved or lambasted, was popular. Indeed, to date, Moore is tied with actor Sean Connery with having played James Bond the most number of times. Connery had last played the role in 1971's "Diamonds are Forever," leaving Moore in his place. During the production of Moore's sixth James Bond film — "Octopussy" in 1983 — Columbia Pictures produced their own rival James Bond film called "Never Say Never Again," directed by Irvin Kirschner and starring Sean Connery. "Never Say Never Again" was essentially a remake of Connery's own 1965 film "Thunderball." 
The dueling Bonds of 1983 has been a sticking point for 007 fans ever since, with some arguing that "Never Say Never Again," because it was not produced by the same studio, doesn't count as canon. Others would argue that canon doesn't really exist in the world of James Bond, as the timeline seems to reset with every new actor, and often with every new movie. Indeed, a dramatic event occurs at the end of 2021's "No Time to Die" that pretty much assures canon will not be an issue moving forward. As such, Moore and Connery have played the 007 role in seven feature films apiece. 
Whatever may be said about Moore, his Bond era was marked by fun, near-slapstick silliness. Moore almost seemed sarcastic in many of his scenes, happy to depict Bond as playfully clowning around. What's more, Moore appeared in what is one of the three best James Bond movies, 1981's "For Your Eyes Only." No one will ever take that away from him. 
Moore passed away in 2017. He was 89.