Raymond And Ray Trailer: Ewan McGregor And Ethan Hawke Dig Their Father's Grave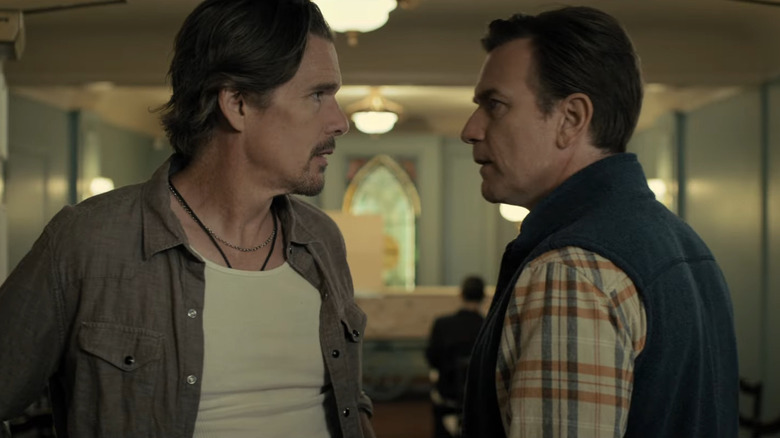 Apple TV+
In the new Apple TV+ film "Raymond and Ray," Ewan McGregor ("Obi-Wan Kenobi") and Ethan Hawke ("Moon Knight") play estranged half brothers, brought back together by unusual circumstances. The two have been apart for quite a while, but after their father dies — and makes a very odd request — they reunite and reminisce about what a jerk he was. A new trailer has been released for the film, which will hit theaters first, then stream on the service. 
The film is both written and directed by Rodrigo García ("Last Days in the Desert," "Mother and Child," "Albert Nobbs"), and produced by Academy Award-winner Alfonso Cuarón and Julia Lynn via Mockingbird Pictures. The trailer release comes shortly after the film had its premiere at the Toronto International Film Festival on September 12, 2022. The tagline for the film is "You can bury family, but you can't bury the past." 
McGregor and Hawke, both recently on the Disney payroll, are a pairing I didn't know I needed, but they have some seriously compelling brother/rival energy. 
Watch the Raymond and Ray trailer
The trailer suggests that McGregor's Raymond is the sweet brother, playing off the more grouchy demeanor of Hawke's Ray. I sometimes marvel a bit at McGregor's ability to channel child-like vulnerability and distress, but once again, he manages it, despite being in his fifties. 
Though there doesn't seem to be a ton of tension between the brothers in the trailer, being asked to dig a grave for their estranged dad is a wild request and will no doubt cause conflict. It's got to bring up some odd things, as would having a surprise little half brother. We don't always know our parents fully, and finding out their secrets after they're gone can cause some weird stuff to come up psychologically. There is a bittersweetness about this trailer that pulls you in, odd as the story sounds. 
"Raymond and Ray" also stars Maribel Verdú as Lucia, the woman Raymond and Ray's father was having a relationship with, as well as Sophie Okonedo, Maxim Swinton, Vondie Curtis-Hall, Chris Silcox, Chris Grabher, and Oscar Nunez. Here is the official synopsis for the film:
Half brothers Raymond and Ray reunite when their estranged father dies — and discover that his final wish was for them to dig his grave. Together, they process who they've become as men, both because of their father and in spite of him.
"Raymond and Ray" will be released in theaters on October 14, 2022, and will begin streaming on Apple TV+ on October 21, 2022.