Diego Luna Shoots Down Rumors Of Alternate Rogue One Endings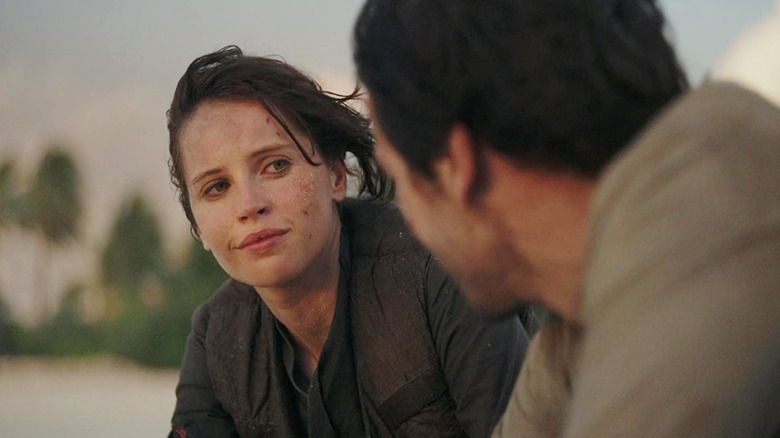 Lucasfilm
There was a dark cloud hanging over "Rogue One: A Star Wars Story" as it made its way to theaters. Reports of expensive reshoots over the months leading up to its release left many a fan with a bad feeling — and if we've learned nothing else from "Star Wars," it's that bad feelings are rarely a good thing.
Luckily, thanks to some heavy input from co-writer Tony Gilroy, "Rogue One" was far from a bust, bringing in strong reviews and taking home over $1 billion at the box office. It's not a perfect film. There's a fair amount of fan servicing and nostalgic Easter eggs, which (not unfairly) tends to be the sticking point with its detractors. But for me, it might be my favorite "Star Wars" movie in the Disney era for the way it really embraces the idea of being a war drama set in a sci-fi universe.
"Rogue One" follows a group of Rebels led by seasoned spy Cassian Andor (Diego Luna) and new recruit Jyn Erso (Felicity Jones) as they undertake a mission to steal the plans to the first Death Star. There's a grayness to the film's heroes that "Star Wars" movies don't always have. The combat scenes and blaster shoot-outs are similarly raw and carry a vivid sense of danger, enough to leave you legitimately worried the good guys might not make it out of a tight spot alive more than once.
Rather than pulling its punches or deploying a deus ex machina, "Rogue One" even goes so far as to end with all its leads sacrificing their lives to complete their mission, paving the way for Luke Skywalker's heroics in "Star Wars: A New Hope." According to Luna, that was always the plan, too, contrary to any rumors of alternate endings.
'It was one film and I knew what the end was going to be'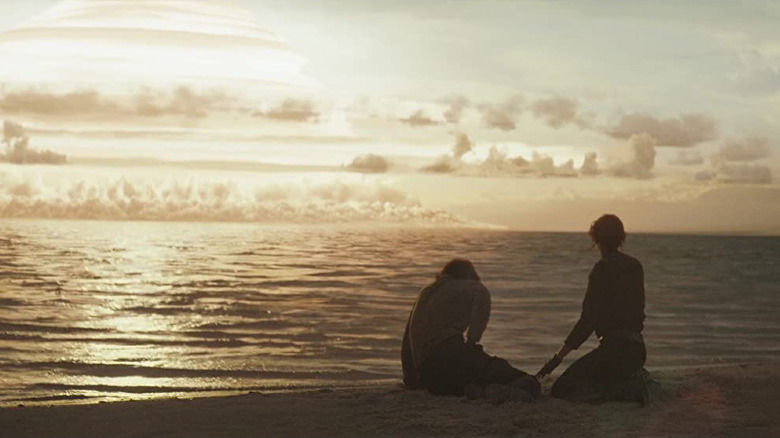 Lucasfilm
One of the best things about "Rogue One" and the prequel-era animated "Star Wars" series ("Clone Wars," "The Bad Batch," "Star Wars Rebels") is they bring the theme of sacrifice to the forefront. In doing this, they remind everyone that, while only a small group of heroes get the credit for taking down the Galactic Empire and other despotic organizations in the "Star Wars" galaxy, there are many, many others who cleared the path to victory with their selfless actions.
Speaking to Vanity Fair, Luna explained how this message attracted him to "Rogue One," saying he felt it was "so bold, so interesting, and so unique" to end the movie the way it does. He also shot down rumors of an alternate, happier ending being considered, at least by the time he came onboard:
"And I remember people say we shot different endings and, just to be clear, the day I was offered this role, I knew this was it. It was one film and I knew what the end was going to be. And it's one of the things that excited me the most, you know, that Star Wars was going to do that, was going to show what sacrifice means, and was going to go for it."
Considering later "Star Wars" movies and shows would suffer from playing things too safe, it's nice to know those involved with making "Rogue One" always stuck to their guns, even amidst the film's various production woes. It also seems Gilroy and Luna have carried that same philosophy over into their TV show "Andor," a "Rogue One" prequel/spinoff that takes "Star Wars" into even more daring and dangerous places.
New episodes of "Andor" premiere Wednesdays on Disney+.