Evil Eye Review: Grandmotherly Horror Is Like Mother Goose Gone Mad [Fantastic Fest]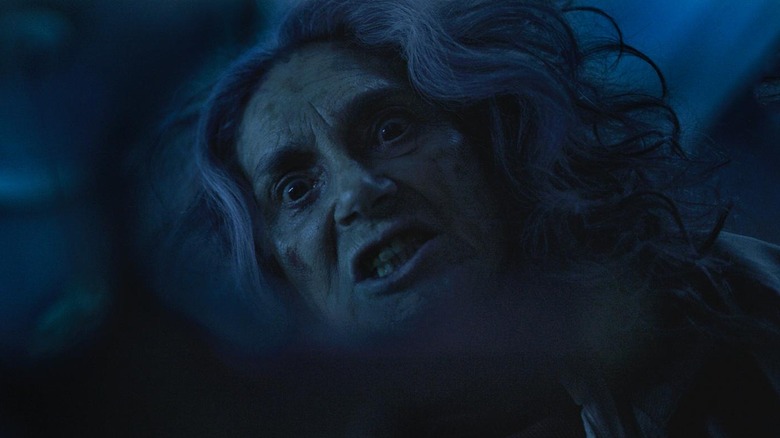 Fantastic Fest
Isaac Ezban's "Evil Eye" ("Mal de Ojo") welcomes and reassures audiences with grandmotherly comforts like a folkloric horror tale before nap time. Co-writers Junior Rosario and Edgar San Juan help Ezban summon brujas (basically witches) and terrify infirm children with witchy production value fit for the grimmest fairy tale books. "Evil Eye" explores Dominican campfire stories that drip of slime-green goo and adolescent curiosities about the dark arts. Ezban's filmmaking is a warm genre blanket that wraps around viewers, as the soothing bonds of bloodlines turn treacherous the farther we press into whimsically malevolent cultural influences.
Littlest Luna (Ivanna Sofia Ferro) suffers from an affliction that her parents will do anything to cure. Mother Rebecca (Samantha Castillo) and father Guillermo (Arap Bethke) have enough to worry about as their rental complex is ravaged by a sickness that continually infects children — luckily Luna and older sister Nala (Paola Miguel) remain unaffected, at least by this virus. At their wits end, Rebecca convinces Guillermo it's time to meet his mother-in-law Josefa (Ofelia Medina). What should be a joyous introduction for Guillermo, Luna, and Nala — all greeting Josefa for the first time — becomes far from a storybook trip to grandmother's house. Not if Nala's wildest fears are right, and Josefa is actually a witch.
"Evil Eye" is dreadfully atmospheric, whether leathery-skinned brujas lurk in bedroom corners, cloaked by haunted house shadows, or pincushion organs adorn spellcrafter benches. Josefa brews a "Re-Animator" Green substance that bubbles, which projects an all-encompassing Halloween-y brand of aesthetic pleasure. Ezban doesn't shy away from practical effects when his brujas slither into skinsuits found within hollowed pumpkin holders or conjured bacà creatures wriggle as gremlin puppets born from blood-covered eggs. Richly decorated production design and puppeteered practical effects outside some eye-popping digital fill-ins go a long way in separating "Evil Eye" from indie productions with less enthusiasm. It's the kind of horror atmosphere that makes you want to do a little victory dance macabre.
Watch the Evil Eye trailer
Ezban's Mexican horror fable blended with Dominican influences preys upon the sacrifice families make to keep their heritage alive. You'll learn about bacàs that are birthed to heal tethered recipients at a price, as Josefa's housekeeper Abigail (Paloma Alvamar) tells Luna and Nala about the "village s**t" that Rebecca forbids. Josefa's absence from Rebecca's existence — and subsequently her family's lives — introduces a concept of relatives torn apart by rituals or traditions, and how many cultures still stress the importance of these folktales that've passed between generations. Ezban uses backstories about Caribbean witchcraft that saves triplets yet unlocks a supernatural pathway for those incapable of resisting magical charms as more than just blueprints. There's a thoughtful juxtaposition of unimaginative metropolitan environments versus countrysides bathed in communal beliefs told with both snickers and trepidation.
Even better, Mexican icon Ofelia Medina is having an exceptional field day playing a diabolical granny from Hell. "Evil Eye" is primarily from Nala's perspective — mama and papa leave their kin alone with Josefa after Act I — which hangs tremendous performative weight on 13-year-old-playing Paola Miguel. Medina oversells Josefa's grandmotherly grumpiness and manipulates elderly preconceptions to accentuate Nala's concerns that Josefa has evil intentions, as Nala goes snooping late at night to find a bountiful host of horror movie red flags. Josefa's demands start with regularities like insisting her grandchildren fully eat their meals, to outdated blood sample techniques and Josefa's nonchalant composure around drowned bodies. "Evil Eye" is rightly comparable to "The Visit" or "X" the way both turn senior citizens into bonafide maniacs, with "Evil Eye" benefitting from Nala's point of view that goes shrugged away by police, caretakers, and even skeptical Luna.
Is there a stretch of the finale's multiple swerves that feels thinner, almost shoehorned as an easier explanation? Does "Evil Eye" elevate its screenplay as high as the visual experience that hooks in like octopus tentacles? The answer is: Yes and for the most part. Isaac Ezban encounters a few hiccups throughout another steadfast independent horror doozy that feels so much more accomplished than its budget, but it's that winning feeling of full genre immersion that sells so damn well. "Evil Eye" flips the mantra to "Home sweet Hell," defies the safety we feel around grandparents, and drearily executes when splicing Mother Goose with soul-sucking curses. Another title that begs horror fans highlight Ezban's name on their keep-an-eye-out lists.
/Film rating: 7.5/10