Sean Connery And Harrison Ford Went Pants-Less For One Indiana Jones And The Last Crusade Scene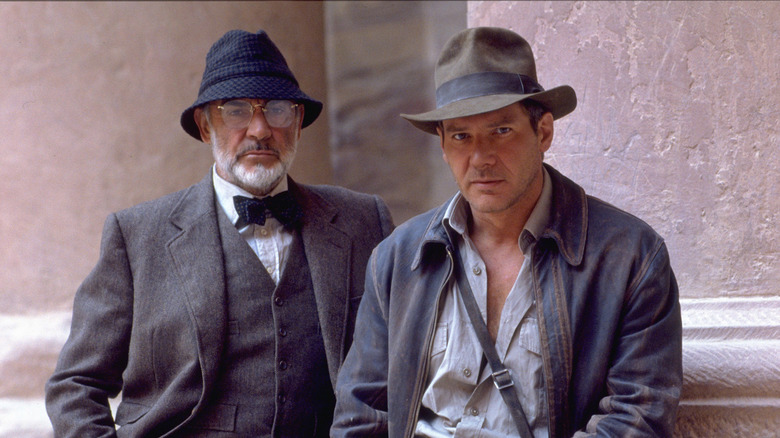 Lucasfilm/Paramount
Pants: can't live with 'em, can make a beloved blockbuster without 'em???
That's exactly what stars Sean Connery and Harrison Ford set out to prove while shooting "Indiana Jones and the Last Crusade." The third (and not as final as that title suggested) installment in the "Indiana Jones" franchise was apparently just as grueling a shoot as "Raiders of the Lost Ark" and "Indiana Jones and the Temple of Doom," requiring its lead actors to rise to numerous physical challenges.
One challenge that Connery and Ford refused to rise to, however, was wearing trousers during a hot day on set. Yes, folks, there is indeed a scene in "Last Crusade" where both of these men have dropped trou, one that made it into the final cut of the movie. However, spotting the scene may be a little more difficult than you'd expect, if you don't know where to look.
No ticket, no pants, no problem!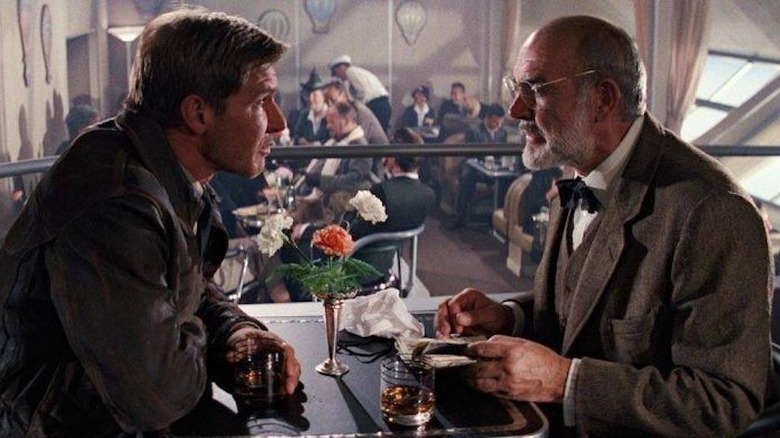 Lucasfilm/Paramount
The scene in question occurs near the middle of the film, when Indiana Jones (Ford) and his estranged father Henry Jones, Sr. (Connery) are attempting to escape Berlin and return to their quest: to recover the Holy Grail from its ancient resting place. After eluding the Nazis by posing as a rather gruff ticket taker aboard a Zeppelin, Indy sits down with his father to bask in their brief victory and use the time to catch up after decades apart. It's a touching scene where father and son attempt to bridge the gap between them and begin to heal old wounds, all while pondering what will be their next move on the adventure.
It's also, according to Connery, a scene where neither he nor Ford are wearing any pants. As the actor explained in a making-of documentary:
"We played one of the scenes in the zeppelin, all the passengers were wearing fur coats and hats and it's supposed to be in the wintertime. And I played it without my trousers. And Harrison says, 'You're not gonna play the scene without your trousers.' I said, 'Well, if I don't I'll be stopping all the time, because I sweat enormously, I sweat very easily.' Well, he did the same."
Spielberg should've sent the Last Crusade script to the Marx Brothers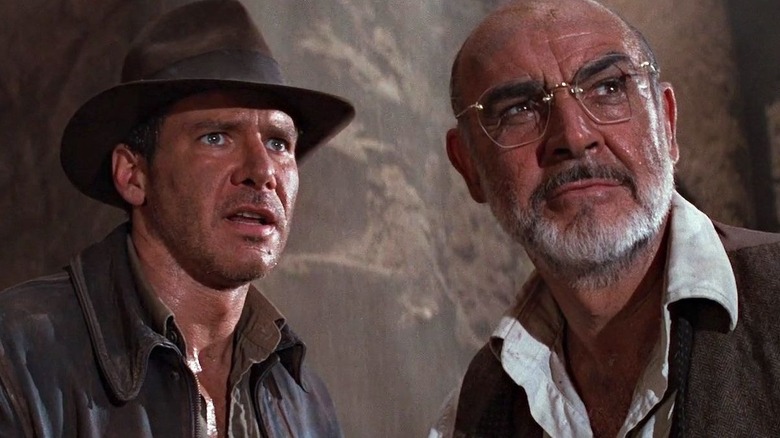 Lucasfilm/Paramount
From the banter between Indy and Henry to the playful tone of the action sequences, it seems that "Indiana Jones and the Last Crusade" turned out as fun of a movie as it is partially because it was very fun for the leads to make.
The camaraderie between Ford and Connery makes even more sense given that Connery was only 12 years older than Ford, and used his not-so-advanced age to have Henry become more of a match for Indy. As Ford explains in the doc, their being evenly matched can be seen in "the fact that the central heroine has had a physical relationship with [Henry] before she ever meets me."
When Connery passed away in 2020, Ford referred to the actor as a "dear friend," and reminisced about making "Last Crusade" with him: "God we had fun," Ford said. As if that wasn't clear enough on screen, the whole pantslessness thing makes their having fun while filming even more nakedly obvious.