Evangelion: 3.0+1.01 Thrice Upon A Time Headed To US Theaters For The First Time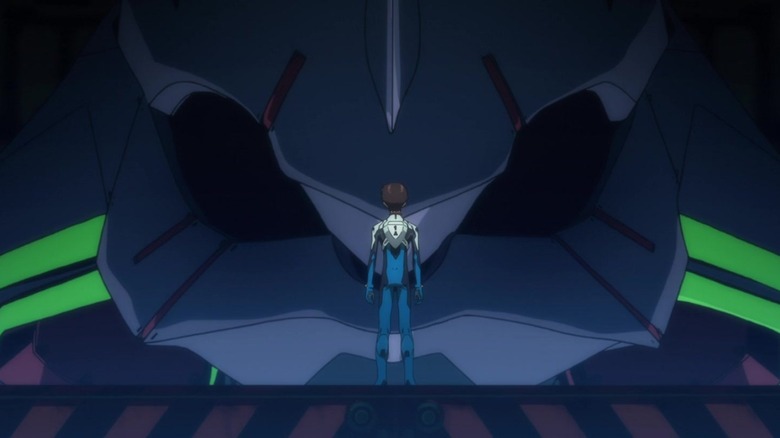 GKIDS
One of the biggest anime franchises of all time came to an end last year. Hideaki Anno's masterpiece, "Neon Genesis Evangelion" finally ended its story after 26 years with "Evangelion: 3.0+1.01 Thrice Upon a Time," the long-delayed final film in the "Rebuild of Evangelion" quadrilogy of films meant to retell the story of the acclaimed TV anime. 
It is hard to even begin to explain the (Third) impact "Evangelion" has had on pop culture. Originally an emotionally complex but still relatively familiar mecha anime heavily inspired by tokusatsu shows like "Ultraman," Anno's "Neon Genesis Evangelion" took a hard left turn when its creator was hit with depression halfway through production. 
Add a tight budget that was quickly emptying out, and Anno decided to abandon the original idea for the show, and instead turn it into a fascinating, experimental exploration of the human psyche, what it means to be alive and happy, a story of a creator realizing that his fandoms were not enough of a reason to stay alive and that he needed to embrace life for what it is, sorrows and all. It is a show with dozens of valid interpretations.
The "Rebuild" movies could have easily been a cash-grab, an excuse to capitalize on the never-ending success of "Evangelion," and initially, they were. But starting with the second film, "Evangelion: 2.0 You Can (Not) Advance," Anno once again started to deviate from the original story, and the quadrilogy became its own story. The movies went beyond the ending of the TV anime and into a place that was bleaker than even "End of Evangelion," before ultimately delivering one of the best endings anime has ever seen with "Evangelion: 3.0+1.01 Thrice Upon a Time." Now, you can finally experience the joy, the pain, the excitement, and Hikaru Utada's phenomenal "One Last Kiss" song in theaters.
Get in the robot, Shinji! One last time...
After years and years of wait, "Evangelion: 3.0+1.01 Thrice Upon a Time" was finally released last year thanks to Prime Video. Sadly, the release meant the film went straight into streaming. It is a bit of a cliché to say movies are best seen on the big screen, but in this case, it is absolutely true. After all, why watch a movie version of a TV show if you're going to watch it on the same screen you watch the TV show?
Indeed, this is a gargantuan movie. Clocking in at 155 minutes, it is one of the longest anime movies ever produced, and it looks and feels like one of its biggest productions. Studio Khara crafted a film that truly felt like the epic conclusion to "Evangelion" and to every aspect of the franchise that people loved. 
The crazy, nonsensical lore? The movie doubles down on it and drops even more concepts. The action? Get ready for a cacophony of destruction and stunning mecha-on-mecha fights across the cosmos. The explorations of self and the philosophical ponderings? It's all here, as Shinji finally, finally faces his biggest obstacle — his father. The slice-of-life stuff? How about spending most of the first hour of the movie chilling on a farm as Rei learns what it means to be human? 
GKIDS is bringing the true end of "Evangelion" and the highest-grossing Japanese film of 2021 to the big screen thanks to Fathom Events for three nights only, December 6, 8, and 11, 2022. Tickets will be available starting November 2, 2022 at FathomEvents.com, GKIDS.com/EVANGELION and participating theater box offices. Now, go get in the damn robot!