Behind The Scenes Danger On Miami Vice Forced Michael Mann To Rework The Ending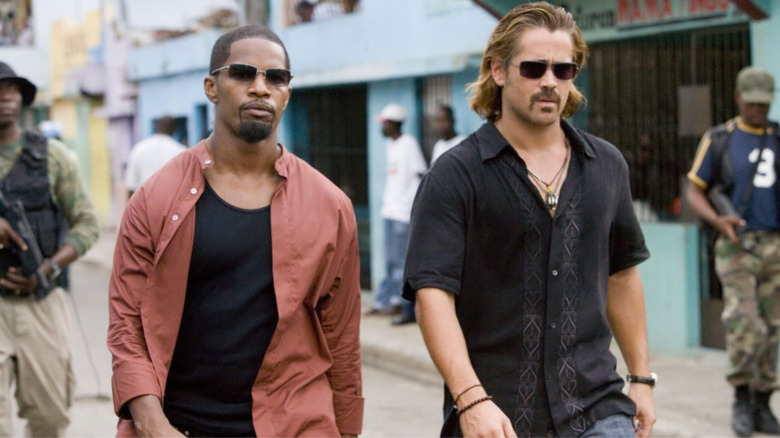 Universal Pictures
While many might argue that "Miami Vice" isn't Michael Mann's best movie, it certainly is one that sticks with you long after you watch it. Whether it's for the slick digital cinematography or appropriately cheesy lines about being fiendish for mojitos, it is a type of sleek crime movie that you don't see too much of these days. The fact that Mann was able to adapt a colorful and often-goofy crime procedural from the late '80s into something as good as this film feels unbelievable.
However, if you've watched "Miami Vice," then you can tell that achieving some of its shots and stunts wasn't likely a walk in the park. In fact, it actually got increasingly more dangerous to film towards the end of the shoot, leading to one key cast member walking off. So, how exactly did the production get to that point?
According to a Slate piece published in the lead-up to the film's release, Mann did have plans to film in the titular city of Miami, but things took a turn as Tropical Storm Dennis began looming over the production. One crew member claimed that the winds were so rough, they had trouble loading production equipment onto their trucks.
"You bet it was dangerous," commented Mann in the interview. "As soon as we heard there were winds that high, we immediately wrapped."
However, it would turn out that a tropical storm would become the least of the production's problems as they headed to the Dominican Republic.
Coming to a head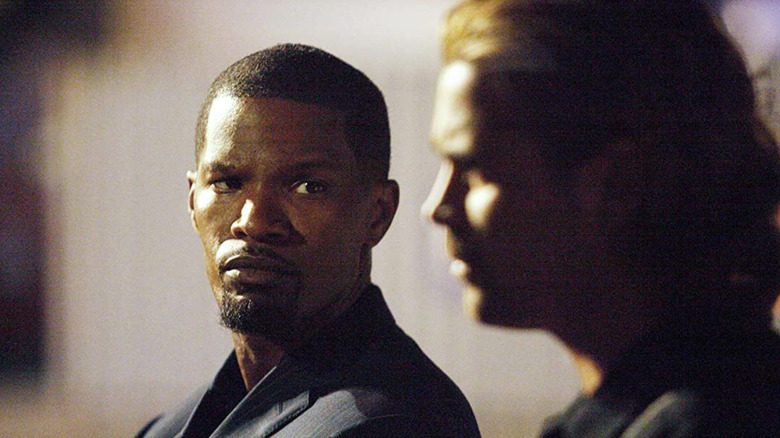 Universal Pictures
According to some sources, the areas of the Dominican Republic that "Miami Vice" filmed in were not the safest in the country. In fact, they allege that one scene was shot in a square in the country's capital of Santo Domingo that was so dangerous, that even police officers avoided it. While we couldn't verify this claim in further research, what we do know is that the exposed cast and crew caused some problems on location.
This was especially true considering the fact that they had apparently hired very obvious security guards to watch over them as the crew shot. While Mann had explained all facets of the production to these guards, it was an event that was out of everyone's control that led to one massive exit. One of the security guards was shot by a police officer during an argument, and while he recovered, it was enough for star Jamie Foxx and his team to leave the production altogether.
"Jamie basically changed the whole movie in one stroke," said one unnamed crew member. Why is this? Well, the ending of the final cut was shot as an alternate ending to the original one, to be shot in Paraguay. However, Foxx's exit meant that they couldn't shoot that ending in Paraguay, meaning that the Miami-set ending for the Miami-set film would have to do.
"It was like turning an oil tanker around on a dime," Mann recalled, "but the Miami ending worked out to be the better ending."