Sylvester Stallone Wrote A Rocky Film That Never Saw The Light Of Day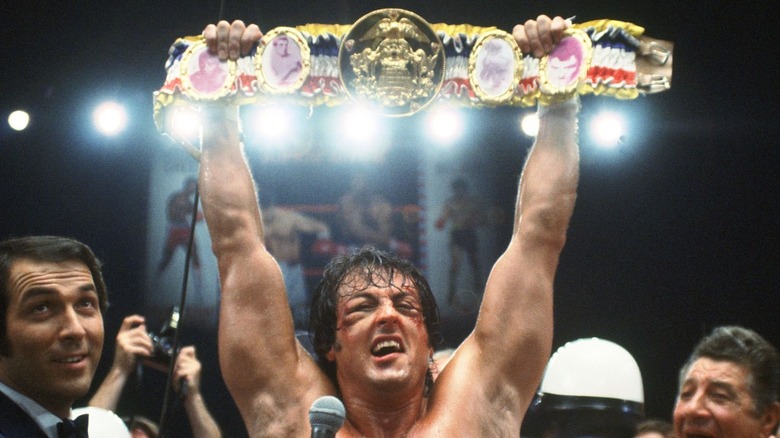 United Artists
The persistence of the "Rocky" series is one of the strangest phenomena in mainstream Hollywood. To date, there have been eight films in the Rocky cinematic universe with a ninth set to be released on March 3, 2023, and they are mostly — a few entries notwithstanding — well-reviewed and well-received. On one level, this is understandable; John G. Avildsen's 1976 "Rocky" — which Stallone wrote — can stand as the template for all sports movies that followed, reestablishing the genre and laying out a formula that is imitated to this day. 
Rocky Balboa (Sylvester Stallone) is a well-meaning, down-on-his-luck meathead who hasn't been able to catch a break. His life is drab, cramped, a little bit sad. When he and the shy Adrian (Talia Shire) begin to date, they bond deeply over mutual loneliness. Rocky does get his break when the blustering boxing celebrity Apollo Creed (Carl Weathers) challenges him to a match. Rocky is not as good a boxer as Creed, but he does manage to stay upright for far longer than anticipated. Rocky loses the match by split decision, but he went the distance. It was a triumph in itself. 
Storytelling conventions would demand that Rocky's story is finished, but Stallone has managed to bafflingly keep Rocky's story going, and going weirdly strong. "Rocky II" is more or less a remake of the first "Rocky," but with the title character now successful, and an ending where he actually wins the boxing match (again, against Apollo Creed). It's the less gritty, more "Hollywood" version of the same thing. 
In a 1986 interview with Gene Siskel at the Chicago Tribune, Stallone revealed that the transition from "Rocky" to "Rocky II" was initially meant to be gentler. "Rocky II" was actually supposed to be "Rocky III."
The first Rocky II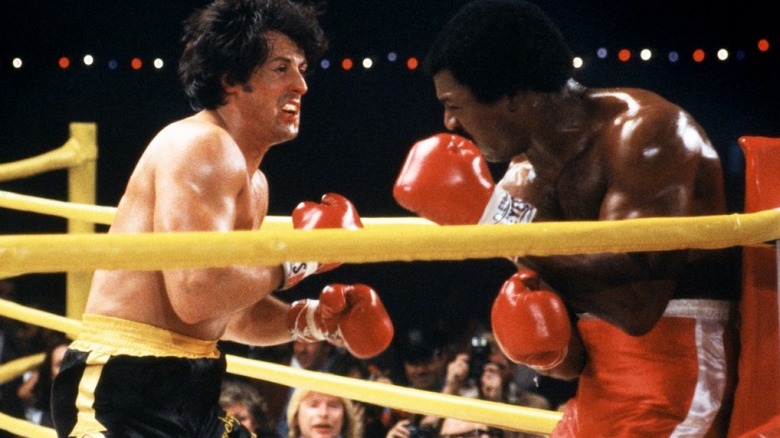 United Artists
"Rocky II" deals a lot with what happens when a sad sack like Rocky is confronted with sudden success. Can a none-too-bright boxer, unused to attention, suddenly adapt to the spotlight? Rocky likes some of the things wealth and fame afford him, but happiness and wealth and comfort all seem ill-suited to the character audiences met in the previous film. It's possible for an underdog to be too triumphant. Especially when it happens so quickly.
Stallone, in the Tribune interview, revealed that there was once an interim chapter in the Rocky saga that he had written a script for, but that simply did not get made. In it, prior to Adrian's and Rocky's marriage, the two had a tiff after he revealed that he hadn't grown up since the humbling events of the first movie. Stallone said: 
"There is another 'Rocky' script that I wrote that never got made. 'Rocky II' was supposed to be 'Rocky III.' I wrote a script that was supposed to be 'Rocky II' where they hadn't gotten married yet, and Adrian leaves Rocky because he hadn't grown up any, and she got fed up. She had matured and started hanging around with a more artsy crowd. And the more she became aware, the more she realized what an anachronism Rocky was." 
Weirdly, an inability to grow up seems more in-character to the Rocky of the original film. There was even going to be a scene with Rocky's pet turtles, previously his one solace in his drab life.
Cuff and Link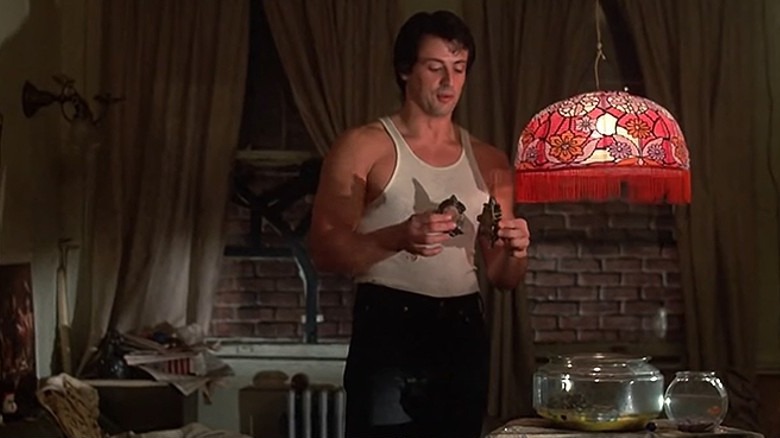 United Artists
Incidentally, the turtles from "Rocky," named Cuff and Link, were taken home by Stallone, and are still alive today. The turtles had a notable scene in the unused "Rocky II" script. 
The premise of "Rocky II" was originally intended to show off how uncouth Rocky was. A lot had been made of his working class Philadelphia roots, and how Rocky was certainly no intellectual. If the LeRoy Neiman painting on display at the end of "Rocky III" was any indication, he didn't have very good taste in art either (please forgive the zinger at the expense of LeRoy Neiman). Stallone liked the idea of Rocky in the high art world, and that he would have to win Adrian back from another suitor. But, sadly, the studio rejected it. Stallone said:
"And there were these great scenes where he takes his bowl of turtles, meets her boyfriend and tells him to tell her jokes because even though she doesn't laugh much she really likes jokes. It was a full 100-page shooting script with him confronting her at an [art] group, but it was rejected as too hip. I still think it's the second best script in the series, after the original."
The "Rocky II" that Stallone did make was an enormous hit, making $85 million on a budget of only $7 million. Whether or not Stallone's preferred version would have been an even bigger hit remains a matter of speculation. After the interview, Stallone would make "Rocky V" in 1990, "Rocky Balboa" in 2006, and co-star in two "Creed" spinoff movies in 2015, and 2018. Stallone is certainly going the distance.