The 15 Best Paul Rudd Movies, Ranked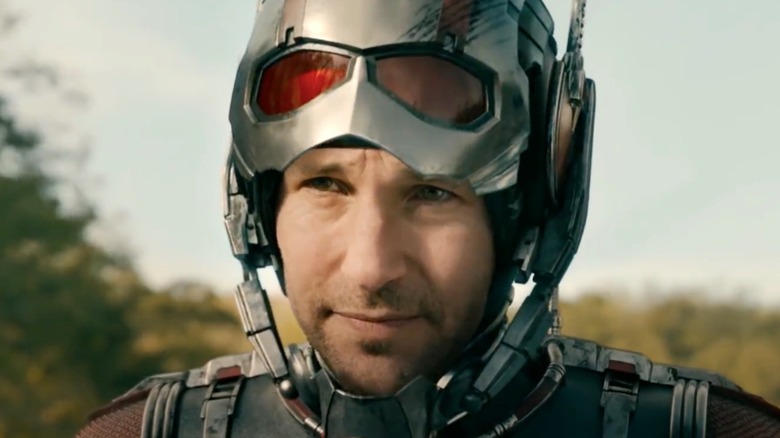 Marvel Studios
Thanks to his affable charm, charismatic screen presence, and seeming agelessness, Paul Rudd has become one of Hollywood's most endearing performers. Though primarily known for his comedic roles, Rudd was classically trained at the beginning of his career, studying at the American Academy of Dramatic Arts-West and the British Drama Academy at Oxford University. This academic background perhaps lends an emotional truth to Rudd's numerous sarcastic and sardonic characters. 
While many actors can play a funny jerk, it's hard to bring warmth and empathy to that same archetype, a specific chemistry Rudd has made his own. Rudd is also known for his frequent collaborations with writer/producer/director Judd Apatow and comedians Michael Ian Black, David Wain, and Michael Showalter. Outside of acting, Rudd is also a producer and writer who has managed to keep both feet in television and film throughout his career. A grounded performer who also loves a good prank, Rudd's career has taken many turns, from romantic lead to bro comedy star, to bite-sized superhero. Here we've gathered the best of the best Paul Rudd movies, ranked from least to greatest.
15. Prince Avalanche (2013)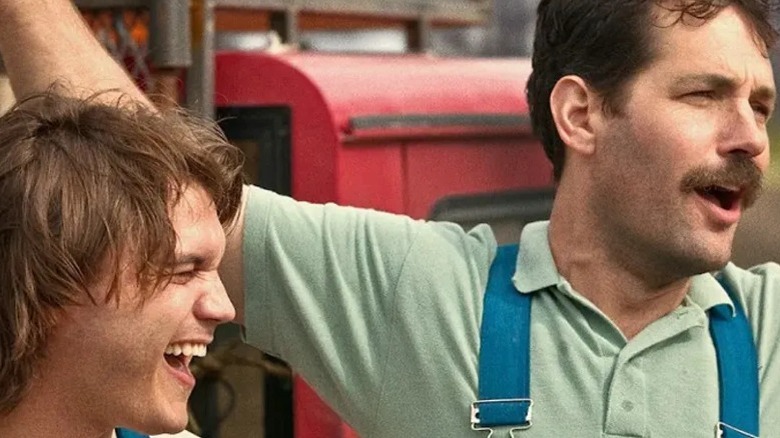 Magnolia Pictures
David Gordon Green's remake of the Icelandic film "Either Way" (2011) follows two highway road workers in 1980s rural Texas. Paul Rudd's Alvin is a poetic thinker who enjoys the isolation of the road while his co-worker (and girlfriend's brother) Lance (Emile Hirsch) struggles with the lifestyle. Though they meet a few surreal characters on their journey, "Prince Avalanche" is largely a two-hander character study about the evolving relationship between Alvin and Lance. Alvin sees his work as an act of self-sacrifice, sending money back home to his girlfriend who is a single mother. When he gets a letter from her breaking up with him, he starts to question his noble lifestyle and all the choices that have led him to this point. 
Lance's lackadaisical approach to women and work is in direct contradiction with Alvin's methodical nature. The two clash and butt heads at first but eventually form a bond thanks to their realization that they share more in common than divides them. "Prince Avalanche" is visually beautiful with singular performances, but emotionally a bit hollow. Yet Rudd and Hirsch have incredible chemistry that will leave any viewer wondering why the two actors haven't made more films together.
14. Ghostbusters: Afterlife (2021)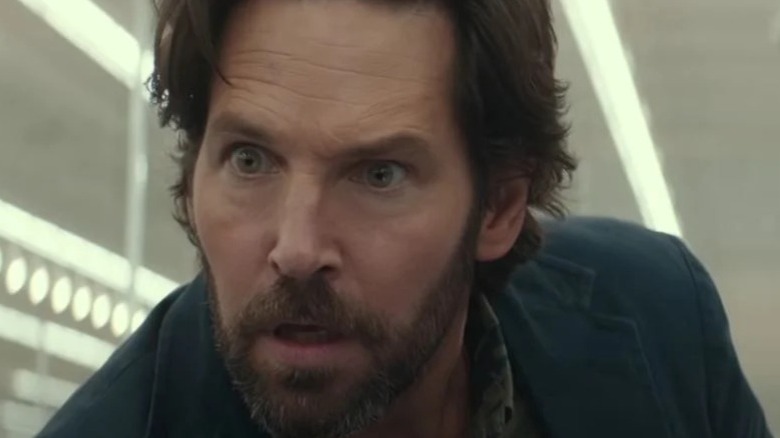 Columbia Pictures
The latest entry into the Ghostbusters canon follows a family who gets evicted and winds up in Oklahoma to crash at the abandoned home of their deceased grandfather. The younger daughter named Phoebe (McKenna Grace) is an awkward science geek who soon becomes absorbed with the mysteries of the house and the grandfather she never knew. When she discovers her summer school teacher Mr. Anderson (Paul Rudd) is tracking local seismic activity, the mystery grows bigger, evoking literal ghosts of the past. 
Phoebe is determined to solve the mystery and trap the ghosts, a skill that may or may not be in her blood. Meanwhile, Mr. Anderson woos her mom (a delightfully acerbic Carrie Coon) and advises the science in an off-hand capacity. "Ghostbusters: Afterlife" wisely places the story in Phoebe's hands, a natural evolution for the franchise. It's a sweet story and well-made film, but it doesn't escape the trappings of excessive fan service. However, it is worth watching if for nothing else than its simplest and most creative scene — Rudd shopping alone late at night in a Walmart — which showcases Rudd's singular captivating screen presence, even when his only co-stars are specters and monsters.
13. Ideal Home (2018)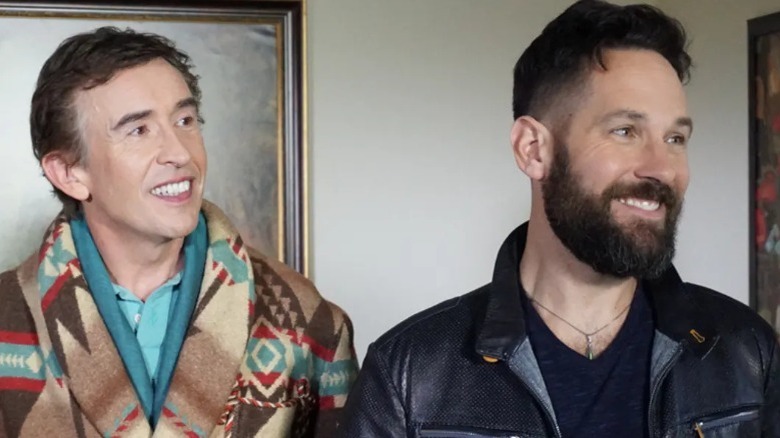 Remstar Studios
A quirky, modern family comedy, "Ideal Home" stars Paul Rudd and Steve Coogan as Paul and Erasmus, a gay couple who have fallen into a bad pattern of fighting, but have bound their lives together through a successful food lifestyle show. When Erasmus's grandson Angel (Jack Gore) shows up after his dad gets arrested, the couple is shocked, especially Paul because he didn't know the child existed. The two become parents overnight, embarking on a fairly standard story of found family. 
The backdrop of queer parenthood is one that has been rarely explored on film, providing a fresh twist to a familiar genre. Playing against Coogan's arrogant and flighty Erasmus, Rudd is a grounded and warm presence. The film wisely uses the existing issues between Paul and Erasmus as a layer to explore the dynamics with Angel, who also has his own history that the story doesn't ignore. Though the tone can be a bit wobbly at times, "Ideal Home" is a sweet, funny, and heartfelt story showcasing the importance of queer parenthood and adoption with Rudd delivering a wonderfully relatable performance at the center.
12. The Perks of Being a Wallflower (2012)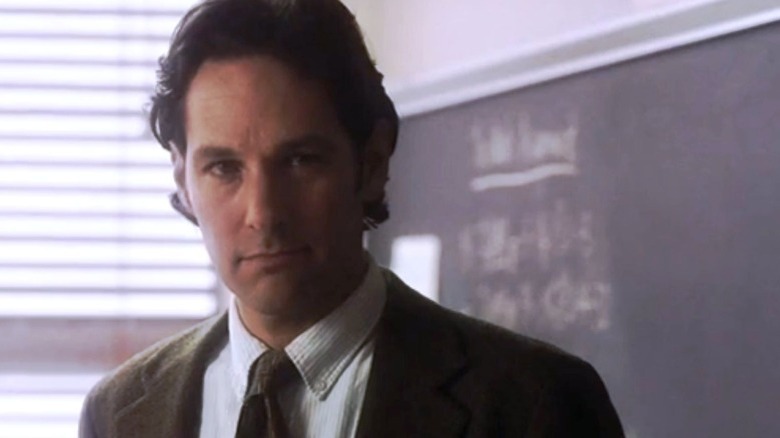 Summit Entertainment
Based on the novel by Stephen Chbosky, who also adapted and directed the film, "The Perks of Being a Wallflower" is a typical teen story with a fresh emotional spin. Charlie (Logan Lerman) is a painfully introverted freshman with a limited social circle, living in the shadow of his popular older sister and brother. Furthermore, Charlie has trauma in his past from when his best friend killed himself, and he's haunted by memories of his deceased aunt. His life starts to regain hope and energy when he meets two seniors, Patrick (Ezra Miller) and his stepsister Sam (Emma Watson). 
Patrick and Sam initiate Charlie into a world of "Rocky Horror Picture Show" screenings and late-night drives through tunnels. However, as Charlie faces the inevitability of them leaving for college, his depression returns. Paul Rudd has a smaller role as Charlie's English teacher, Mr. Anderson. It's a stereotypical dynamic with the teacher who seeks out a smart but troubled student and offers him additional mentorship. Mr. Anderson lends Charlie books outside of class and offers his ear to listen. Remarkably, even with minimal screen time, Rudd finds a foothold: "We accept the love we think we deserve." Rudd imbues the somewhat cheesy quotation with sincerity and truth, bringing to life one of the book's most famous lines.
11. The Fundamentals of Caring (2016)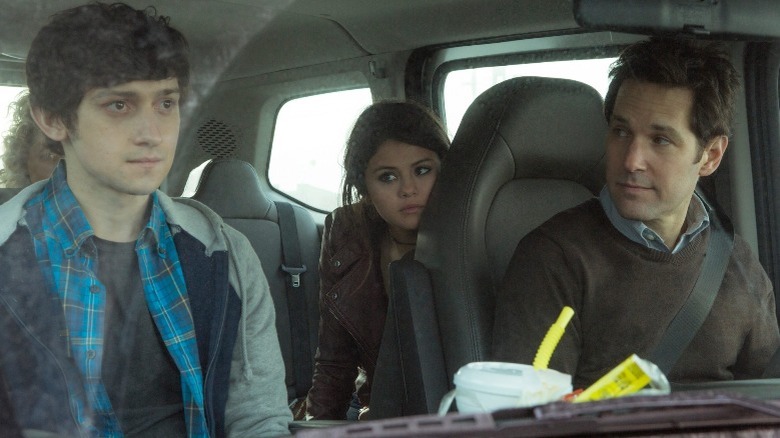 Worldwide Pants
On the surface, "The Fundamentals of Caring" is a fairly standard film. Paul Rudd stars as Ben, a grieving father in the midst of a divorce who decides to pursue a caregiving license. His new patient is Trevor (Craig Roberts), a young adult with a rare form of muscular dystrophy who uses a wheelchair, has a limited social life, and shortened life expectancy. After a nasty fight, Trevor suggests to his mom that Ben wants to take him on a road trip in hopes of getting him fired, but the plan backfires when Ben convinces her it's a good idea. 
The two set out on a once-in-a-lifetime journey to see the most unimpressive roadside attractions of America, like a large cow or the world's biggest pit. As Ben teaches Trevor how to live in the moment and face his fears, he begins to let go of the tragedy he's faced in his past. The two form an unbreakable bond that goes beyond patient and caregiver, with both Rudd and Roberts delivering funny and emotional performances. While a film like this could be treacly and saccharine — and is at times — "Caring" largely avoids the trappings of similar stories by never forgetting Trevor is a whole human being, not just a person with a disability.
10. The 40-Year-Old Virgin (2005)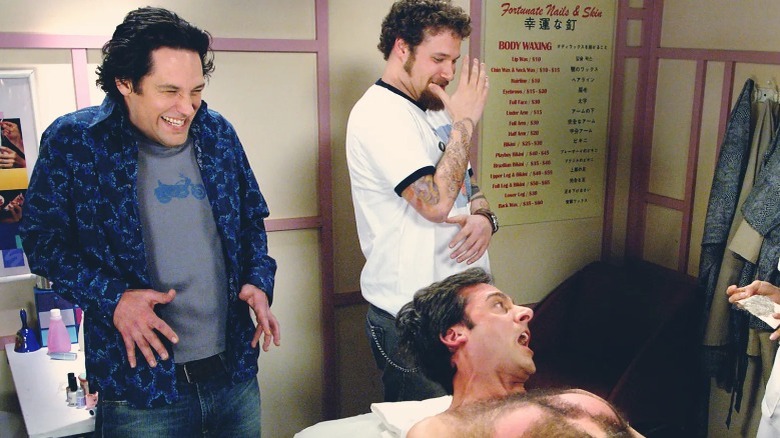 Universal Pictures
Judd Apatow's feature directorial debut was a defining comedy moment for a generation. Steve Carrell stars as Andy, a sweet and nerdy man who collects action figures but has never had success with women, including losing his own virginity. When his friends and co-workers at an electronics superstore discover the truth, they are determined to help him end his virginal status. Though Andy gets all kinds of well-meaning advice from his friends, it all goes out the window when he meets Trish (Catherine Keener), a single mom with whom he soon falls in love. Of course, the more the tension builds up, the more Andy's anxiety does as well, until everything literally comes crashing down. 
While many aspects of the film have not aged well, "The 40-Year-Old Virgin" is a weirdly sweet film with a heartfelt romance and genuine performances. Paul Rudd co-stars as David, a man obsessed with his ex-girlfriend who masks his heartbreak with raunchy humor and gives Andy terrible advice. Playing against Seth Rogen's Cal, the two create some of the film's most memorable jokes and riffs. Though his role is small, Rudd manages to make every moment count, bringing much-needed empathy to a character that would otherwise be entirely irredeemable.
9. Wet Hot American Summer (2001)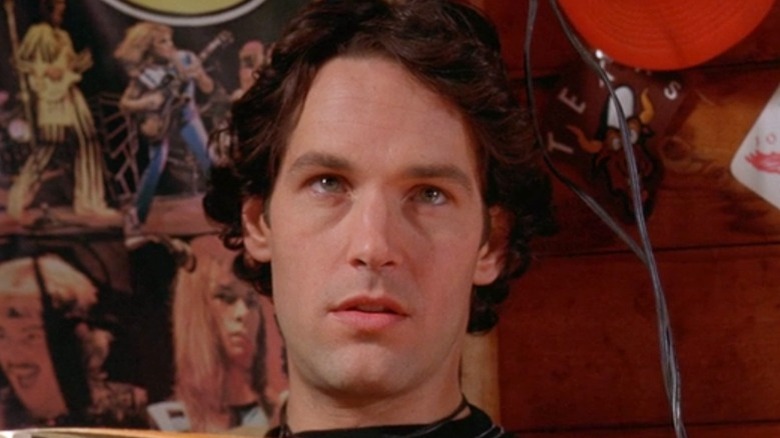 USA Films
While Paul Rudd can be effortlessly sweet and charming in one film, he can be thoroughly off-putting and smarmy in the next. A fitting transition out of his teen heartthrob years, "Wet Hot American Summer" is a throwback parody of '80s teen summer camp movies with an entirely adult cast. The first film from the Stella comedy trio of Michael Ian Black, David Wain, and Michael Showalter, the film exemplifies their specific brand of smart absurdist comedy. 
The specific plot of "Wet Hot" is hard to nail down, loosely a romantic comedy centered on Showalter's Coop and his crush on another counselor at the camp. However, the film has several diverting subplots, including Elizabeth Banks' Lindsay, the archetypal hot girl of the camp who is paired up with Rudd's tough cool guy Andy, an over-the-top jerk who blithely watches Lindsay drown at one point and doesn't care. While we don't root for Andy at all, Rudd still makes him likable and hilarious, a great example of the particular alchemy that Rudd owns as an actor. His intelligence also serves to skewer the "hot jerk" archetype in one of the most hysterical and underrated roles of his career. 
8. Knocked Up (2007)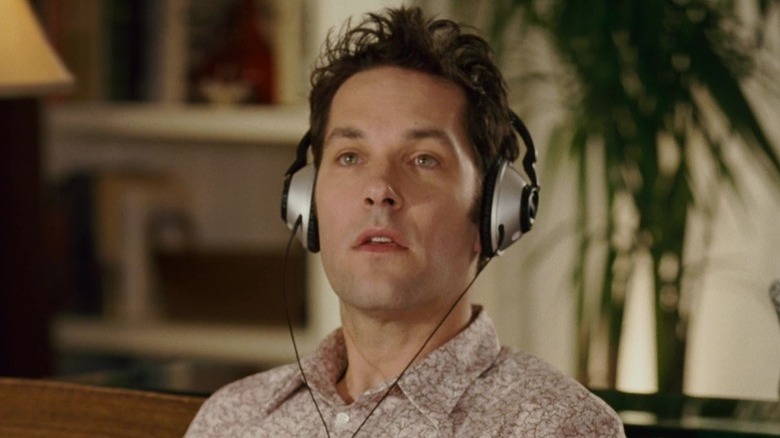 Universal Pictures
An unconventional romantic comedy, "Knocked Up" follows Ben (Seth Rogen) and Alison (Katherine Heigl), two strangers who meet and hook up on a drunken night out. When Alison winds up pregnant, the two decide to raise the baby together, embarking on a rocky romance. Though they were brought together by happenstance, the two discover they genuinely like each other but that isn't necessarily enough to build a family. Fueling these fears are Alison's sister Debbie (Leslie Mann) and brother-in-law Pete (Paul Rudd), who have two children and long for their childless days to return. 
Though Pete and Debbie's dynamic is a bit stereotypical in "Knocked Up," the characters are a funny foil for Ben and Alison as they dare to create their own family. Rudd is also given more room to explore his character and the dynamic in Judd Apatow's 2012 sequel "This is 40," which provides more depth for some otherwise stale tropes. While both films are a bit heteronormative and sexist in terms of how they view marriage and family, they have oddly warm and loving themes. Pete is also a great example of the kind of archetype Rudd handles so well as an actor, where there is a thick layer of cool sarcasm on the surface but a deep well of feeling is always brimming underneath.
7. Role Models (2008)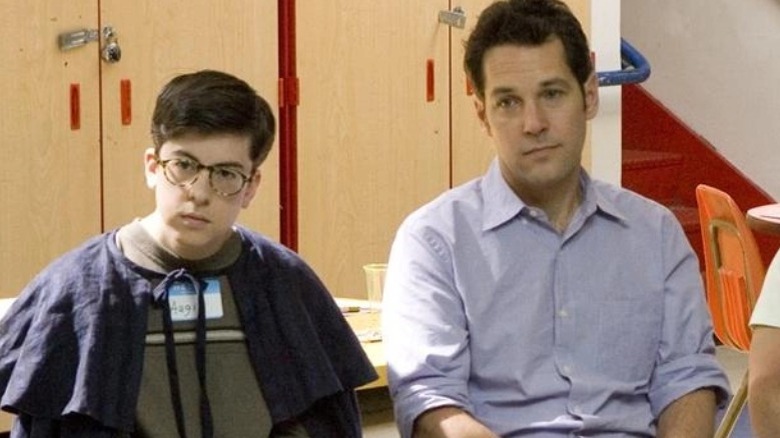 Universal Pictures
"Role Models" reunites Paul Rudd with the Stella crew in a raucous, warmhearted comedy about what it means to grow up while remaining vulnerable. Danny (a heavily sardonic Rudd) and Wheeler (Seann William Scott) work promoting an energy drink in schools, with Danny delivering the company's drug-free program and Wheeler dressing up as the corporate mascot. When Danny's girlfriend Beth (Elizabeth Banks) gets fed up with his nonstop cynicism she dumps him, spurring him to go rogue at an event and destroy property with Wheeler as an accomplice. 
The two end up in a pseudo-Big Brothers program as part of their mandatory community service, headed up by recovering addict Sweeny (a terrifying and hilarious Jane Lynch). Danny's little brother is Augie (Christopher Mintz-Plasse), an awkward teen obsessed with LARP-ing whose parents don't understand him, while Wheeler bonds with the shockingly vulgar Ronnie (Bobb'e J. Thompson). At first the two are content to go through the motions and get their hours, but they each come to care about their littles with genuine feeling and heart. Rudd's contribution to the screenplay likely also lent Danny an extra layer of pathos and chemistry that makes him a standout role in Rudd's pantheon of smarmy archetypes.
6. Anchorman: The Legend of Ron Burgundy (2004)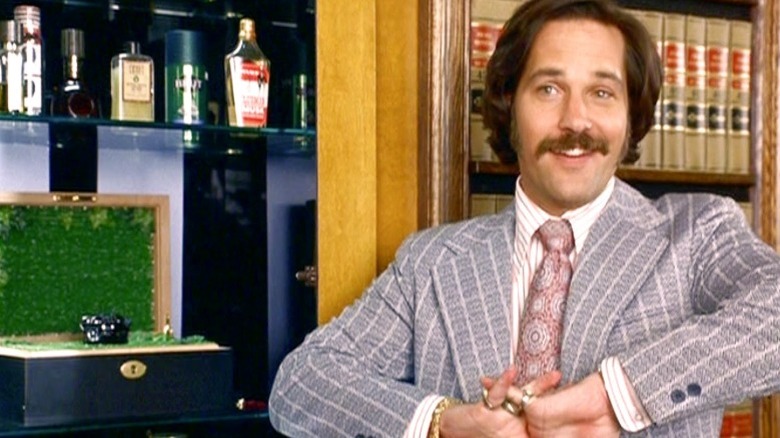 Dreamworks Pictures
A ridiculous sendup of 1970s culture, "Anchorman: The Legend of Ron Burgundy" stars Will Ferrell as the title character, a star local anchorman in San Diego who falls in love with a new female anchor named Veronica (Christina Applegate) who turns his life upside down. At Ron's side are reporter Brian Fantana (a heavily mustachioed Paul Rudd), sportscaster Champ Kind (David Koechner), and weatherman Brick Tamland (Steve Carrell). The plot is fairly straightforward and loose with a heavily improvised script that showcases the comedic talents of the cast. 
As Ron and Veronica's tumultuous workplace romance falls apart, the news team is put at odds with Ron in order to keep their jobs. Early in his comedy career, Rudd played goofy scumbags more often than lovable jerks. "Anchorman" may be the best example of this archetype for him, and also catapulted Rudd into a different level of his comedy career. While most of the characters in "Anchorman" are surreal and larger than life, Rudd's Brian is strangely grounded, especially in the context of the main news team. The role showcases Rudd's ability to be unceasingly funny thanks to an undercurrent of emotion and truth, perhaps best seen in the film's famous and timelessly funny sex panther sequence.
5. Avengers: Endgame (2019)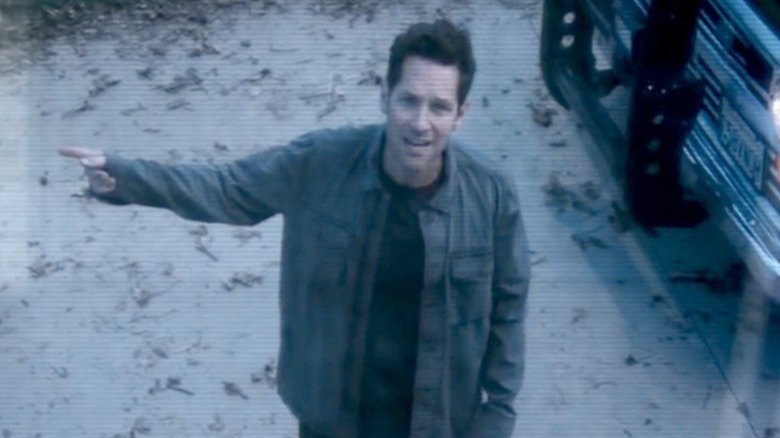 Marvel Studios
An unprecedented culmination of more than a decade of storytelling, "Avengers: Endgame" picks up the pieces five years after the devastating events of 2018's "Avengers: Infinity War." The world has been changed forever, with the Avengers scattered and in disarray, unsure of how to move forward. Thankfully, Natasha (Scarlett Johanssen) and Steve (Chris Evans) aren't willing to give up. Enter the unlikeliest hero, Paul Rudd's Scott Lang, who has just returned from an extended stay in the Quantum Realm. With no clue as to what has happened in the last five years, Scott is fully disoriented yet may still hold the necessary metaphysical answers to help the Avengers turn back time and save the world. 
Lang's thieving skills also come in handy when the Avengers reunite to steal the Infinity Stones, hoping to wield them to destroy the past version of Thanos and prevent him from ever "balancing" humanity. Of course, things don't go as planned, resulting in one of cinema's most epic battles. Though a newer addition to the MCU, it's fun to see Scott fully embrace the intelligence and bravery that make him a hero, adding new emotional dimensions to a character that could easily be static.
4. Forgetting Sarah Marshall (2008)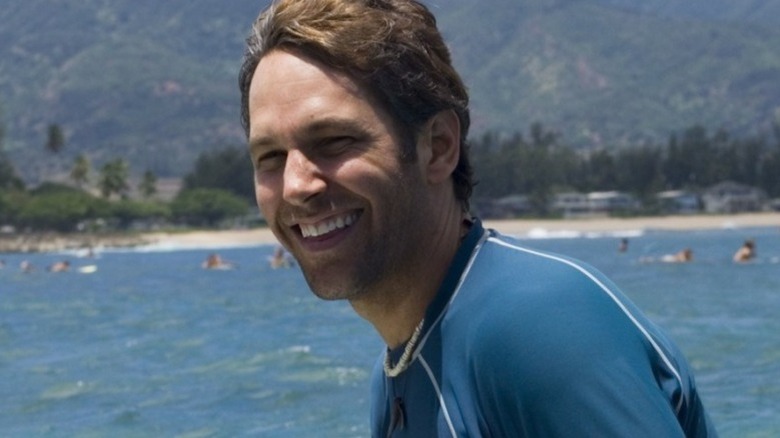 Universal Pictures
"Forgetting Sarah Marshall" is kind of a surrealist fever dream, inspired by the themes of its subject matter. Peter (Jason Segel) has a goal of writing and staging a musical with puppets, but scores television procedurals by day. His girlfriend Sarah (Kristen Bell) is a massive star, which makes it all the more difficult when she dumps him because she feels like his life isn't going anywhere. Finding it difficult to escape her, Peter decides to take a vacation to Oahu to reset and get over his heartbreak only to find Sarah and her new boyfriend, pretentious rockstar Aldous Snow (Russell Brand), checking in to stay at the same resort. 
While Peter does his best to avoid and get over Sarah, he falls in love with the hotel manager while befriending other staff and locals. Paul Rudd's role is more minor as Chuck, the local surf instructor. Though he doesn't have much screen time, Rudd encapsulates a specific type of person — the mainlander appropriating Hawaiian culture — to brutal and hilarious effect. It's rare to see Rudd play a character that isn't sharply intelligent, yet it's a testament to the breadth of his comedic talents. Overall, the film is a unique spin on the romantic comedy that has one of the most shocking final set pieces in the genre.
3. I Love You, Man (2009)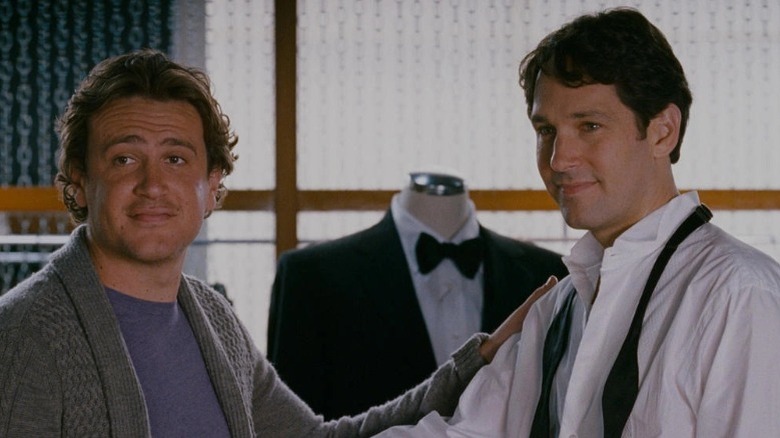 Dreamworks Pictures
A bro-mantic comedy, "I Love You Man" stars Paul Rudd as Peter, a newly engaged man whose favorite person and best friend is his fiancee Zooey (Rashida Jones). When she calls her friends and family to tell them the good news, they both realize he doesn't have any close male friendships. Peter is largely unconcerned until he overhears Zooey's friends talking about how weird it is. Peter sets out on a quest to make male friends, going on pseudo-dates with acquaintances, until he happens to meet Sydney (Jason Segel). 
The two are polar opposites, with Peter a buttoned-up/emotionally mature man and Sydney a casual/hyper-masculine bachelor. They bring each other out of their shells, forming a genuine friendship despite Sydney's immaturity. As the wedding approaches, Sydney has to face his own stagnant relationships to learn how to best support Peter. "I Love You Man" literalizes the idea of a bromance, using romantic comedy tropes to explore positive masculinity and friendship between two men. While some of the jokes and themes around gender are a bit dated, the themes and relationship between Sydney and Peter are timeless. Furthermore, Rudd's portrayal of social anxiety is endlessly funny and endearing, a unique role that positions him as vulnerable rather than cynical.
2. Ant-Man (2015)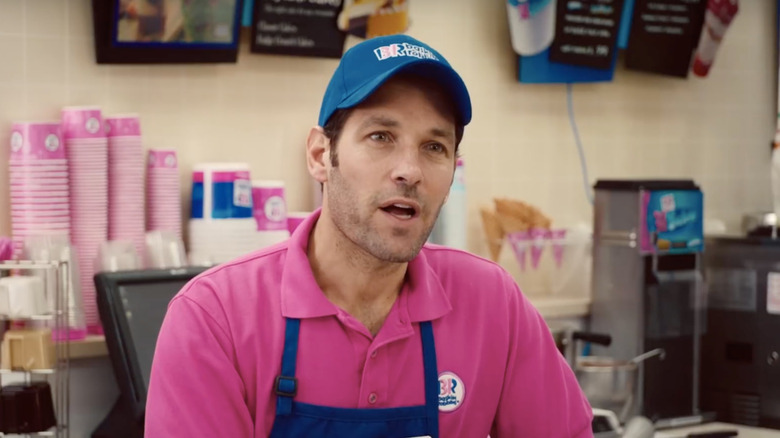 Marvel Studios
It's hard to remember now almost a decade later, but "Ant-Man" had a troubled production. As a result, the film represented a risk for both fans and Marvel but ended up a delightful, creative surprise with Paul Rudd as the perfectly cast centerpiece. Until then, the MCU had not seen a hero like Scott Lang, an ex-con and master thief who is far from the typically morally superior specimen the Avengers might choose to join their ranks. When Scott steals a suit that allows him to take on the properties of ants (while shrinking or growing in size), he gets caught up in a conspiracy bigger than he understands. 
Aside from Rudd's baked-in charm and likability, Scott's genuine love for his daughter is his main redeeming quality. While he's good at stealing and therefore drawn to it, Scott wants to be a better man for her, lending a human conflict to a superhuman story that Rudd portrays beautifully. As a co-writer on the screenplay, Scott feels like a peak of the Rudd archetype, sarcastic and cynical yet endearing and caring. At the time of its release, "Ant-Man" also had some of the most joyful and surprising sight gags of any Marvel film, using scale and force to brilliant effect in its fight scenes.
1. Clueless (1995)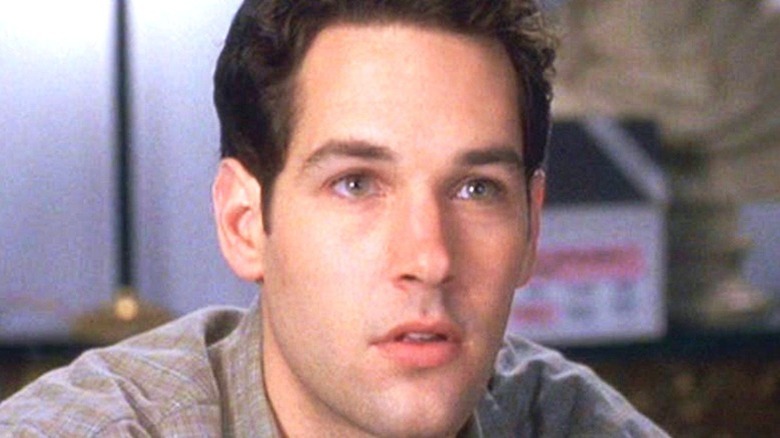 Paramount Pictures
Paul Rudd's breakout feature film debut is one of cinema's most enduring teen classics. A modern retelling of Jane Austen's "Emma," "Clueless" follows the smart, authoritative, and — most importantly — popular Cher Horowitz (Alicia Silverstone). While Cher is genuinely intelligent, she doesn't try hard in school, skating by on the wealth and power of her attorney father to persuade her teachers to give her better grades. Instead, Cher is more concerned with ruling her social circle and matchmaking. In comparison, her ex-stepbrother Josh (a baby-faced Rudd) is studying law and apprenticing with her dad. 
Cher and Josh are natural opposites, her sunny optimism clashing with his weary cynicism, but they gradually meet in the middle despite several awkward romantic exploits along the way. While the romantic plot is a bit queasy by modern standards, Rudd is nonetheless charming, cementing his place from the beginning as one of the all-time heartthrobs, teen or otherwise. "Clueless" was also a defining film for a generation, from its singular script to trendy aesthetics. While there were a lot of fun and enjoyable teen films in the '90s, "Clueless" stands above the rest for its incredible production design and performances, including Rudd's breakout role.