Arnold Schwarzenegger's Commando Role Was Originally Written For A Member Of KISS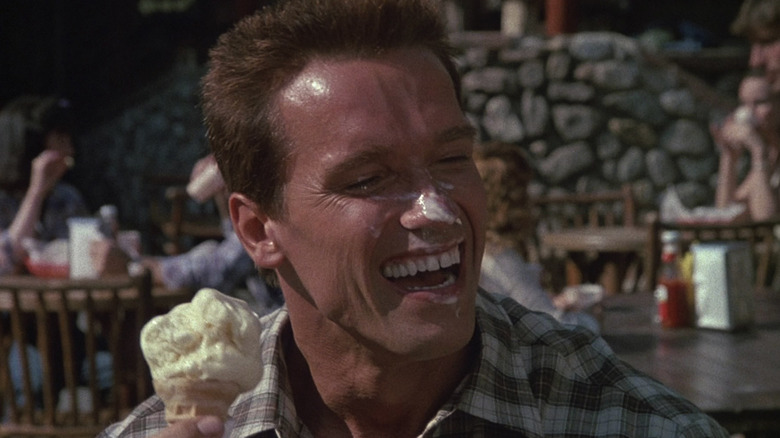 20th Century Studios
20th Century Fox bought the screenplay to 1985's "Commando" from "Teen Wolf" screenwriters Jeph Loeb and Matthew Weisman with the plan to slot Arnold Schwarzenegger into the lead role. Even after the big success of James Cameron's "The Terminator" a year earlier, Schwarzenegger saw "Commando" as a big deal. He explained why in Empire's oral history:
"'Commando' was a big step forward for me. I had only done 'Conan' and 'Terminator,' but now I got to play a gentle, loving father. He is also a fighting machine that will not stop until his objective is complete."
In the film, he plays John Matrix, a retired U.S. Army Colonel who must rescue his daughter (Alyssa Milano) after she's kidnapped by a group of mercenaries. The film allowed Schwarzenegger to showcase his wits and humor and served as the model for his macho, quippy one-liner films that followed. However, the original "Commando" script included a lot less carnage. Steven de Souza rewrote it to beef up Schwarzenegger's larger-than-life persona and added a deadlier body count to one-up Sylvester Stallone's "Rambo: First Blood Part II," much to the dissatisfaction of the original writers. "Our [initial] story was about an Israeli soldier who has turned his back on violence," Loeb told Empire. "Not the movie they made!"
In fact, the original script wasn't intended for Schwarzenegger at all. Instead, it was written for a friend of theirs — a guy who happens to be a member of the American rock band KISS.
Gene Simmons was supposed to be John Matrix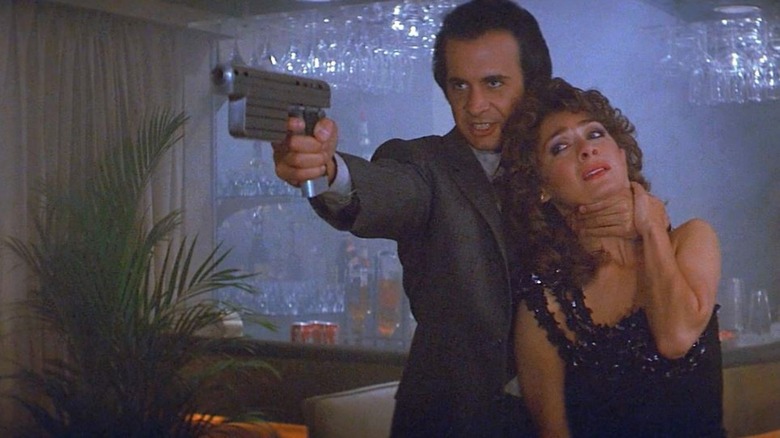 TriStar Pictures
KISS is one of the greatest rock bands of all time. After a decade of performing in their iconic black and white face paint, the band unmasked for the first time in an exclusive MTV interview in 1983. As the band began performing without their traditional makeup, its front man, Gene Simmons, began taking movie roles. In his first film, 1984's science fiction action flick "Runaway," The Demon stars opposite Tom Selleck as Dr. Charles Luther, an evil genius scientist. Though the film bombed at the box office, famed movie critic Roger Ebert complimented Simmons' performance. 
According to Esquire and Movieweb, Jeph Loeb III and Matthew Weisman originally wrote their "Commando" script about an Israeli soldier who rejects violence, and they wrote it specifically for Simmons. (Simmons is an Israeli-American.) Per Movieweb, the musician turned down the role, though it's not clear why; he continued to take action movie roles during that time, including another villain role in 1987's "Wanted: Dead or Alive." 
But it's hard to say that Simmons missed out on an opportunity of a lifetime by passing on "Commando" because the script went through a major rewrite specifically to accentuate the charisma of Arnold Schwarzenegger. (Something tells me the main character's name in the original script may not have been John Matrix.) Still, Simmons as the lead of one of the most ridiculous action movies of the '80s is one of the most fascinating "what if" casting stories we've heard in a while.