Kirk Douglas Had To Force Stanley Kubrick To Film Spartacus' Most Famous Scene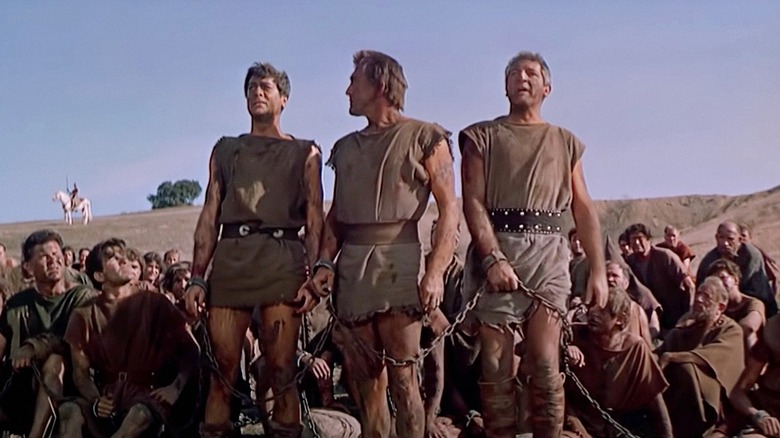 Universal
For every movie that has never been made, Hollywood history has countless individual movie moments that almost never existed. These moments are sometimes small touches in a movie's production. For example, on the set of the opening scene for "The Godfather," Director Francis Ford Coppola spotted a cat by chance that he placed in Marlon Brando's lap and that would become a hallmark of the character Don Corleone. Unplanned but lasting moments can also manifest from improvised acting, such as when Spider-Man actor Tom Holland improvised the repeated line "I don't want to go" while shooting his final appearance in "Avengers: Infinity War." 
In other cases, legendary scenes have nearly been cut, such as when the producers of "The Wizard of Oz" considered removing "Over the Rainbow." When moments like this, which define a film's cultural footprint were at risk of being removed entirely, it's interesting to imagine the effect that one change might have had on the movie's legacy. And Stanley Kubrick's 1960 film "Spartacus" featured one such moment.
'I am Spartacus'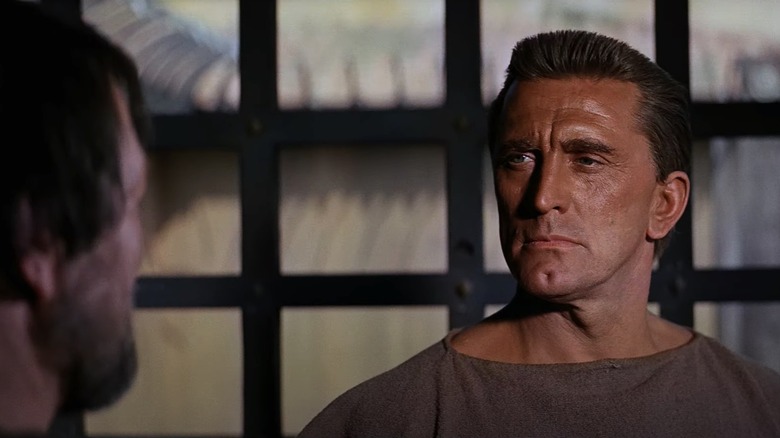 Universal
Across Stanley Kubrick's filmography, with the possible exception of several painfully unforgettable scenes in "A Clockwork Orange," few moments are as memorable as "I am Spartacus," when Spartacus's followers each bravely claim to be the man himself in order to protect their leader. With a line like this, which has been repeated too many times to count, it is odd to consider that Stanley Kubrick would have preferred to leave it out of the movie.
In a 2016 interview on his 100th birthday, Kirk Douglas — the actor who played Spartacus, starred in Kubrick's "Paths of Glory" three years earlier, and in fact, hired Kubrick to direct "Spartacus" — shared his experiences working with the director. When shooting the famous "I am Spartacus" scene, Douglas asked Kubrick what he thought it, and Kubrick responded that it was "a stupid idea," which the cast and crew overheard. It was only through relentless arguing (and the therapy sessions with Kubrick that Douglas's wife recommended) that he was able to convince the director to shoot the scene. 
In the end, it was not just the "I am Spartacus" moment that made Kubrick unhappy with "Spartacus," but the script's portrayal of the lead character as a perfect moral archetype and various other elements of the production that he could not control, all leading him to describe "Spartacus" as the worst film he ever made.
Douglas and Kubrick's adversarial friendship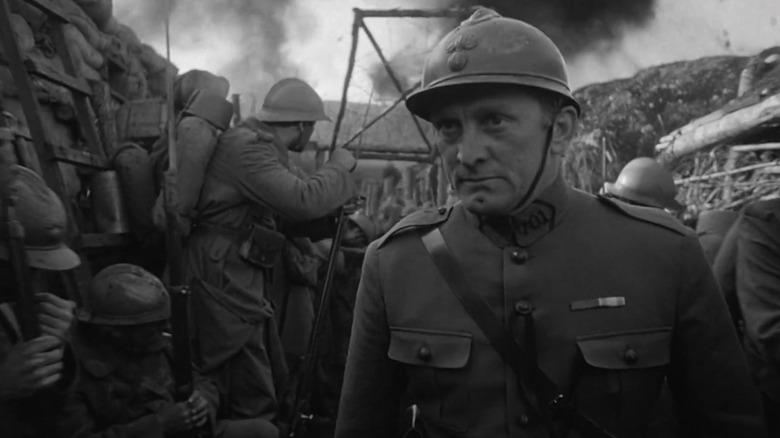 United Artists
Shooting "I am Spartacus" was only one clash in a timeline of Kirk Douglas and Stanley Kubrick's collaborative works. In addition to hiring Kubrick onto "Spartacus," Douglas also recruited Kubrick to 1957 "Paths of Glory" after he saw the director's previous film "The Killing." The two quickly clashed over the script for "Paths of Glory," with Kubrick preferring a more commercial, non-controversial ending where the protagonist and villain make amends, and Douglas preferring a story with his character front and center, as a heroic colonel attempting to save his subordinate officers from the death penalty.
During the making of "Spartacus," their dispute even grew violent. According to Douglas' own account, he became enraged after Kubrick tried to remove close-up shots of Spartacus crucified on a cross at the end of the film and threw a folding chair at the "rapidly retreating" director, yelling, "Goddamn it, Kubrick, you'd better run!" 
Despite these conflicts and the fact that they would never work together again after "Spartacus," Douglas seems to reflect positively on collaborating with Kubrick, saying, "Difficult? [Kubrick] invented the word ... But he was talented. So, we had lots of fights, but I always appreciated his talent." Had Kubrick made it to his 100th birthday, it would be interesting to know how his thoughts on "Spartacus" might have changed. But whether he was happy with the movie or not, Kubrick and Douglas deserve admiration for the enduring classic they managed to make together.