Star Wars Bits: Andor, The Mandalorian, Ahsoka, Ezra Bridger, Tales Of The Jedi, The Podathon, The Bad Batch, And More!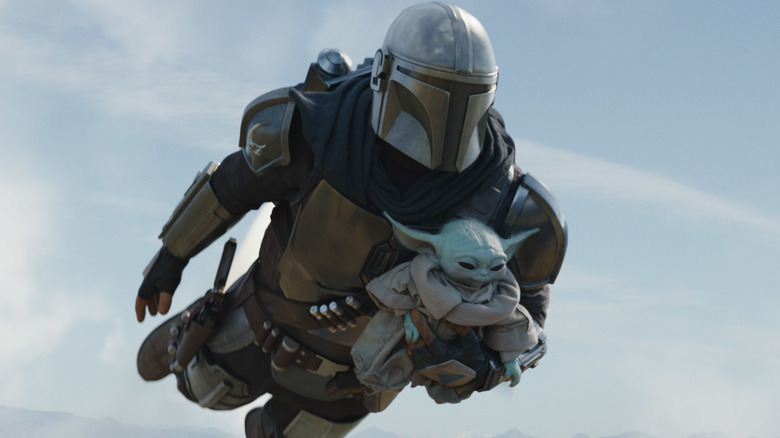 Disney
In this edition of Star Wars Bits:
New "Andor" Trailer
New "The Mandalorian" Season 3 Trailer
Eman Esfandi Cast as Ezra Bridger in "Ahsoka"
New "Tales of the Jedi" Trailer
The Podathon Adds Huge Guests
Marvel's Upcoming "Star Wars" Comics
And More!
Andor trailer
The Mandalorian Season 3 trailer
Also at D23, "The Mandalorian" creator Jon Favreau, alongside executive producer Dave Filoni and star Pedro Pascal, released a trailer for the long-awaited third season of the Disney+ series, premiering in 2023.
In other live-action series news, Filoni and Favreau also treated fans in attendance to new images of Rosario Dawson as Ahsoka Tano and Natasha Liu Bordizzo as Sabine Wren from "Ahsoka," as well as a first look at Jude Law in "Star Wars: Skeleton Crew," which you can see below!
Our best look yet Natasha Liu Bordizzo as Sabine Wren in #StarWars: #Ahsoka via a new still revealed at #D23Expo. 👀 pic.twitter.com/V0U0zUnByU

— The Star Wars Underworld (@TheSWU) September 12, 2022
The first image of Jude Law in Star Wars: Skeleton Crew #D23Expo pic.twitter.com/u3XP97KnQA

— IGN (@IGN) September 10, 2022
Eman Esfandi cast as Ezra Bridger in Ahsoka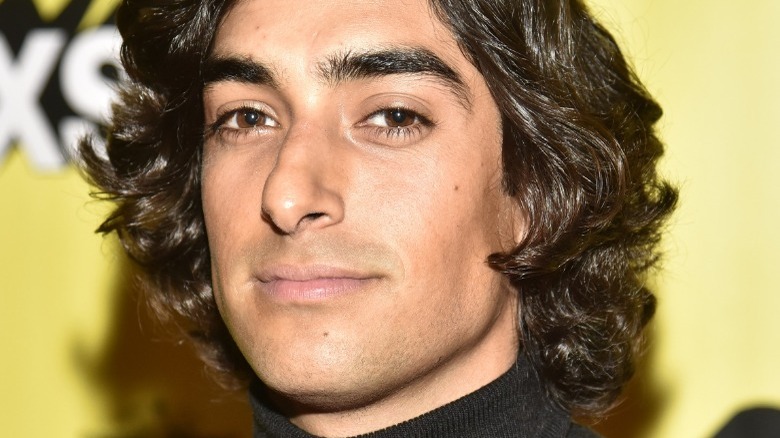 Tim Mosenfelder/Getty
And speaking of "Ahsoka," according to Jordan Maison at Cinelinx — and confirmed by The Hollywood Reporter — Eman Esfandi (of "The Inspection" and "King Richard") has been cast as Ezra Bridger in the series. 
A Jedi Padawan and freedom fighter from Lothal, Ezra is one of the main characters of the animated series "Star Wars Rebels." At the end of that show, Grand Admiral Thrawn's Star Destroyer, the Chimaera, was pulled into hyperspace by Purgill (space whales), with Thrawn and Ezra aboard. The final scenes showed Ahsoka Tano teaming up with Sabine Wren to search the galaxy for Ezra (and Thrawn), which is where the live-action series will pick up the story. 
Star Wars: Tales of the Jedi trailer
On the animated side of things, Lucasfilm revealed the official trailer (above) for "Star Wars: Tales of the Jedi," a six-part animated short series coming to Disney+ on October 26, 2022. The series will feature Ahsoka Tano, Qui-Gon Jinn, Mace Windu, Count Dooku, Yaddle, and more. 
David Filoni also confirmed that the second season of "Star Wars: The Bad Batch" will arrive on January 4, 2023, with a two-episode premiere on Disney+. 
Also highlighted at D23, "Star Wars: Young Jedi Adventures," an upcoming animated series set during the High Republica era:
"Kai Brightstar is a Jedi youngling who hopes to grow in the ways of the Force and follow in the footsteps of Master Yoda. Nash Durango is a pilot who befriends Kai and company, joining them on adventures across the galaxy."
The Podathon: Rian Johnson, Diego Luna, Genevieve O'Reilly, and more!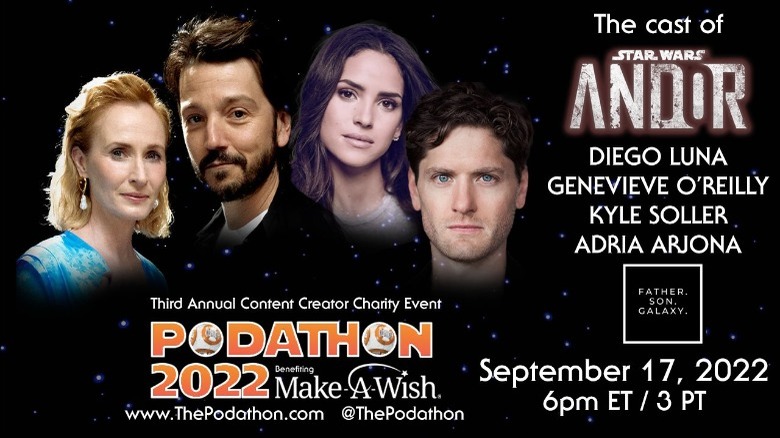 Podathon 2022, the third annual all-day marathon livestream event benefiting Make-A-Wish, will take place on Saturday, September 17, 2022 beginning at 9 a.m. ET and wrapping up sometime after 10 p.m.
The full-day livestream event will feature celebrity guests from around the "Star Wars" universe including this year's headliner, Rian Johnson, writer and director of "Star Wars: The Last Jedi." More than a dozen of the most popular "Star Wars" fan content creators producing their show live while giving audience members a chance to donate directly through the Podathon Make-A-Wish website. 
Also, just announced, the cast of "Andor" (Diego Luna, Genevieve O'Reilly, Kyle Soller, and Adria Arjona) will be joining the lineup! They'll be appearing on September 17 at 6 p.m. ET on Father. Son. Galaxy. Follow @ThePodAThon on Twitter and check out the schedule below to keep up with all the amazing guests that will be featured this Saturday!
Building BD-1
On Adam Savage's Tested, cosplayer and droid builder Darren Moser shows Adam how he built his own BD-1 droid from "Star Wars Jedi: Fallen Order!"
Repainting cheap Halloween masks
Steven Richter has a new video where he repaints cheap Halloween masks of Jango Fett, Chewbacca, Darth Maul, and Jar Jar Binks.
Porcelain Jabba the Hutt playset
Mos Eisley Cantina diorama
Landspeeder Luke has a new video detailing how you can create a Mos Eisley Cantina bar diorama for use with your Star Wars The Black Series figures. 
The Mandalorian Season 3 trailer breakdown
Tales of the Jedi reaction
Chase aka That Gay Jedi shares their reaction to the new trailer for "Star Wars: Tales of the Jedi."
This Week! in Star Wars
On This Week! in Star Wars, host Kristin Baver gives us the lowdown on all the latest news from that galaxy far, far away.
"This week in Star Wars, we get a first look inside the pages of Marvel's 'Star Wars: The High Republic' #1 from Phase II of The High Republic and share all the sweet, sweet news that was revealed at D23 Expo from 'Andor,' 'Skeleton Crew,' 'The Mandalorian,' 'Willow,' 'Indiana Jones,' and more. Plus, we chat with some of the cast and crew who graced the main stage at D23 Expo."