All About Eve Signaled The Beginning Of The End For Most Of The Cast's Careers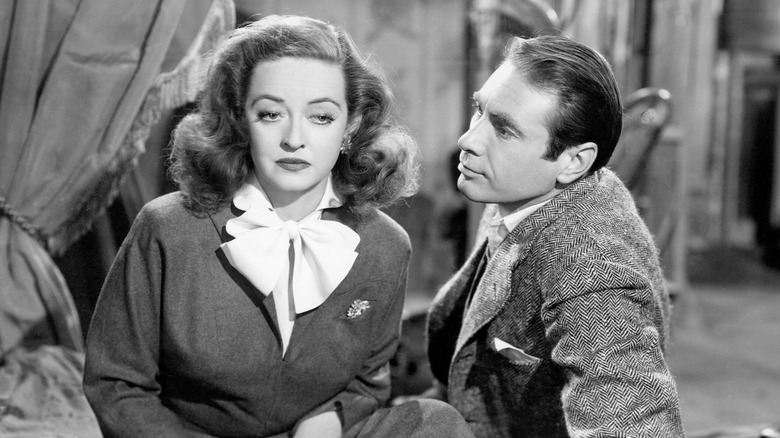 20th Century Studios
"All About Eve" was the peak of stardom for most of its main cast — save for one break-out star. While Marilyn Monroe's career thrived deep into the '50s, the Academy Award-winning drama from writer-director Joseph Mankiewicz was the pinnacle of success for all of the leads. Even Mankiewicz himself never managed to write something quite as unforgettable as "All About Eve."
Bette Davis rose to fame following her Oscar-nominated leading role in the daring 1934 film "Of Human Bondage." After earning an Academy Award as the titular lead in William Wyler's 1938 period film, "Jezebel," she was often typecast as a femme fatale. An icy alcoholic like Margo Channing was well within Davis' wheelhouse, but this one was different — Mankiewicz saw the compassionate side of this dark female character and even gave her a happy ending.
Playing Margo marked a major turning point in Davis' career, but not for the better. The actress gave such a powerful performance as an aging starlet passing her prime that she became one in real life. The only part that Davis landed after "Eve" that earned a comparable level of critical acclaim was her role as an aging child star in the 1962 horror film "Whatever Happened to Baby Jane?"
Davis wasn't the only member of the main cast whose career took a dive after the 1950 film. The only star who continued to ascend was Marilyn Monroe, who played the minor role of Miss Casswell, a flirty aspiring actress.
Marilyn Monroe rose to stardom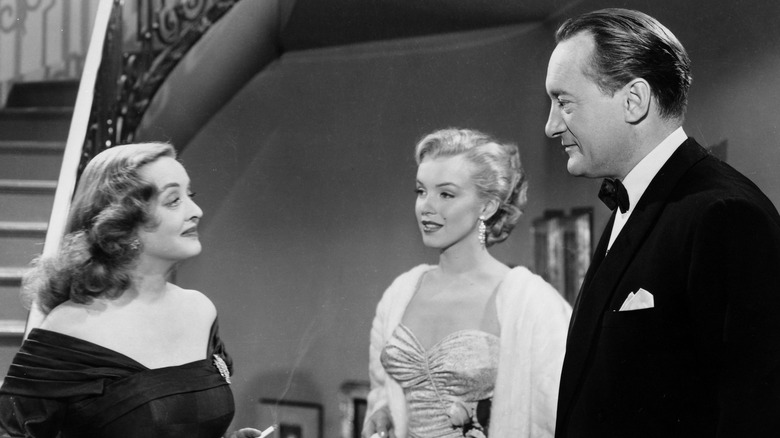 20th Century Studios
Monroe was originally signed on to play Miss Casswell "on a one week guarantee," Mankiewicz recalled, via the book "All About All About Eve." The actress had actually been fired from the studio months earlier by the same producer behind "Eve," Darryl F. Zanuck, because "it was the opinion of the studio that I was not photogenic," Monroe recounted in "My Story." Her week-long guarantee on "All About Eve" would transform into a contract with 20th Century Fox that spanned for over a decade. Monroe would go on to star in iconic comedies like "Some Like it Hot" while most of her former co-stars faded away.
Mankiewicz had a knack for allowing even the smallest characters to stand out. Perhaps this is why Monroe was able to leverage such a small part into such huge stardom. Sadly, some of the higher-billed actors were not quite as lucky.
Life imitated art when Gary Merrill, who played Davis' love interest in "Eve," married the actress the same year the film was released. The couple would star opposite each other again in the 1951 melodrama "Another Man's Poison" and the 1952 noir "Phone Call From A Stranger." But even with his high-profile marriage, Merrill did not land as high-profile a role as Bill again. The couple divorced a decade later after having two children together.
But her co-stars weren't so lucky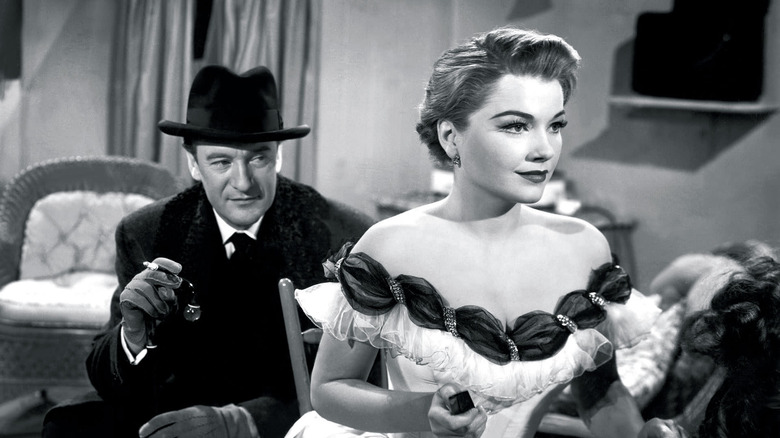 20th Century Studios
Not every minor actor in "Eve" was catapulted to fame like Monroe was. Hugh Marlowe had a number of supporting roles in popular films from the '40s and early '50s, including "The Day The Earth Stood Still," but his career started to stall a few years after "Eve" was released. His on-screen wife Celeste Holm played the minor part of Karen in "All About Eve," but none of Holm's other roles, few and far between, would soar to the same heights — nor would they allow Holm to truly shine.
George Sanders, who plays the manipulative theater critic Addison DeWitt, suffered a similar fate. The actor made a name for himself by playing a villain in films like Cecil B. Demille's "Samson and Delilah" and Alfred Hitchcock's "Rebecca," but his sinister performance as Addison marked the pinnacle of his career. Anne Baxter, who played the titular lead in "All About Eve," went on to star in the lesser films of acclaimed directors through the '40s and '50s, including Alfred Hitchcock's "I Confess." She even snagged a major role in Cecil B. Demille's "The Ten Commandments," but none of Baxter's other films have stood the test of time the way that "All About Eve" has.
These incredible actors may have peaked in "All About Eve," but that doesn't mean that they should be pitied. If the film teaches us anything, it's that the important things in life have nothing to do with fame and praise.