Rosie Review: A Charming Found Family Film With Heart To Spare [TIFF]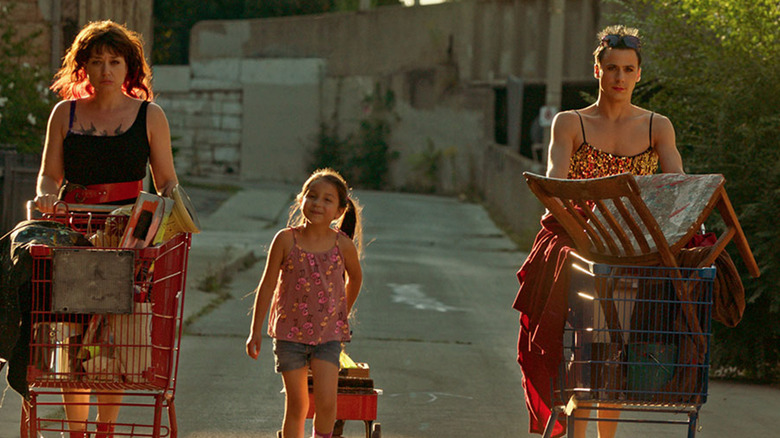 Courtesy of TIFF
They say "blood is thicker than water," but for many, this isn't true — the strongest bonds are with those we love, who may or may not be blood relatives. This is the basic premise explored in "ROSIE," a Canadian indie film about found families, accepting queer identities, and overcoming trauma. It's a thoroughly charming little film, and while it has flaws, it's a promising project from some emerging faces in the industry.
"ROSIE" is the debut feature film from Métis writer-director-actor Gail Maurice. Maurice identifies as LGBTQ+; at the Toronto International Film Festival, she stated that she chose a soundtrack and setting for "ROSIE" to coincide with roughly the same time period as her own queer awakening. This makes sense. There's a strong queer undercurrent in "ROSIE," and although the film deals with a lot of themes, the ones that resonate the loudest are those relating to two-spirit characters Flo (Constant Bernard) and Mo (Alex Trahan).
"ROSIE" is the story of 6-year-old orphan Rosie (Keris Hope Hill), who is sent to live with her Aunt Frédèrique (Mélanie Bray) in Montreal. "Fred," as she prefers to be called, hasn't seen her sister in years and is reluctant to take on the responsibility for a child. Both Fred and her late sister were taken from their homes as children and adopted into a family that, based on Fred's statements, wasn't much of a home. Rosie is the second generation after the Sixties Scoop — she knows she's "Indian" but not sure what First Nation her mother was taken from. Those records are lost, and now the only person she has is an auntie ill-suited to take care of her.
Found family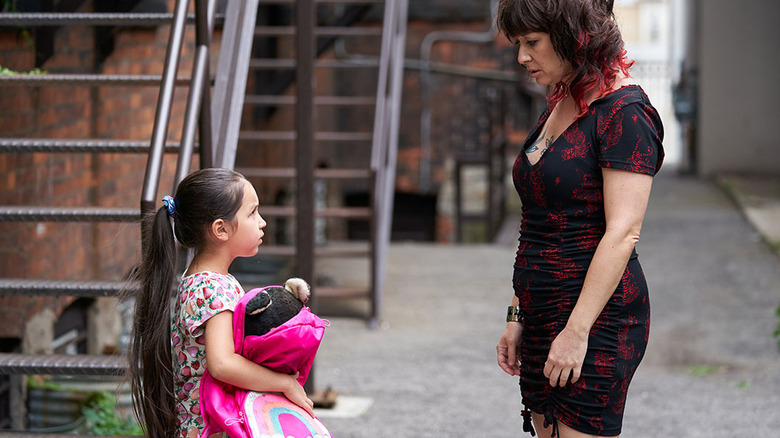 Courtesty of TIFF
At TIFF, writer and director Maurice explained that the project was inspired by the Sixties Scoop, and that she wanted to explore the history from the eyes of a child. The cinematography in "ROSIE" certainly reflects that: It's intimate, full of close-up, hand-held shots, and low angles, hinting at the young girl looking up at the world around her. 
The performances are what makes "ROSIE" fun to watch. Hill as the titular little girl is adorable; the acting sometimes leaves a bit to be desired, but also I recognize 6 years old is young to be expecting that level of skill. Fred is charming and funny in her own right — she has the most challenging role here and she absolutely nails the performance. Having said that, the drag queens Flo and Mo make the film. They each have their own, small character arc that ties into the greater themes of acceptance and found family. Bernard is the standout for me; his character balances a larger-than-life fun bubbly personality with a grounded, pragmatic wisdom — and some very tender, heart-wrenching scenes. Everyone is struggling in "ROSIE," but Bernard is the one actor who really makes that sadness felt.
The writing in "ROSIE" is where the film languishes for me. The basic concept is fine, but the execution needs more escalation and clearer stakes to make an impact. I found I was really stretching my suspension of disbelief with some of the basic plot points, and you often have to take events at face value because otherwise, they crumble. Still, for a debut feature film, there's enough heart and humor to keep the average viewer entertained.
I would by lying if I said "ROSIE" was a "great" film, at least in the traditional sense; however, this is one of those rare indie movies that is so sincere, so unique, and so gosh-dang likable that I can't help but love it. And I hope, that if you, dear reader, as willing to give it a chance, you will too.
/Film rating: 7 out of 10