Will Smith Made One Men In Black Scene Torture For Tommy Lee Jones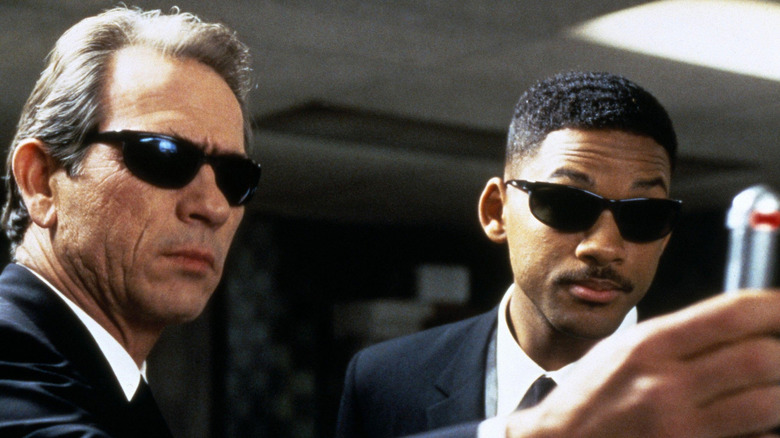 Sony Pictures Releasing
Following the smashing success of "Independence Day," Will Smith was red hot. The former "Fresh Prince of Bel-Air" star had successfully undergone the transformation from television star to film star, a hurdle many fail to overcome. Smith's next big project was "Men in Black," a sci-fi adventure film loosely based on the comic book series by Lowell Cunningham. Smith was to be the handsome but slightly out of his element leading man who would play alongside a more austere veteran actor. That co-star turned out to be Tommy Lee Jones.
At first glance, the combination of Smith and Jones seems like it could have been a slightly combustible one. Tommy Lee Jones is a serious, soft-spoken professional who had been known to have issues with co-stars. While Jones was working with Jim Carrey on 1995's "Batman Forever," Carrey reportedly said Jones told him to his face that he hated him. While on Norm McDonald's podcast in 2017, the funnyman told the story of him running into Jones at a restaurant. When Carrey attempted to say hello to Jones, he was met with a cold reception. Jones apparently frankly said, "I cannot sanction your buffoonery."
Jones clearly was not one to mince his words about how he felt regarding co-stars. For an actor like Will Smith, who had just come from the world of sitcoms, which is chock-full of buffoonery, one can imagine the idea of working with Jones was simultaneously exciting and daunting. According to a 2019 oral history with Vulture, Smith did drive Jones crazy — just not in the way you'd expect.
An unfortunate situation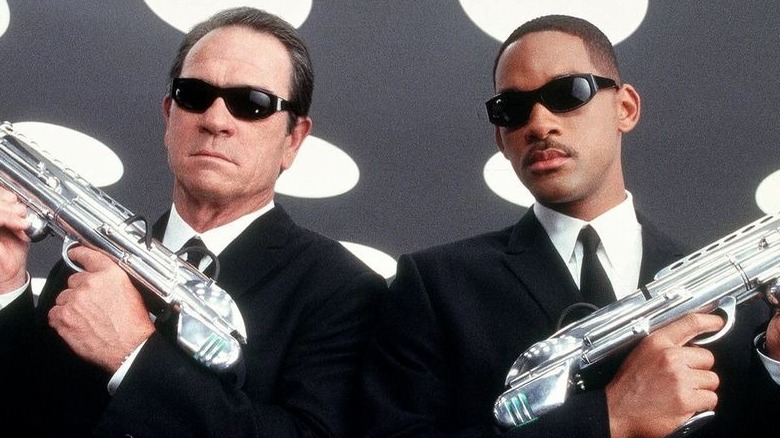 Sony Pictures Releasing
"Men in Black" follows Will Smith as NYPD officer James Darrell Edwards III, who after an encounter with an extraterrestrial criminal, is recruited by Agent K, played by Tommy Lee Jones, to join a mysterious organization called the Men in Black. With Edwards now renamed Agent J, the two agents must supervise aliens living on Earth and hide their existence from the civilian population.
This, of course, meant Smith and Jones were working up close and personal for much of the production. However, according to director Barry Sonnenfeld, things were working out okay. "They loved each other," Sonnenfeld said. The two were getting along swimmingly, with the exception of one particularly unfortunate scene.
"Will has really nasty farts," said Sonnenfeld at the start of a story that can't possibly be heading in a good direction. He then describes a scene in which Smith and Jones are driving a car upside down in a tunnel, the filming of which required about a 10-minute process just to get the two strapped into the car safely. "We finally got it upside down; we're ready to shoot. We hear Will say, 'Oh, Jesus! I'm so sorry, Tommy. Guys, get us out of here! Get us out!'" Jones insisted that it was okay and professionally soldiered through the scene before retreating immediately.
Letting it blow past them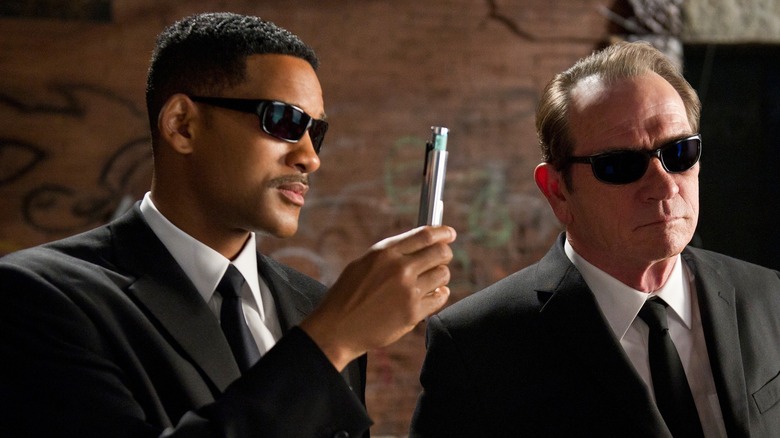 Sony Pictures Releasing
Besides this humorous incident and the fact that the movie's script had to be rewritten almost entirely after filming, the production of "Men in Black" was mostly smooth sailing. Jones initially struggled a bit with his part, not understanding why he couldn't respond to any of the jokes being cracked by Smith's character. "Tommy didn't get the comedy at first; he was kind of angry that I only wanted Will to be funny," said Sonnenberg. "I kept explaining to him that you need a straight man, and both are equally funny. But once he saw the movie, he was so pleased by how funny he was."
With Tommy Lee Jones happy and the script fixed, the film went on to have great success. It spawned two sequels starring Smith and Jones. All three movies scored generally positive reviews and inspired a reboot with a new cast that did not receive the praise of the original trilogy. 
Even through the filming of two sequel movies, Jones continued to only have glowing words about his time working on the series. "'Men in Black' is a hell of a lot of fun. I can't think of any better company than Will Smith or Barry Sonnenfeld. It's just a pure joy all day, every day," said Jones in an interview with Vulture in 2011, during the filming of "Men in Black 3."
Not only were Smith and Jones now working well together, they were becoming great friends, too. While it may have taken some work for the two actors to find their groove as a duo, they eventually became a very successful one — despite Smith's gastrointestinal issues.