Diamond Select Assembles Avengers: Endgame Captain America Mini-Bust [Exclusive]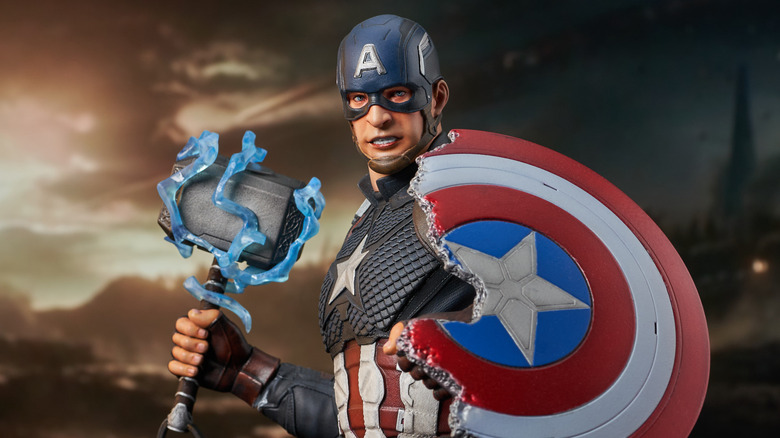 Diamond Select Toys
The sight of Captain America with his battle damaged vibranium shield during the final battle of "Avengers: Endgame" was a low-point moment foreshadowed as far back as Tony Stark's bleak vision in "Avengers: Age of Ultron." However, once an army of superheroic saviors appeared behind Steve Rogers (Chris Evans) and Mjolnir flew into his hand, it gave him the perfect moment to finally drop the "Avengers ... assemble" line we'd all been waiting for. 
As far as satisfying payoffs, this was a big one, perhaps the biggest in a movie chock full of them, which is why our friends at Diamond Select Toys have put together the new Marvel "Avengers: Endgame" Captain America 1/6 Scale Mini-Bust. In a /Film exclusive, we're revealing the bust due out next year in all its fully-assembled glory, and you can check out more detailed looks below along with specs as well as an exclusive quote from the designer. 
This mini-bust is worthy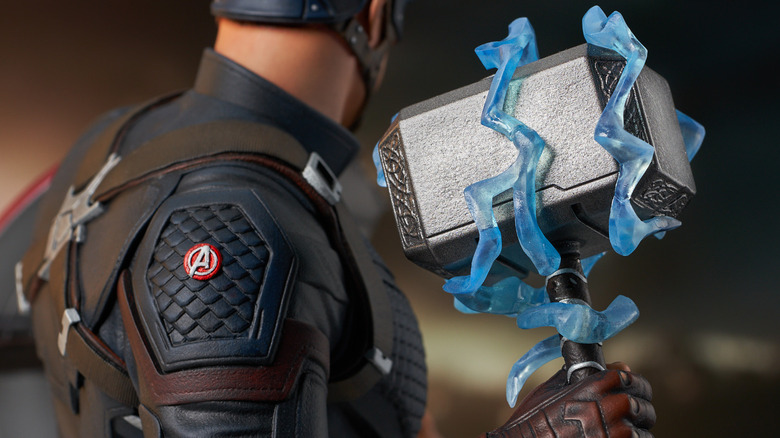 Diamond Select Toys
Captain America leads the charge against Thanos with Diamond's new Marvel "Avengers: Endgame" 1/6 Scale Mini-Bust depiction of Steve Rogers in arguably his most heroic pose ever.
Standing six-inches tall atop a pedestal base, the new bust designed by Joe Allard and sculpted by Joe Menna will be limited to a run of only 3,000 pieces. It features detailed sculpting and paint applications, while the packaging will be in the typical Diamond-style full-color window box. The standard retail price will be $120 dollars, with pre-orders beginning this Friday, September 16, 2022 at both the official Gentle Giant and Diamond Select pages. Shipping is expected sometime in spring 2023.
Check out the exclusive full reveals below:
Designer Joe Allard on bringing Cap to life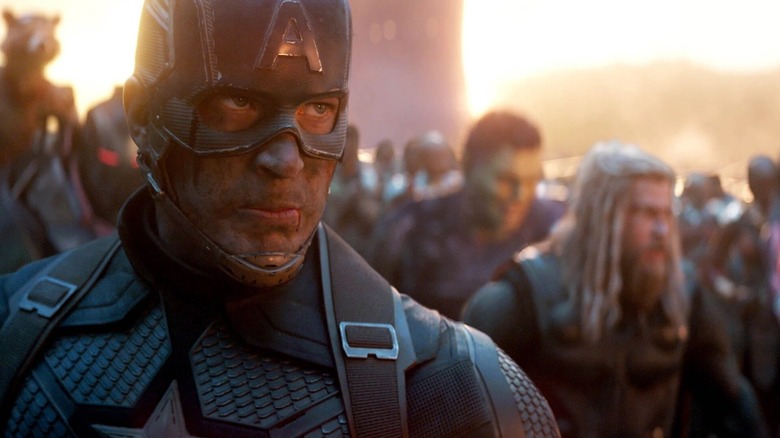 Marvel Studios
Diamond Select designer Joe Allard provided us with an exclusive quote where he discusses the thinking behind this incredible pose:
"For this piece I really wanted to capture Cap's determination and resilience. Just before this moment, Cap knew he was beat, but still would not stop fighting. Then, hope arrives in the form of the Avengers to help him out. I wanted it too look like the Mjolnir had just thrust back into his hand, and the words every fan were waiting to hear for almost 10 years are about to come out of his mouth: Avengers Assemble! For me this was arguably the coolest scene in the film. It was so iconic with Cap holding the Mjolnir and his broken shield, echoing both his recent defeat and forthcoming victory, I was stoked to have the opportunity to help bring it to life in mini bust form."
Fans of the Diamond Select brand and Marvel in general will definitely want to pick up this beautiful slab of red, white, and blue justice when it arrives next year. Those with as much determination as Steve Rogers will definitely want to consider pre-ordering before the Marvel "Avengers: Endgame" Captain America 1/6 Scale Mini-Bust disappears in a snap.