Turner & Hooch Taught The Cast And Crew Just How Caustic Dog Slobber Could Be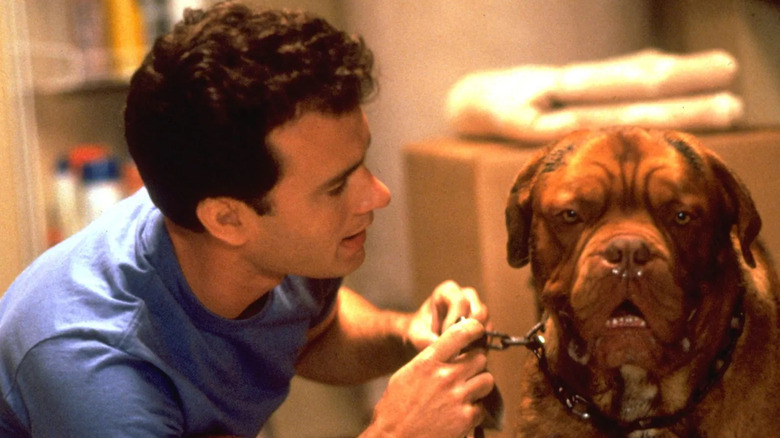 Disney
During the '80s, movie producers had a daunting task. Imagine being in talks to make a movie starring Tom Hanks, one of the most likable men in the film industry. An issue quickly arises: will Hanks' quaint charm overshadow a co-star? Only one casting choice could be definitively as beloved as Hanks: a dog. In 1989's"Turner & Hooch," Hanks portrays a detective with a seemingly menacing (but truly playful!) dog. While it's not a cinematic masterpiece, it feels like a movie conceit designed in a lab to print money and elicits "aww's" from audiences.
Whether running around America's historical events in "Forrest Gump" or voicing a toy cowboy with a superiority complex in "Toy Story," Hanks has proven himself as one of Hollywood's leading men. But it's Hanks' Mr. Nice Guy off-screen personality that has earned him a lot of adoration from fans. When Hanks took on the role of a cop becoming friends with a dog, he did so with his signature good-natured kindness. According to film director Roger Spottiswoode, Hanks bonded so much with his canine co-star that it caused some issues behind the scenes.
It's slobberin' time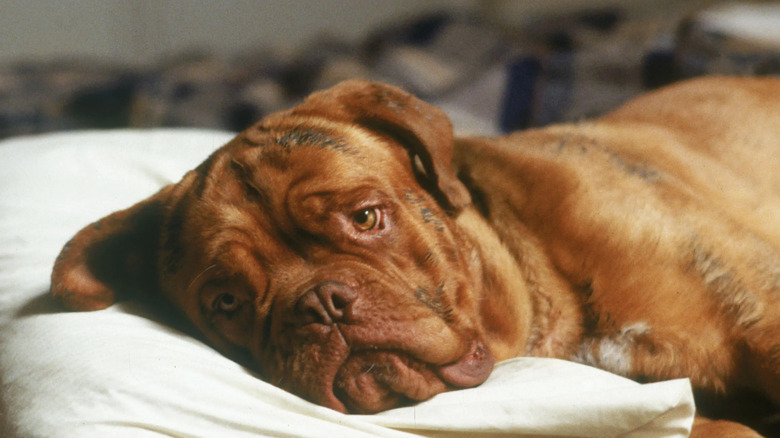 Disney
Spottiswoode ("Tomorrow Never Dies") spoke about his experience directing "Turner & Hooch." According to him, working with a dog has downsides — obvious and unexpected ones. "We have a scene in the film where Tom and Hooch are on a stakeout all night watching a place, and I decided that they would just have to improvise this," said Spottiswoode, noting he couldn't give the dog a script to read. Few dogs can read, and even those that do have a limited vocabulary.
In addition to the expected obstacles of working with non-human actors, there were plenty of unexpected downsides to working with dogs. One specific (and disgusting) instance was prompted by Hanks' insistence on bonding with all of his co-stars, whether human or not. Spottiswoode recalled:
"We ran for an hour or two, and Tom Kept giving Hooch a little bit more food and talking to him. Hooch reacted and so forth, and Hooch was getting his own close-ups. It was great. But he was slobbering. We found after about an hour of shooting, this car they were sitting in, which was a promotional car, a brand new car... the seat had somehow eroded. Even in that short period of time... There was so much slobber on Hooch's seat that he was sinking into the seat."
Turner & Hooch spinoff series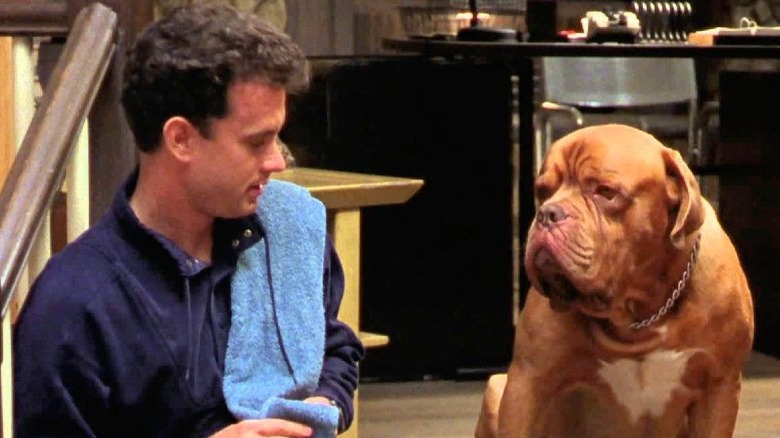 Disney
Despite this folly, "Turner & Hooch" had solid success. Hanks propelled a mediocre script to the level of a fine film. "Turner & Hooch" was never going to win an Oscar, but it turned out to be perfectly inoffensive — which is often the best you can hope for with a cutesy movie.
The 1989 animal buddy flick even spawned a Disney+ series of the same name starring Josh Peck as the son of Tom Hanks' now deceased character. Disney canceled the "Turner & Hooch" series after one season. I suppose without a name like Tom Hanks attached to the project it's hard to advertise a 32-year-old sequel spinoff series.
At least the five Dogues de Bordeaux — Arnie, Hammer, Obi, Cyd, and Mya — that starred alongside Hanks in the original now have a place among the greatest canine actors, alongside the likes of Vincent from "Lost" and Beethoven from "Beethoven." There hasn't been a human-dog buddy movie that reached the heights of the ones from the '90s. But I expect it'll come soon as people love dogs, spit or not!