Succession Won't 'Overstay Its Welcome, Like Billions,' According To Brian Cox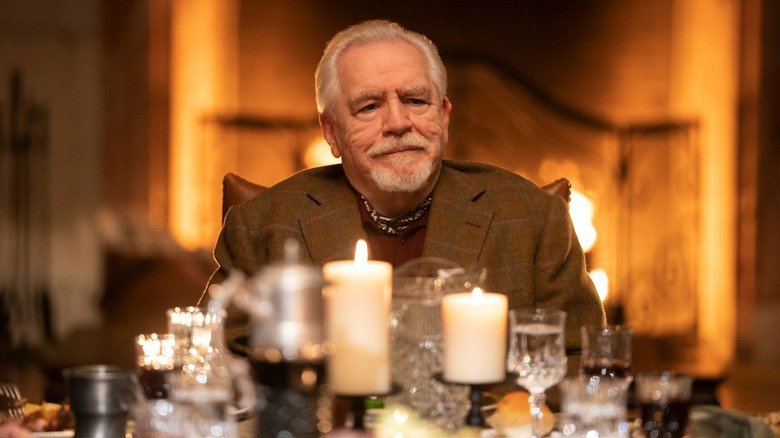 HBO
HBO is embracing a very specific niche at the moment: TV series about dysfunctional elite families on the verge of tearing themselves apart because they're too power-hungry to truly understand the realities of their actions. While "House of the Dragon" is upholding that mantle, "Succession" is gearing up for a triumphant return, with its fourth season currently in production. Coming off four Emmy wins, the hype for the Roy family is getting hard to ignore. So much like his onscreen alter ego, Brian Cox is stealing the spotlight to hit us with some harsh truths. According to Logan Roy himself, the upcoming season of "Succession" could potentially be its last. While chatting with The Times (via IndieWire), Cox said:
"I don't know [if there will be a fifth season]. No one's had their contracts renewed. Who knows how long it will go on?"
This isn't the first time we've had to confront the possibility of "Succession" ending sooner than expected. Back in 2021, writer and executive producer Georgia Pritchett told The Times that she believes the "maximum would be five seasons." Echoing this thought after the season 3 conclusion, Cox told GQ that he expected two more seasons at most. But this time around, Cox took things a lot further by comparing "Succession" to fellow finance drama "Billions," the Showtime series that's set to enter its seventh season next year.
Contrary to what you might assume, the long-running status of "Billions" is not the goal for "Succession." According to Brian Cox, it's more of a cautionary tale. Cox explained: 
"We don't want [Succession] to overstay its welcome, like 'Billions.' That's past its sell-by date. That will not happen with our show."
The joys of playing Logan Roy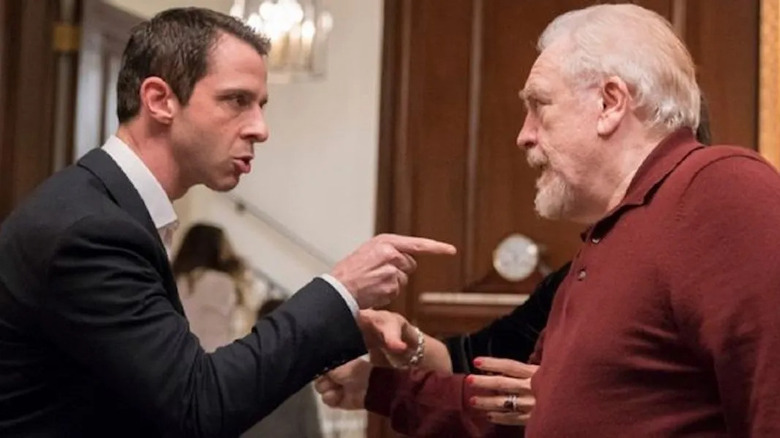 HBO
Whoa, hey, let's not get ahead of ourselves, Brian Cox! What's so bad about seven seasons of the Roys living out their own Shakespearean tragedy? I'm hard-pressed to believe we will ever arrive at a point where the Roy family won't be astronomical levels of dysfunctional, so there will always be more stories to tell about the chaos of their lives. But yes logically, it makes sense for "Succession" to be nearing its end. This is always the dilemma of good TV: in some ways, you never want it to end, but if it doesn't, then the possibility of overstaying its welcome could become a painful reality.
And of course, it means something that even the people on the inside, who love their jobs and characters, understand the importance of that intentional conclusion. In the same interview, Cox says, "getting a ['Succession'] script is like getting gold," but he also puts his foot down about the show ending soon. Cox goes on to discuss his love of playing Logan Roy, the delightfully entertaining patriarch of the family who founded everything that the younger Roys are determined to inherit for themselves. This is a core part of the character that makes him so interesting for Cox to inhabit:
"What I love about Logan, he's self-made. Unlike all those other guys, Trump, Murdoch, Conrad Black, he did it all himself."
But this is also the tragic paradox of Logan's existence: he spent the first three seasons searching for a successor amongst his children, but resents all of them because he gave them riches, privilege, and access — things he fought to attain for himself. They've never actually worked for anything of their own because he made it so they wouldn't have to. Because of that, none of them are enough like him to deserve his company.
Will Succession end after four seasons?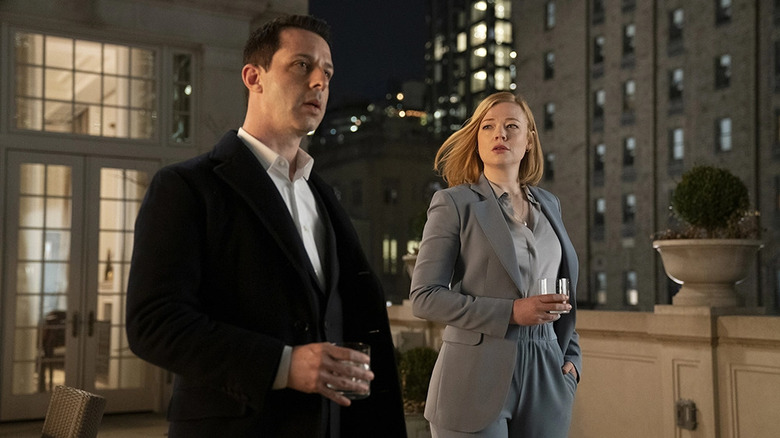 HBO
This brings us to the point where "Succession" left off and also presents us with a potential ending to this story. While plot details for the fourth season have been kept under wraps, we do have the following logline:
"The sale of media conglomerate Waystar Royco to tech visionary Lukas Matsson moves ever closer. The prospect of this seismic sale provokes existential angst and familial division among the Roys as they anticipate what their lives will look like once the deal is completed. A power struggle ensues as the family weighs up a future where their cultural and political weight is severely curtailed."
It's not hard to see how this could be a potential end to the Waystar saga: if the company gets sold, then all that vying for power would come to an end. Whether or not that wraps up in season 4 is the big question, but if we're really lucky, then a fifth season will follow — just don't expect any more than that. Even though, personally, I would happily stick around to watch what becomes of Roman (Kieran Culkin), Kendall (Jeremy Strong), Shiv (Sarah Snook), and Connor (Alan Ruck) when they no longer have the family business to inherit and have to *shudder* find new aspirations.
Brian Cox and his four onscreen children are all set to return for the fourth season, along with stars Matthew Macfadyen, Nicholas Braun, J. Smith-Cameron, Peter Friedman, David Rasche, Fisher Stevens, Hiam Abbass, Justine Lupe, and more. The fourth season of "Succession" has yet to set a release date but is currently in production.