Doctor Who's Centenary Special Now Has A Title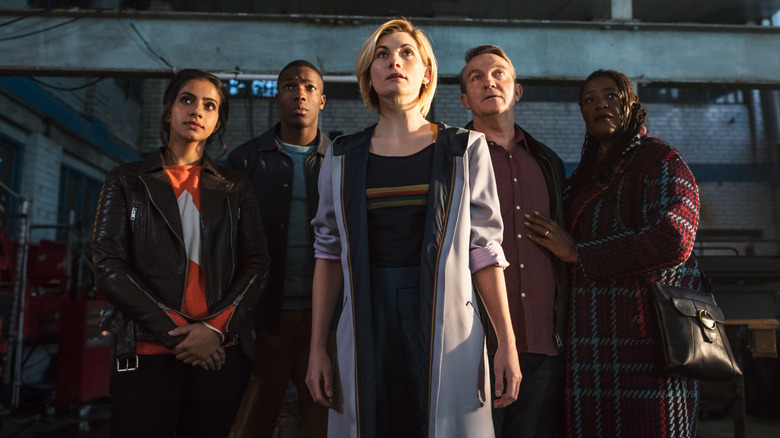 BBC
We now finally know what the title of the upcoming "Doctor Who" centenary special is going to be. This episode, which is set to air in the fall, will serve as a goodbye to Jodie Whittaker's Thirteenth Doctor, who made history as the first woman to take on the character in the show's long history. So, her final, feature-length special episode? It will be "The Power of the Doctor."
The news was revealed via the latest issue of "Doctor Who Magazine" (via Cultbox). The outlet also notes that the title brings to mind several previous episodes from the show's history, including "The Power of the Daleks" from 1966, which featured Patrick Troughton's Doctor, and 2012's The Power of Three, during Matt Smith's tenure as the Doctor. A brief synopsis for the episode has also surfaced, which reads as follows:
Her final battle. Her deadliest enemies. The Thirteenth Doctor faces multiple threats from Daleks, Cybermen and the Master, in a fight for her very existence.
The cast for Whittaker's send-off includes Mandip Gill (Yaz), John Bishop (Dan), Bradley Walsh (Graham), Jacob Anderson (Vinder), Jemma Redgrave (Kate Stewart), Sophie Aldred (Ace), Janet Fielding (Tegan), and Sacha Dhawan (the Master). It is also very likely that we are going to see Whittaker regenerate, which means Ncuti Gatwa, who is taking over as the Fourteenth Doctor, is sure to make an appearance as well.
A big, epic goodbye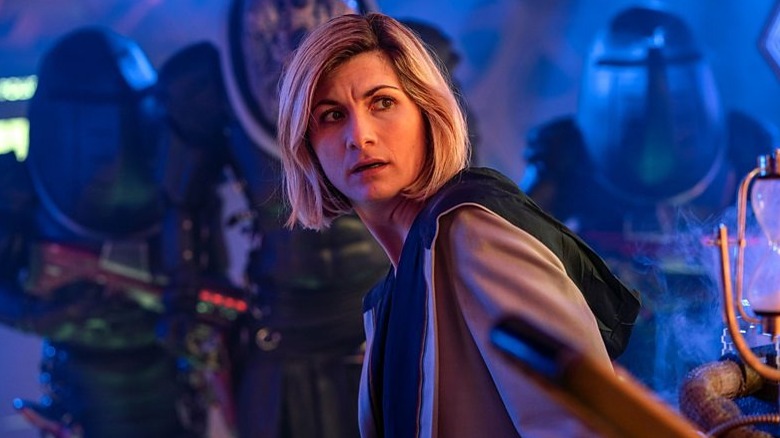 BBC
Whittaker first took over the role in 2018 following Peter Capaldi's run. It marked a major turning point in the show's history as the actress broke ground, becoming the first woman to ever take up the mantle. The reception to her run has been largely positive but, as is always the case with this show, a new Doctor must be handed the torch at some point. Showrunner Chris Chibnall previously had this to say about the special:
"Jodie's final feature-length story contains a plethora of treats and surprises for audiences and fans, not least the return of two of the most beloved companions in the show's history [Ace and Tegan]. They'll be helping the Doctor fight on three fronts, against her deadliest enemies: the Master, Daleks and Cybermen, in one huge story! For the BBC's centenary, we'll be celebrating the past, present and future of Doctor Who, in a fittingly thrilling, epic and emotional send-off for the thirteenth Doctor."
"The Power of the Doctor" is expected to air sometime in October during the BBC's week-long celebration of "Doctor Who," though no precise air date has been confirmed just yet. With the title revealed, that information (as well as a full-length trailer) should be coming our way very soon. Stay tuned.