16 Shows To Watch If You Love Yellowstone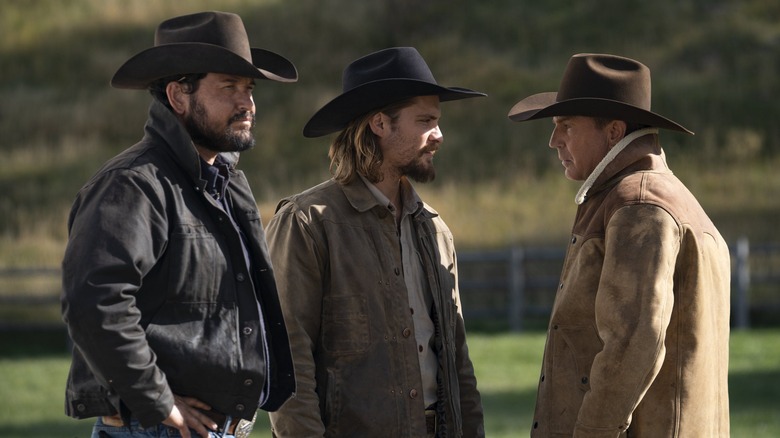 Paramount
There is a Taylor Sheridan aesthetic. The "Sicario" writer and "Yellowstone" creator is a poet laureate of the American West, a writer who reframes its ancient archetypes for modern audiences by placing emotion first. "Hell and High Water" sweepingly considers the folk hero power of modern-day outlaws. "Those Who Wish Me Dead" is a classic white-hat-vs.-black-hat yarn set in the daredevil world of smoke jumpers. Then, there's "Yellowstone." The Paramount+ smash is an unabashedly melodramatic soap opera, a dime-store novel for the small screen. Sheridan's show disguises its seedier impulses through grit and self-seriousness. The "Yellowstone" discourse has revolved around it being immensely popular yet widely unknown. So are dime-store novels. So are the works of Taylor Sheridan. It's all part of the plan.
If you love "Yellowstone" or any of its many genre elements, here are 16 shows you can watch next that range from neo-westerns to classic soaps.
1883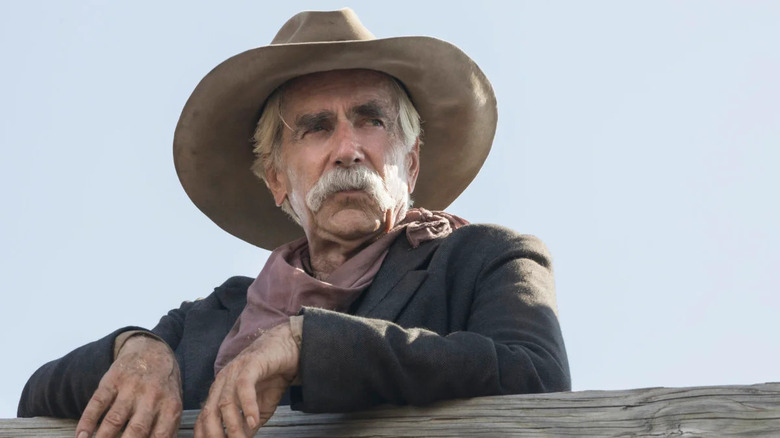 CBS
"1883" is the prequel series to "Yellowstone." It's the story of how the Duttons first came to power and features characters spoken of in "Yellowstone." Some of its best elements reframe the Taylor Sheridan smash entirely. The modern-day Duttons are known for their ruthlessness, but the ranching family's cruelty is kindness compared to the 19th-century American West. "1883" is a survival horror story in Western clothing. There are stomach-churning depictions of parasitic illness and brutal sequences of frontier justice. I could recommend it to "Yellowstone" and "The Walking Dead" fans alike and both would watch the proceedings happily.
Crucially, there are ways "1883" improves on "Yellowstone." The performances are more nuanced and naturalistic, beginning with Sam Elliot's weather-beaten and grief-wracked Shea Brennan. Elliot is as closely associated with the Western genre as saloons and horses, and his presence lends "1883" instant gravitas. Elliot isn't cashing a check here. He mines Brennan's pain for emotional gold and cakes it in tough-guy posturing and violent outbursts. It's magnetic work. So is everything Isabel May does as Elsa Dutton, the show's narrator and narrative lynchpin. May shows audiences how the West forces Elsa to grow up too quickly, and her journey across the show's first season could stymie a lesser performer. May, like "1883," lives up to the massive expectations before her.
Deadwood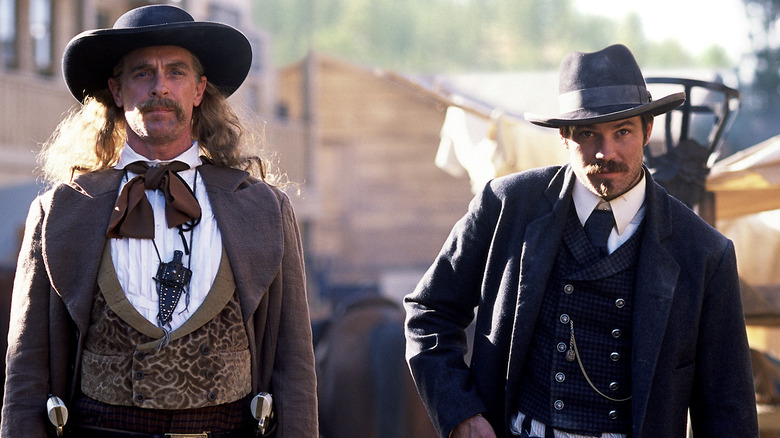 HBO
If you love "Yellowstone" and "1883," David Milch's "Deadwood" is a no-brainer. In many ways, "Deadwood" is the root of modern television Westerns. The HBO smash premiered in 2004, years before many of the programs on this list. While it's impossible to prove that it got those programs green-lit, it isn't hard to imagine. "Deadwood" stars Timothy Olyphant. Olyphant would go on the play Raylen Givens in "Justified," arguably the best modern TV Western.
None of that would matter, though, if "Deadwood" was mediocre. Great news: "Deadwood" is fantastic. Milch marries the Western's pulp elements into a layered, character-driven drama throughout the show's three seasons and peppers every episode with inspired, profanity-riddled dialogue. If Shakespeare wrote John Wayne movies, they'd be half as verbally inventive as "Deadwood." (Milch's legendary curses aren't printable here, and that's the highest possible endorsement for experiencing them.) The performances are uniformly legendary, with Ian McShane's Al Swearengen being the unquestionable highlight. Remarkably, "Deadwood" is inspired by real-life characters and events. Wild Bill Hickok (Keith Carradine) and Calamity Jane (Robin Weingart) appear on the show, and Swearengen himself was real. "Yellowstone" may tell a modern-day Western story about America, but "Deadwood" is a story of actual American history. That means it shaped "Yellowstone" in more ways than one.
Godless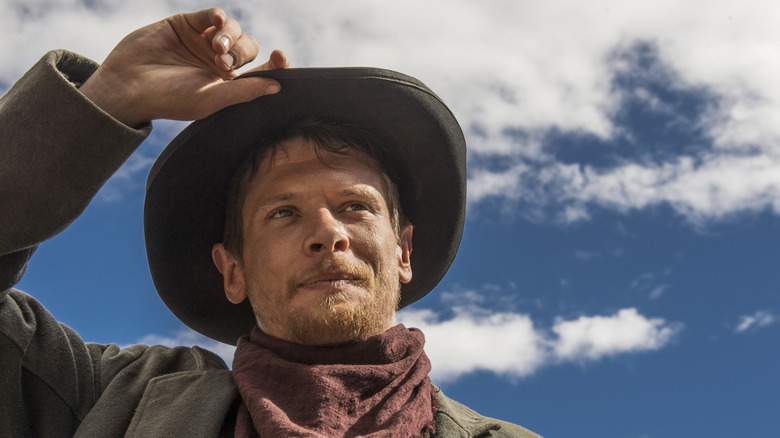 Netflix
"Godless" seems like a cousin and counterpoint to "Yellowstone," "1883," and "Deadwood." The Netflix miniseries takes familiar Western elements (tough men, an outlaw on the run) and tosses them into unknown territory — literally. The Scott Frank-directed show takes place in LaBelle, a town almost entirely populated by women. If you enjoy "Yellowstone" but wish its female characters were generally less ensconced in steamy relationships, "Godless" delivers on all fronts. If you love incredible acting, "Godless" also delivers. Both Jeff Daniels and Merrit Weaver won Emmys for their performances as the brutal Frank Griffin and LaBelle leader Mary Agnes. Most importantly, "Godless" is interested in the cultural importance of the Western. It understands that the genre is powerful and remains resonant for many. That's vital to its success as a miniseries.
How vital? "Godless" goes for broke from moment one. It's a remarkably violent show whose carnage serves a continuously shifting narrative. In its gorgeously directed action sequences (which also earned Scott Frank an Emmy), it blurs the line between cinema and television. Those who enjoy the week-to-week serialization of "Yellowstone" may be let down by the brevity of "Godless," but it's hard to imagine the show being a disappointment on any other level.
Bloodline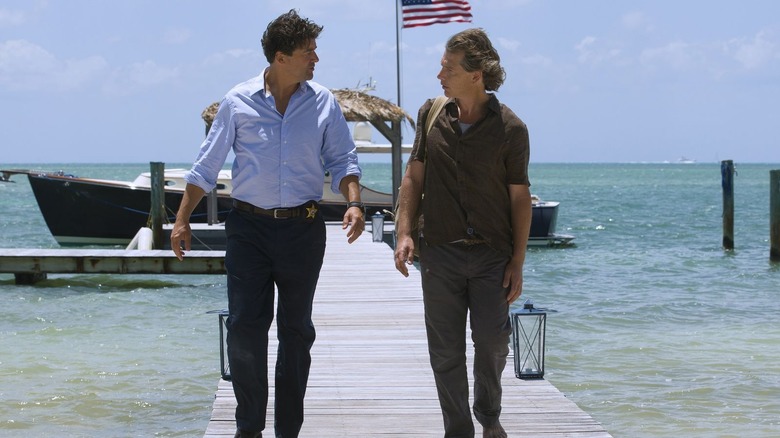 Netflix
Unlike "Yellowstone," "Bloodline" is set in the American South. Like "Yellowstone," the setting of "Bloodline" is as vital a character as any of its protagonists or ne'er do wells. Islamorada, Florida, is the home of the Rayburns, a hotel mogul family whose patriarch (Sam Shephard) perishes early in the show's first season. His passing exposes the skeletons in the family's closet and inspires the family's black sheep, Danny (Ben Mendelsohn) to attempt rehabilitation. To say nothing goes well is putting it mildly.
That's why "Bloodline" shares DNA with "Yellowstone." Both shows are ultimately about families trying to hold onto their good names and power by any means necessary. The tagline of "Bloodline" is "We're not bad people ... but we did a bad thing." It's not hard to imagine the Duttons describing themselves in the same way. As both shows progress, they become more and more like crime dramas due to those "bad things," making "Bloodline" a delicious parallel viewing experience for fans of Paramount+'s smash hit. They also share similar critical receptions. "Bloodline" and "Yellowstone" received some praise early on but were accused of dropping off artistically in subsequent seasons.
Joe Pickett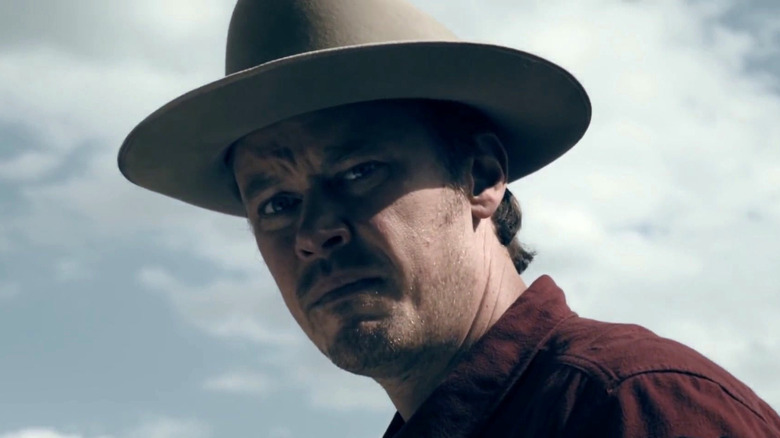 Paramount Plus
"Joe Pickett" feels gift-wrapped for fans of "Yellowstone."
The neo-Western crime drama airs on Paramount+, the same network as Taylor Sheridan's hit. It's also set in Wyoming and like "Yellowstone," stars a cast of attractive up-and-comers (Michael Dorman, Julianne Guill) and established veterans (David Allen Grier and Paul Sparks). Perhaps most crucially, it's based on best-selling source material. Pickett is the creation of New York Times bestselling author C.J. Box, and several Pickett novels have topped that publication's charts. That means that the show's creators and writing team have a reliable foundation to build crackerjack television. Happily, they do.
Those are all the surface-level reasons to enjoy "Joe Pickett," but there are pluses that run deeper. "Pickett" was developed by the Dowdle Brothers, whose entire career has seemingly led to a show like this. They began as horror filmmakers ("Quarantine," "Devil," "As Above, So Below") before delivering "Waco," a true-crime docudrama starring a career-best Taylor Kitsch and the reliably great Michael Shannon. "Joe Pickett" carries over the duo's ability to craft frightening tension but applies pulpy Western sensibilities. What's more, "Joe Pickett" is as close a cousin to "Justified" and "Longmire" as it is "Yellowstone." The show explores the complexities of both lawmen and outlaws while honoring white-hat and black-hat archetypes. It's old-school TV for the prestige TV era.
Outer Range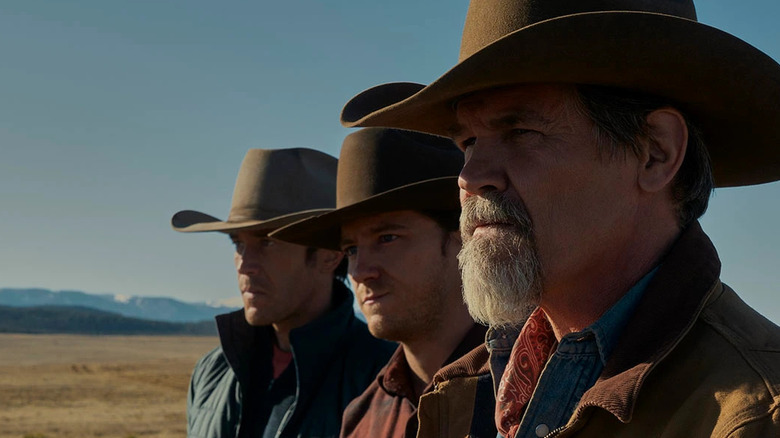 Amazon Prime Video
"Outer Range" is an infinitely stranger show than "Yellowstone," but that doesn't mean fans of the Taylor Sheridan hit won't enjoy it. For starters, "Outer Range" stars Josh Brolin who like "Yellowstone" top-liner Kevin Costner, is a rough and tumble movie star making the jump to cable television. Both are also veterans of the Western genre, and their presence is oddly comforting. For another, "Outer Range" is about ranch owners trying to make it in our modern world and fighting with a rival family. The Abbots don't have as much money as the Duttons, but their other problems are similar.
Most crucially, "Outer Range" is now available to stream in its entirety. That's the best way to encounter it. The trippy, sci-fi thriller Western, which streams on Amazon Prime, is a slow-burn mystery box full of intrigue and strange revelations. It demands an audience's patience as often as it rewards their investment. That would have made it a hard show to recommend to "Yellowstone" faithful when it was released weekly, but "Yellowstone" viewers are nothing if not loyal to a good story. That's how "Yellowstone" became a smash without internet discourse. In its full first season form, "Outer Range" proves worthy of fans of canny Western storytelling.
Mayor of Kingstown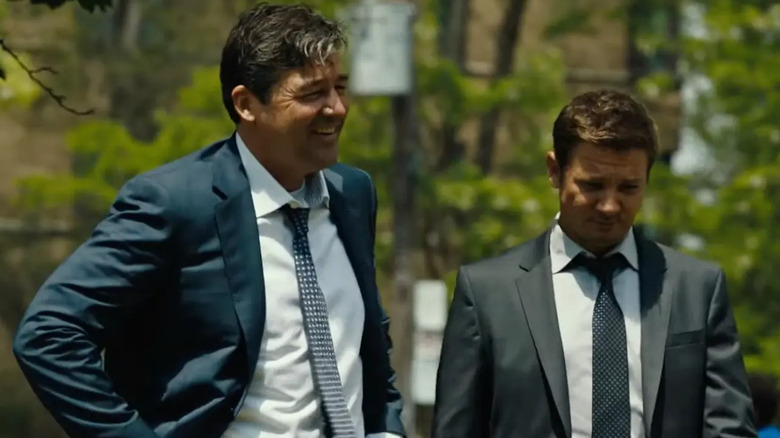 Paramount
There are almost too many similarities between "Yellowstone" and "Mayor of Kingstown." Both shows are the brainchild of Taylor Sheridan, and each is an unfiltered offering of his hallmarks. Both are rich in soapy plot twists, sudden and visceral violence, and the promise of marquee movie stars breaking bad on streaming television. Of course, I'm referring to Kevin Costner and Jeep spokesperson Jeremy Renner. Renner plays Mike McLusky, the right-hand man of his brother, Kingstown, Michigan, "mayor" Mitch McLusky (Kyle Chandler). The reason "mayor" is in quotes is because the McLuskys run Kingstown behind the scenes, power brokering and fixing its thriving prison complex.
If this sounds familiar, it both is and isn't. Sheridan is a student of classic crime stories, and he knows exactly where and how to subvert an audience's expectations. The first episode of "Kingstown" alone contains some shocking plot twists, and things only grow more surprising (nay, ridiculous) from there. "Mayor of Kingstown" also has crossover with "Yellowstone" in its critical reception.  Like "Yellowstone," "Kingstown" was largely panned upon release and not without reason. It's more compelling than it is crisp or impeccably crafted. It's also a hit for the network. "Mayor of Kingstown" received its second season order in February 2022, so it may have time to build its audience. If that includes "Yellowstone" fans, so much the better.
Justified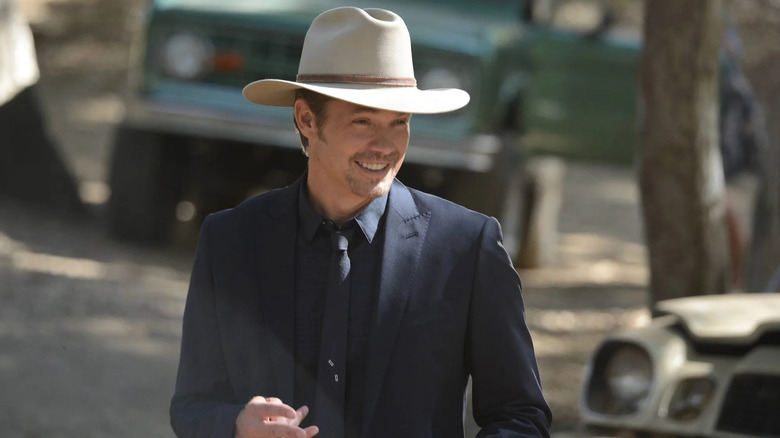 FX
"Justified" is one of two great modern TV Westerns. The other is "Deadwood," but as "Justified" is set during the present day, it is technically without equal. No show in the genre's last 30 years has created more indelible heroes and villains or given more compelling reasons to put those words in quotes. "Justified" lays its thesis on sheriffs and outlaws out in its first episode: "Boyd Crowder and I dug coal together when we were 19," Marshall Raylen Givens muses, "We weren't what you'd call buddies, but you work a deep mine with a man, you look out for each other." As it just so happens, they do. Even as foes (and occasionally, as allies) Raylen and Boyd look out for one another's souls. By extension, they choose to honor the soul of Harlan County above all else. You don't dig coal in New York City or Los Angeles, nor do you dig coal on the Wyoming ranches featured in "Yellowstone." Boyd and Raylen look out for one another because their formative years were in Harlan, Kentucky. The sins of the past yield the possibility of growth and redemption.
That's a lot for a whip-smart and fun neo-Western to explore, but "Justified" makes its discourse seem breezy. It features some all-time great guest stars and crackling dialogue. No fan of "Yellowstone" should miss its elevated meat-and-potatoes pleasures.
Dark Winds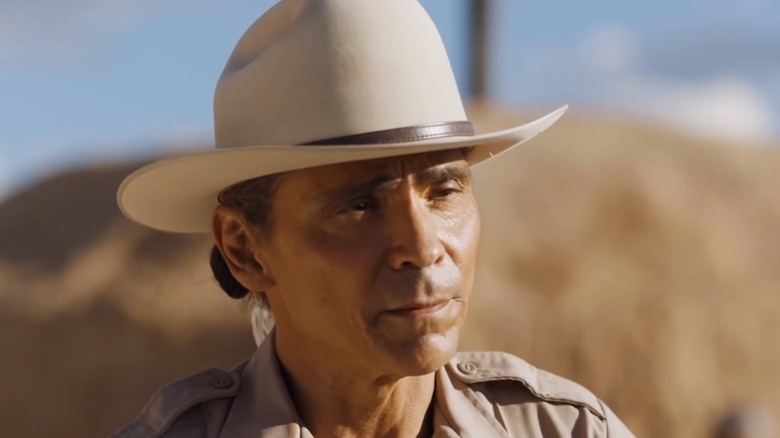 AMC
"Dark Winds" is one of 2022's most pleasant surprises. It's hard to imagine "Yellowstone" fans not being surprised by it. Graham Roland's AMC TV Plus show is without precedent. "Dark Winds" is a crackerjack procedural set in the 1970s that follows two cops as they investigate the brutal murder and sprawling bank robbery. 
Unlike most procedurals, the cops are Navajo and the show is set on their reservation. That change of scenery alone would make "Dark Winds" notable, but its thoughtful look at generational trauma in the Navajo community and systematic racism makes it great. Even better, the show offers the reliably amazing Zahn McClarnon ("Reservation Dogs," "Doctor Sleep") the opportunity to sink his teeth into a lead role. His Officer Leaphorn is both gravely haunted and acerbically funny, smart but not a wunderkind. He's a brilliant protagonist, and "Yellowstone" fans who wished the indigenous characters got more screen time or were the good and bad guys of their story should check "Dark Winds" out immediately.
Dallas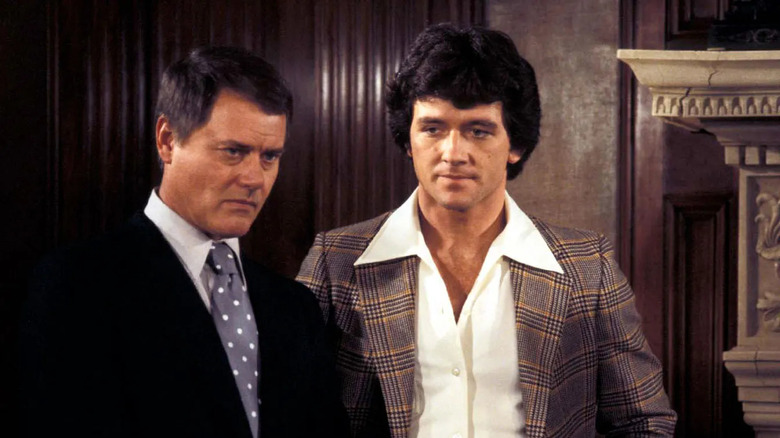 CBS
There is no "Yellowstone" without "Dallas." In many ways, there's no prestige television without "Dallas," either. The pop-cultural phenomenon CBS soap opera ran from 1978 to 1991 and made episodes into events. There's no "Who Shot Mr. Burns?" without "Who Shot J.R.?" but there's no "Red Wedding" either — and likely no "Lost" or "Stranger Things." "Dallas" firmly established the water cooler as television's social space, a place where the conversation led to increased viewership and massive cultural capital. Without the "Dallas" blueprint, modern shows would not construct themselves as savvily.
Yes, "Dallas" may look tame and cheesy compared to "Yellowstone." And there's no question that Taylor Sheridan's show is far more grim-faced than any single moment of David Jacobs' long-running oil family saga, but there's also no question that Sheridan is riffing on "Dallas" with its portrait of elevated, heartland wealth and smoldering intimacies. As "Dallas" proved, that makes for compelling television.
Big Sky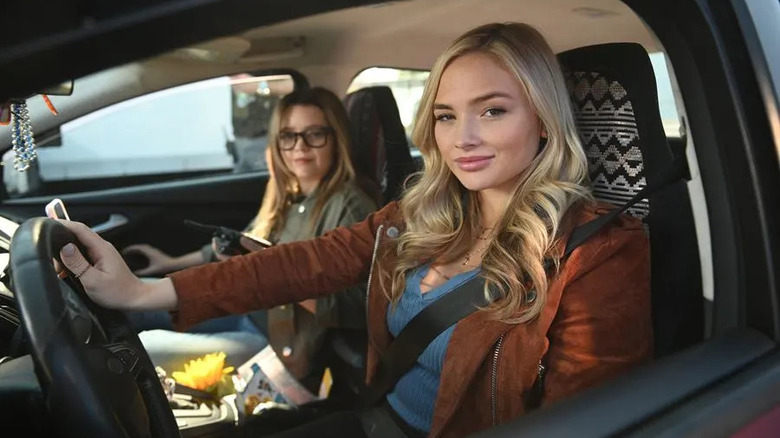 ABC
"Big Sky" takes the soapiest elements of "Yellowstone" and makes them baroque and austere. The primetime ABC crime drama from prestige soap opera mastermind David E. Kelly begins by killing off one of its leads and only gets wilder from there. Along the way, it draws the eclectic cast of Ryan Phillippe, John Carrol Lynch, Reba McEntire, and Jensen Ackles into its fold. It's hard to call "Big Sky" anything other than purposefully nuts, but it's also anything but boring. Everyone involved seems to relish playing characters with outlandish motivations as they deal with kidnapped teenagers, local drug dealers, and murderous intentions.
Funnily enough, "Big Sky," like "Joe Pickett," is based on the books of C.J. Box. Yet, "Sky" is a canny example of using source material as inspiration rather than gospel. It is unquestionably the work of Kelly, who favors heightened naturalism over actual realism. If "Yellowstone" is ever a bit too serious for your tastes, "Big Sky" might be the no-holds-barred experience you're looking for.
Succession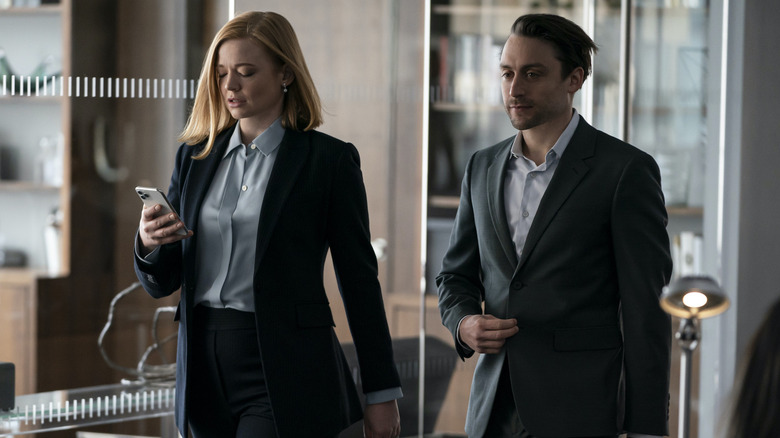 HBO
With all due respect to the Duttons of "Yellowstone," they've got nothing on the Roy family.
The Roys are the central figures on HBO's "Succession," a show about wealthy one-percenters fighting for power and control. Their bickering has world-shaping consequences, yet the operatic machinations of Kendall (Jeremy Strong), Roman (Kieran Culkin), and Shiv (Sarah Snook) take precedence over market shifts and rocket explosions. The Roys matter so much to "Succession" because they technically matter so much to society, even if we are loathed to admit it. If the show weren't funny, it'd be a slog to get through 15 minutes.
Thankfully, it's hilarious and harrowing. "Succession" is an endlessly meme-able, quotable show that keeps finding organic ways to escalate. Kendall's attempted coup in Season 1 gives way to "boar on the floor" in Season 2. In Season 3, there was a rap performance. All of this was sterling television. "Yellowstone" fans who are drawn to the Duttons' wealth and power or their battles with rival families will find much to love in "Succession," but they'll also find a mischievous streak that Taylor Sheridan rarely employs. That makes it a strong pairing and counterpoint to the deception-rich plains of Wyoming. To paraphrase "Succession," "It's here for you."
Ozark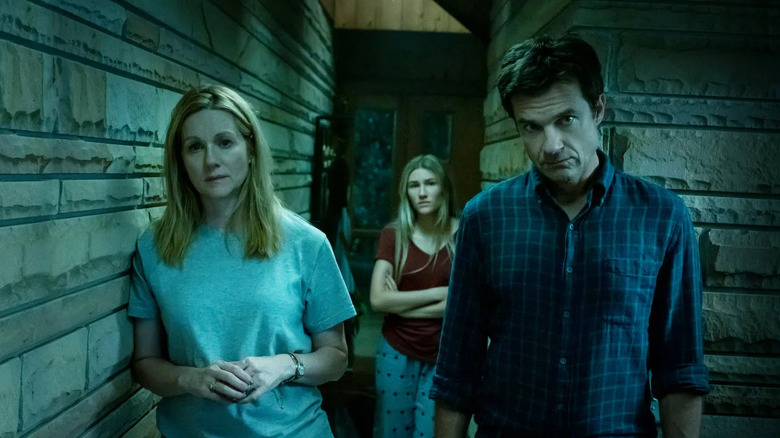 Netlix
Now that "Ozark" has finished its four-season run, it's reasonable to describe the show as "Breaking Bad" by way of "Yellowstone." The Netflix hit starring Jason Bateman, Laura Linney, and Julia Garner is about a family who moves to Lake of the Ozarks to launder money. That (and its quirky sense of humor) make it akin to Vince Gilligan's epic meth and crime saga. The setting is the rural Midwest and hyper-specific. That makes it closer to "Yellowstone." "Ozark" was never about the region it is set in, yet like "Yellowstone," "Justified," and "Deadwood," "Ozark" is nothing without its setting. In Westerns, the landscape is itself a vital and story-shifting character. That's often true of crime dramas as well (see "The Sopranos," "The Godfather Part II," or "The Untouchables" for proof). It's only fitting that "Yellowstone" and "Ozark" feel akin to one another.
There are other reasons to watch "Ozark," though, and three of them are the actors listed above. Bateman does career-defining work, erasing the memory of Michael Bluth with every turn. Linney is reliably brilliant but has never had this much breathing room to develop a character, and she relishes it. However, it's Garner who pushes the show over the finish line, lending the Ozark setting an air of authenticity. 
Hatfields & McCoys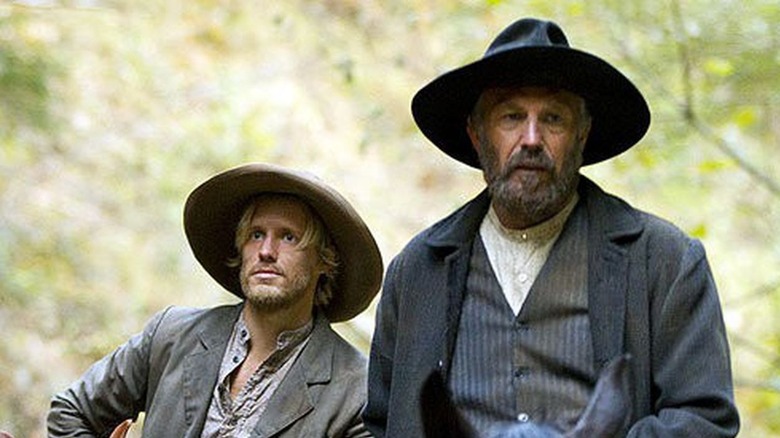 The History Channel
"Hatfields & McCoys" could have easily been a punchline. The three-part miniseries premiered on the History Channel almost a decade ago, when scripted television on the History Channel seemed like a "30 Rock" joke. It wasn't. "Robin Hood: Prince of Thieves" and "Waterworld" director Kevin Reynolds reunited with Kevin Costner to bring the legendary feud between warring rural families to grim, evocative life. For their efforts, Reynolds was nominated for an Outstanding Directing for a Miniseries, TV Movie, or Special  Emmy, and Kevin Costner won Outstanding Lead Actor in a Miniseries or a Movie for the same. "Hatfields & McCoys" made sure it was worth taking seriously, and Costner's presence makes it an absolute must for "Yellowstone" fans.
Much of what makes "Hatfields & McCoys" great is the series' smart thesis, which argues that both families forget what they were fighting about over three decades of bloodshed. "Hatfields & McCoys" goes from thrilling to deliberately excruciating over its six hours and leaves its audience appropriately exhausted. We see this on the faces of its cast, which includes everyone from Boyd Holbrook to Tom Berenger, who also won an Emmy for his work. Tragically, the series also functions as late career swan songs for Bill Paxton and Powers Boothe, who both died five years later. Their haunting presence and the show's central conflict are a reminder to find peace whenever possible. Life's too short for the anger of the Hatfields and McCoys. The miniseries makes that all too clear.
The Son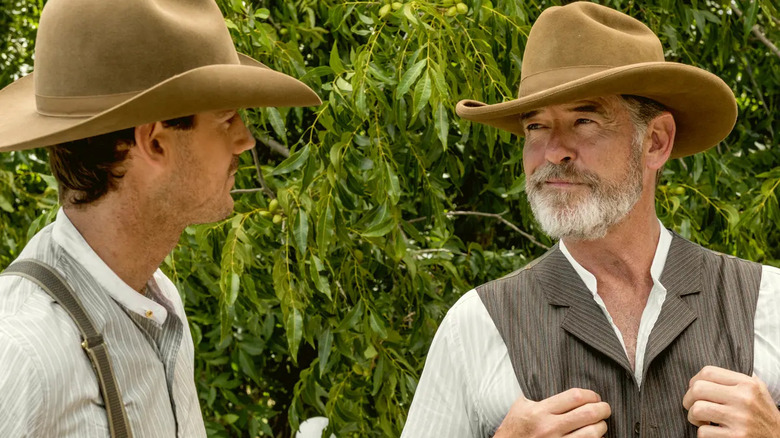 AMC
In my humble opinion, "Pierce Brosnan in a Western" seems like a selling point for all self-respecting television fans, not just "Yellowstone" fans. Yet, the Netflix series, co-developed by Phillipp Meyer from his novel, flew under the radar upon release. It's still a hidden gem. 
Brosnan's work as Eli McCullough, an oil baron raised by Comanches trying to maintain power and wealth for his children, is among his most nuanced. Brosnan has always brought depth to broad characters (like James Bond and the low-key brilliant Erick Errickson in "Eurovision Song Contest: The Story of Fire Saga"), but he's never had more breathing room than he does here. Brosnan reveals layer after layer of Eli's fallacies and vulnerabilities. Even if the characterization never reaches the level of television's recent best antiheroes, it becomes deeply compelling in Brosnan's capable hands.
Beyond that, "The Son" offers an Old West spin on the land grabs, power plays, and shady activity that have made "Yellowstone" so popular.
Longmire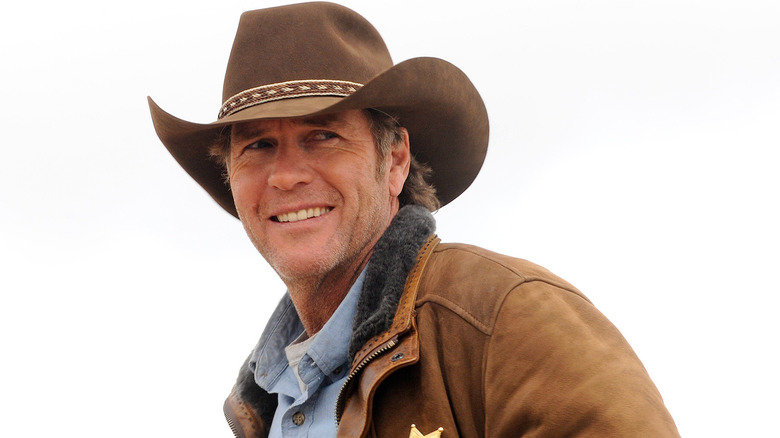 A&E
In many ways, "Longmire" is a direct precursor to "Yellowstone." The A&E show aired at the same time as FX's "Justified," and while the latter is a neo-Western, the former offers more traditional Western and crime elements. Its characters are less morally complicated. The drama is more sweeping, which is not to say ineffective. "Longmire" is "old-fashioned," a phrase that's often reductive code for "a show for older audiences." That phrase detracts from the fact that "Longmire" is very, very good. The show is more reliable than audacious, but its well-constructed narratives and Wyoming setting made it the highest-rated show in A&E history.
High ratings, an older audience, and a Wyoming setting are each a hallmark of "Yellowstone," too. "Longmire" is proof that the audience for Kevin Costner's show was there and a reminder that great TV isn't just what's being discussed at length online. It's streaming on Netflix now and well worth checking out.